Weight: 7.7 kg
Dimensions: 76.2 x 74.9 x 83.8 cm
Recommended Age: 2+
Step2 Dino Dig Sand & Water Table
Get ready for a prehistoric adventure with the Dino Dig Sand & Water Table! Kids can go excavating in the sand area to see what they can find, and if they're lucky, they might find the moulded-in dinosaur bones at the bottom of the table! The table also comes with a detachable mountain, which allows kids to pour water at the peak and watch it cascade down to create a waterfall effect!
Step2 Dino Dig Sand & Water Table UK | Step2 874500
Pour water into the top of the "volcano" and watch as the water gushes down the mountain for a water eruption!
Two-sided table features an area for sand and an area for water
Use the two-sided shovel and rake to dig to the bottom to find the molded-in Dino bones and footprints
The dinosaurs can get some shade and take a drink from the local watering hole under the realistic palm tree
Large kid's play table allows for multiple kids to play together, great for social and interactive play!
5-piece accessory set included
Adult assembly required
| Specifications | |
| --- | --- |
| Product Dimensions | 76.2 x 74.9 x 83.8 cm |
| Product Weight | 7.7kg |
| Recommended Age | 2+ |
Step2 Dino Dig Sand & Water Table Reviews
Julie Reed, 03 Jun 2017
Very sturdy good quality, couple of fixing screws missing but 2 year old grandson loves it
Carol Colclough, 11 Jun 2017
Lovely themed sand and water table which kept a two year old amused for hours. Robust and well-made. Good value and will I am sure be much used and enjoyed.
Karolina Ratajczak, 15 Jun 2017
A lot of fun for my 2 years old daughter. Highly recommended.
Anonymous , 29 Jun 2017
Lovely quality sand and water table and it is not too big to overtake the patio and the perfect height - not too low. The water plug works perfectly keeping the water securely in and easy to drain away. The lid over the sand also does a great job of keeping the sand dry and did not blow off in all the wind and rain we had. The only couple of things I would change is to have dinosaurs that didn't let in water (limiting their life span due to mould) and I think having something else such as dinosaur bones to dig for or some kind of water feature would be the perfect additions.
Anonymous , 22 Jul 2017
Excellent service and my grandson loves it he has had hours of fun with it .
Anonymous , 20 Mar 2018
Excellent table, nice quality.
Emily Davis, 01 May 2018
Excellent toy for our 2 year old son. He will have hours of fun in the garden with this
Anonymous , 28 May 2018
Very strong and well made. Proved very popular at first outing at a party. Requires a little hand/wrist strength and time to put together, but can see the point of why it's made that way.
Anonymous , 29 May 2018
fab bought for my 3year old grandboy who loves dinosaurs and he is delighted with it
S Ficociello, 27 Jun 2018
Great product, easy to put together nice and sturdy. My granddaughter absolutely loves it. Hours of imaginative play.
Anonymous , 11 Jul 2018
Good product, service and delivery. Our 2 year old loves it!
Anna L, 23 Jul 2018
This table is great. I considered getting something smaller and cheaper but I'm glad I didn't. It's sturdy, easy to assemble and most of all hours of fun! My 3,5 year old and 18 month old both love it (especially with added bubbles..) It's a perfect summer toy for toddlers.
Anne C, 02 Oct 2018
Great purchase. Both grandchildren aged 1 and 2 years both love it
Jane S, 27 Feb 2019
This was bought as a gift and it's amazing. Looking forward to the summer and I know it will get so much use. Ordering the item on the website was so easy and delivered promptly. I would highly recommend.
Anonymous , 04 Apr 2019
Brilliant
Andrea D, 06 May 2019
Brilliant very sturdy and colourful with lots is accessories
Xiaonan Q, 20 Jun 2019
Service was excellent and Delivery was quick as well. Product is great.
Denise M, 20 Feb 2020
Really pleased with product sturdy and fun Children love it
Customer Photos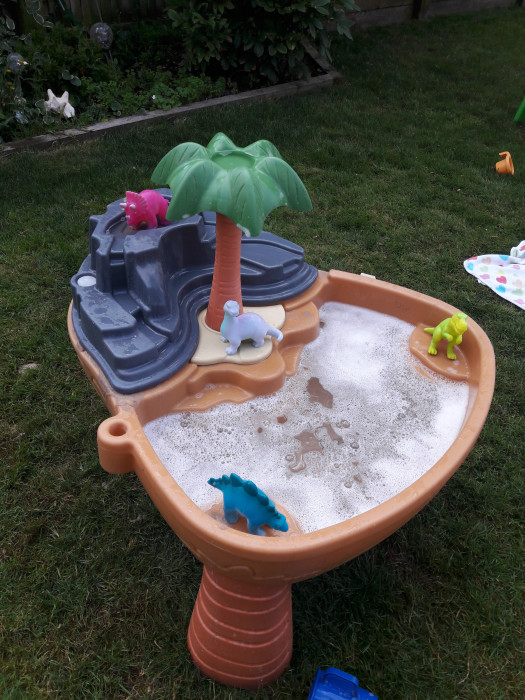 Questions & Answers
Q: Hi,does this item come with a lid to put on top?so to keep clean and sand dry too ??
A: It does not come with a lid - if you need something to cover it, we recommend any sort of outdoor patio furniture cover to protect the table.
Thank you for submitting your question!
You may also like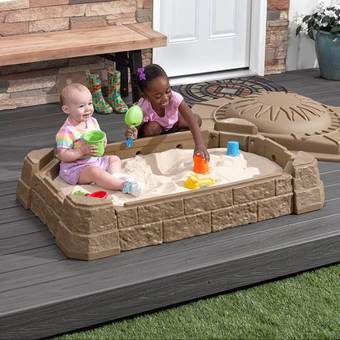 Step2 Naturally Playful Sandbox II
£99.99
★★★★★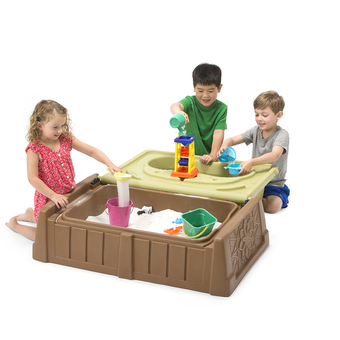 Simplay3 Sand & Water Bench
£99.99
£109.99
★★★★★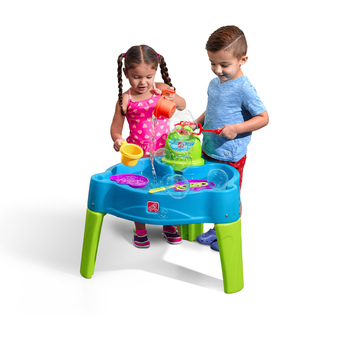 Step2 Big Bubble Splash Water Table
£50.00
£59.99