Weight: 17.7 kg
Dimensions: H=81cm, W=99cm, D=67cm
Recommended Age: 3+
Step2 Creative Projects Table
The very popular Step 2 Creative Projects Table is a 'one-person' or a 'two-person' desk. A clever re-positioning of the top storage shelve transforms this desk to allow either one, or two desk positions. Has lots of storage facilities and comes complete with two 11" stools.
Step2 Creative Projects Table UK | Step2 829900
Age 3 +
Features a large table surface with moulded in storage tray which accomodates large removable storage cups for art supplies.
Will accommodate up to two children
Includes two 11 inch high stools
Minimal adult assembly required
Comes with a 12 month guarantee
Packaging dimensions: H=68cm, W=108cm, D=23cm
Please note accessories not included
Assembly instructions - https://images.step2.com/media/pdfs/883300_assembly.pdf
| Specifications | |
| --- | --- |
| Assembly Instructions | |
| Product Dimensions | H=81cm, W=99cm, D=67cm |
| Product Weight | 17.7kg |
| Recommended Age | 3+ |
| Stool Height | 11 |
| Manufacturer Guarantee | 12 months |
| Packaging dimensions | H=68cm, W=108cm, D=23cm |
Step2 Creative Projects Table Reviews
Anonymous , 19 Apr 2017
Excellent ...Strong and we'll made . The children love this I would definitely recommend this table
Jugjit Singh, 27 Dec 2017
Hi,my name jugjit singh Order ID is 90959 This item (creative projects table) was damaged was disappointed my kids open the present today and the table was cracked My kids was looking forward to play, I wasn't happy, It was damaged in the box, It was delivered at 703 Romford Road Manor Park London E12 5AW Can you let me know What I have to do to exchange this item... Thank you Jugjit singh
Robin Henderson, 05 Jan 2018
Ideal piece of kit for my 4 year old granddaughter who loves to draw, paint and glue things. She now has all her stuff, tidy and available, at her very own drawing desk. A great success!
Diana H, 19 Dec 2018
Arrived quickly Nice product other than a big scratch on table ! Easy to put up ! Purchased for grandchild birthday in feb! Would of been 5 stars other than scratch !
Debbie B, 30 Dec 2018
Fab table. Really sturdy and easy to put together. Bought for my grandchildren for christmas age 2.5 and 3.5 and they loved it. Lots of storage to put their books, pens,paints etc. This will also be great to use outdoors in summer as it wont hurt if you left it out.
Anonymous , 31 Mar 2019
A lot of space on top, fits all of my daughters paints and craft materials, a lot of table top space and paper space on sides. Main issue I am having is the table doesn't click in securely to legs so it's unstable....as it's plastic I don't know if this is how it should be or I received a faulty leg piece. Would have rated it five stars if base was stable.
Jason N, 28 Dec 2019
Great table my little girl is over the moon with it great work station for arts and crafts.
Michelle J, 30 Dec 2019
Brilliant table, perfect size for my 6 year old son and we have already made a number of projects! Extremely sturdy and well made, easy to set up and large pockets on the side to store art books! My son loves it! Would recommend. Super speedy delivery, fantastic company!!
Anonymous , 07 Apr 2020
Ordered and paid, then had my order cancelled as they had oversold. Very disappointing.
Jo B, 26 Oct 2020
Product is as described this is the second one we have bought. this time for grandaughter. We bought one last Christmas and ut is goi g strong and has been a daily go to area to paint, crayon and do crafts. Really sturdy and the fact it is versatile as you can make the desk larger. Highly recommend x
Customer Photos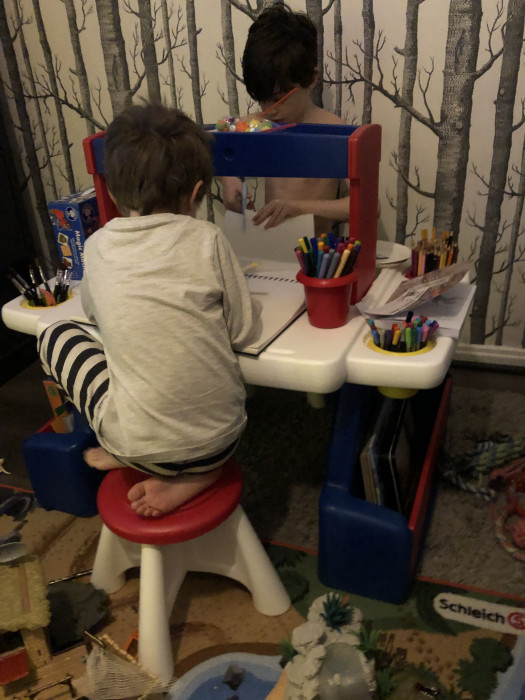 Questions & Answers
Q: Would this be suitable for my 7yr grandson. If not could you recommend a suitable desk. Thank you.
A: The desks go off height to whether they would be suitable, please see this link to the manufacturers website to compare the measurements of each desk - http://blog.step2.com/2016/07/art-desks-easels.cfm
Q: Can you buy the storage cups that fit in the slots separately?
A: Please contact sales@satb.co.uk for all Step2 spares
Thank you for submitting your question!
You may also like