Weight: 13.6 kg
Dimensions: 42.00 H 36.00 W 33.00 D
Recommended Age: 18 months+
Step2 Wonderball Fun House
Inside or outdoors, kids will have a ball with the new Wonderball Fun House from Step2! This unique multifunctional playhouse provides new ways to play and enhance their hand-eye co-ordination. Complete with a set of 20 brightly coloured balls, kids can have fun throwing them onto the roof and watching as they roll down into the tubes and trays around the playhouse!
Step2 Wonderball Fun House UK | Step2 853900
On the outside, toss balls on the roof and watch as they fall through the maze of activities, making fun plinking sounds as they go!
On the inside, place balls on the planks and watch the fun "plinko" effect
Working Dutch door provides open and close play
Flip the balls into the house or into the maze with the included flipper
Open design provides parents with a view of all the laughter and fun taking place
Bottom basin is the perfect place to store the balls once playtime is over
22-piece accessory set includes 20 play balls, a frying pan and boiling pot
Adult assembly required
Suitable for children aged 18 months and up.
Assembly instructions - https://images.step2.com/media/pdfs/853900_assembly.pdf
| Specifications | |
| --- | --- |
| Product Dimensions | 42.00 H 36.00 W 33.00 D |
| Product Weight | 13.6kg |
| Recommended Age | 18 months+ |
Step2 Wonderball Fun House Reviews
Karen Clark, 30 Jul 2017
Brilliant our grandson loves it
Anonymous , 14 Feb 2018
Great quality and loads of fun
Sarah Jones, 20 Mar 2018
Absolutely love this house! Purchased for my little girls 1st birthday and she loves it too. Spends ages playing inside and with the balls. It's definitely one that she will grow with too. There was a part missing upon assemble but after contacting them it was sent within a week. Overall really pleased with the product.
Anonymous , 16 May 2018
Fantastic ball house. Bought for my sons 1st Birthday and he loves it! Delivery was also brilliant as was delivered within 2 day. Will defiantly be buying from here again!
Tracy G, 12 Sep 2018
Great toy, great service, *****
Anonymous , 01 Feb 2019
Great price, super quality, lovely playhouse. Grandson loves it and there is so much to do to keep him busy. Ideal to put all toys inside when not in use and then easy to get it all out again when he arrives. Easy to put together, really pleased with purchase.
Natasha C, 05 Jun 2019
Lovely !!!! Do take a bit to put together but nothing out of this world... my daughter love it she's only 1 and she can't stop plying with it... totally worth it!!! Super recommended!!!
Ewa S, 06 Sep 2019
Absolutely fab! Plus very quick delivery
Sam N, 24 Sep 2019
Instructions were just a picture which I had to follow there was no writing..Took too long to assemble..There were no holes had to make holes myself So screws would go in.. Not as good as advertised.. The blue pipes that balls go in are not even straight.. Not happy with my purchase
Whitney B, 27 Dec 2019
We brought this for our 14 month year olds Christmas present, perfect! So much fun! Opening and closing the door was so much fun for him before he even saw the balls.
Gary M, 31 Dec 2019
Bought this for our 21 month old son. He absolutely loves it. It has lots of balls that you can throw on the roof and they filter through all the tubes and holes in the house. It's a nice sized little house, ideal for indoors or out, we currently have it set up in our living room (takes up a large corner) and our son loves going in and out and throwing and finding all the balls. Great value for money.
Sharon T, 13 Mar 2020
Brought this for my 2 year old grandson and from the moment we put it together he has spent the whole time in it , he loves it was the Best Buy ever
Anonymous , 06 May 2020
Great to receive this after being let down by another company. It arrived on time and as promised. My granddaughters love it, it's so colourful, well made and is keeping them entertained for hours. It takes a bit of time to put it together but the instructions are easy to follow. Would definitely recommend it.
Nina L, 15 Jul 2020
Great purchase, great price, my 2 year old loves this house
Pauline I, 23 Sep 2020
Excellent ,very strong and very well made .my little grandaughter loves it ,would recomend to anyone without hesitation
Debbie M, 08 Dec 2020
Haven not opened the box yet. As it's a Christmas present for my grandchildren The delivery was really fast Nowhere had any left and I was surprised to get one. So thank you I'm sure they will love it.
Mark R, 12 Dec 2020
Great fun house, easy to install
Susan e, 19 Apr 2021
Great fun for young children,tough and sturdy.
Customer Photos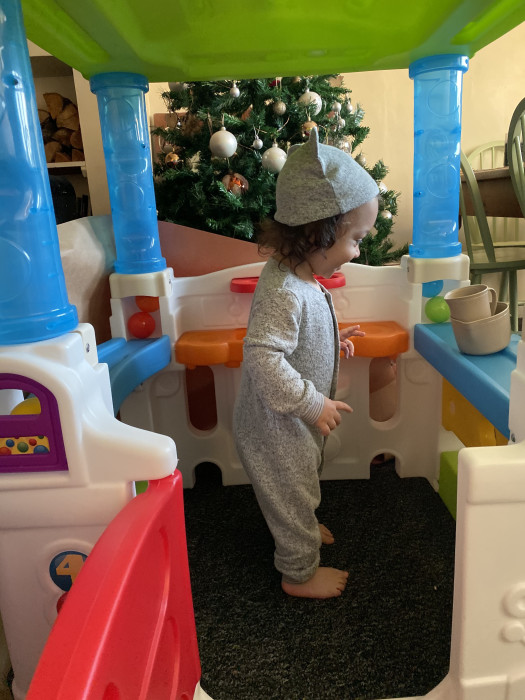 Questions & Answers
Q: Can this be kept outdoors or is it an indoor toy only?
A: This could be used. However due to the design I would advise this is stored indoors.
Thank you for submitting your question!
You may also like