Weight: 7.8 kg
Dimensions: 81.3 x 61 x 99.1 cm
Recommended Age: 18 months+
It's raining, it's pouring, with the new Step2 Rain Showers Splash Pond Water Table! Scoop up water from the pond and pour it into the top to make the rain fall down into the pool below! As the rain falls down, it can activate the spinners and ramps to create a great cascading effect into the lower tray. The spacious design of this table also allows plenty of room for multiple kids to play at once!
Step2 Rain Showers Splash Pond Water Table UK | Step2 874600
Use the large bucket to scoop up water from the pond and pour in the top tier to make a showering splash below!
Rain shower effect makes it sound like it's real rainfall!
As the rainwater drizzles back into the pond, maze-like spinners, ramps and buckets will be activated, creating a cool cascade on the water wall!
Rearrange the put-and-place maze pieces again and again to create new waterfalls for fun cause & effect play
Use the hand-held spinning wheel in the "rain" to make a spinning splash!
Use the side flipper to flip the figures back into the pond!
Catch the frog with the cattail scoop!
Large table platform lets multiple kids play together, great for social and interactive play
Molded-in hole in back of table can accommodate an umbrella
Several accessories included
Assembly instructions - https://images.step2.com/media/pdfs/874600_assembly.pdf
| Specifications | |
| --- | --- |
| Assembly Instructions | |
| Product Dimensions | 81.3 x 61 x 99.1 cm |
| Product Weight | 7.8kg |
| Recommended Age | 18 months+ |
Step2 Rain Showers Splash Pond Water Table Reviews
Anonymous , 03 Jun 2017
Absolutely brilliant water table. My 2 boys 5 and 19 months love it. Not happy with activity toys direct though buy else where if you can!
Kelly Jupp, 09 Jun 2017
Fast delivery, well made and fairly priced! Really happy with my purchase, the kids love it too!
Anonymous , 24 Jun 2017
Bought for my sons 3rd birthday. It's a great water table and was an instant hit in the hot weather - it also holds his attention for a quite a while which i was really pleased with and i think he'll enjoy using for a few years. It took a little while to assemble but nothing like as long as some other reviews suggested. Sadly we had some missing parts when it arrived in the post, but a quick email and the missing parts were very promptly dispatched.
Anonymous , 27 Jun 2017
My daughter loves playing with her water table, the highlight of this has to be the rain shower from the top of the table. It is also stable enough for my daughter to lean on whilst she play as she is still learning how to stand and walk.
Anonymous , 13 Jul 2017
Great table, our son loves it! He was in the garden playing with it for for ages once it was put together. Good toys that come with it and fairly simple instructions but does take a little time to put it together
Sarah Ward, 13 Jul 2017
My niece had it as a birthday present yesterday and loves it, my sister managed to build it on her own but only down fall is she had to make holes in a couple of places
amanda kandeh, 21 Jul 2017
Absolutely love this water table, my little girl is waking up in the morning and insisting on playing with it first thing!! And all day long
Alex Shenton, 08 Aug 2017
Construction was a little fiddly and required two people, but the assembled table is a great toy and our daughter (18 months) loves it very much. She's not tall enough to reach the top tier yet so it will continue to provide new things for her to do as she grows! It's a decent size and of sturdy construction, recommended.
Clare Franks, 26 Jan 2018
Amazing item. Took a little bit of time and force to put together as there are no premade screw holes but the assembled item is great. The kids love the rainshower effect that putting water in the top creates. The littlest who's 1 can reach the lower pool to splash about in and the older 1 who's 4 can put water in the top as well. The toys that came with it are great as well. The little one also loves the bits that move as you pour water above them. Love the plug to drain it but due to some of the bumps in the design it unfortunately doesn't drain itself properly and I've ended up pushing the water to the plughole to get as much out as possible (you could tip it up if outside). Would recommend.
Anonymous , 05 May 2018
I purchased this item for my Grandchild as it was wider and taller than many i had looked at and thought it more suitable when friends /cousins were visiting. The order arrived on time and was well packaged. Once assembled I was very pleased with this purchase. The only downside was as I had previously read that a few of the holes were not marked out and ideally a Bradawl and ratchet screwdriver as I found using a normal screwdriver caused blisters on my hands otherwise would have given 5 stars .
Ms. Jo Bayes, 06 May 2018
I'm a childminder and bought this for the little ones to play with. They live it.... I've bought a cookout of other items from Step2 sand they have lasted years and I leave them out all winter. Very sturdy and of good quality. Simply to pot together, but would recommend using a drill not a screw driver to get the screws in. Otherwise you may find it takes forever. I prefer Step2 over Little Tikes these days.
Anonymous , 19 Jun 2018
Got this for my child's 2nd birthday and they love it. Best one I found, so happy with it.
A , 27 Jun 2018
A lovely summer play toy and very helpful staff after some initial confusion over the order. Would thoroughly recommend this company.
Marinela M, 10 Jul 2018
I haven't open the box because it's a birthday present, but looks well packed and I am sure the children will have fun. I gave 5 stars for super fast delivery and a good communication. Thank you
Anonymous , 14 Jul 2018
we brought this water table for when our grandchildren came round, as we only have a small garden this was ideal, they played for ages with it and really enjoyed it they are aged 2and 3 years the older ones played with it but not for so long. The assembly was quite easy but we had power tools think it might have been quite hard if you had to do by hand
Anonymous , 10 Aug 2018
It's a brilliant water Table, honestly can say, it's the best one out. Loads of fun, hours of play
Anonymous , 22 Feb 2019
As always a fantastic value for money product which is just as described. My grandson will have hours of fun in the summer. It was delivered on the day promised by a very courteous and helpful delivery man.
Anonymous , 15 Apr 2019
My grandchildren aged 4 and 2 love this & i'm sure during the summer they will play with it a lot.
Anonymous , 15 Apr 2019
Great fun for my toddler
Anonymous , 01 May 2019
Delivery well organised, on time and friendly driver. Product a bit tricky to assemble but expected that as reviews stated this problem. However its a really good water play product that is well made and has lots to give endless hours of fun!
Tracie S, 09 May 2019
Item arrived quickly and looks great with all the pieces, my son loves it even without the water. Note: you need a drill to fix
Anonymous , 16 Jun 2019
Very please with this table, both my 2&4 yeyold can play
Anonymous , 26 Jun 2019
Bought this water table for my 22 month old and 4 year old. They both love it (22 month old is absolutely obsessed with it!). We chose Step2 over other water tables because we liked the rain shower feature and it has really not disappointed! As per other reviews, assembling can be tricky without an electric drill as there are no pre-drilled holes in the plastic. We used an electric drill and with 2 of us, the table was up in 15 minutes. You could do without of course but it might take a fair bit longer.
Robert C, 13 Dec 2019
Although one leg was deformed and difficult to fix it was immediately dealt with by arranging for a replacement direct from the USA
Anonymous , 18 Dec 2019
Great water table. Kids will have hours of fun splashing around!
JUDITH S, 08 Apr 2020
I bought this for my grandson along with another 2 items. The delivery was excellent and the toys were greatly appreciated by my 18 month old grandson.
Carol R, 14 Apr 2020
Just bought this for my grandson age 21 months he loves it
Romana F, 17 Apr 2020
Bought for my granddaughters birthday, she absolutely loves it.... Thank you
Lynsey M, 20 Apr 2020
Excellent quality and good size for both my 2 and 4 year old. I can imagine them playing with this table year after year.
Anonymous , 06 May 2020
A great water table which my 3 and 5 year old enjoy playing with.
lisa T, 08 May 2020
Wonderful ! Both boys aged 2 and 3 absolutely love it. The rain shower Is lovely. Lots of lovely toys cane with it. Very strong and excellent quality product. I am very pleased with it and would highly recommend! Very big so a few children could play together.
Anonymous , 13 May 2020
It was a first birthday present for my daughter which she loves and will grow into. Seems sturdy once built.
Catherine N, 14 May 2020
The water table is well made, it's great to keep little ones entertained in the garden. I purchased it for my two under 4 grandsons, they love it.
Anonymous , 14 May 2020
I bought this for my Granddaughter's 2nd birthday. She, and her big brother, age 3, absolutly love it. My daughter tells me it was easy to assemble, seems very sturdy, and works well. It was also much cheaper, and available more quickley than other places.
Anonymous , 16 May 2020
Well made (made in USA not China), strong material, express shipping 2 days from order to my door, great fun for kids that is most important
Hilary S, 18 May 2020
Item arrived quickly. My 2 granddaughters love it.
Nicola D, 27 May 2020
Bought for my two granddaughters. They love this water table especially the cascading water. Lots of attachments too which are very good. Fully recommend.
Lisa B, 13 Jul 2020
18 month old loves it! Fast delivery as well
Anonymous , 13 Jul 2020
First of all the service was 5 star! The table is fantastic! Well made, sturdy and a lovely sode. The rain is amazing and my little girl loves it (think I may love it more). The plastic has no holes so please be aware that you will need someone to help you hold the parts in place while you apply pressure to get the screws in. 100% happy with my purchase!
Shuang M, 16 Jul 2020
Really well made, solid plastic toy, even putting outside in the garden it will last for years, very sturdy.
Anonymous , 16 Aug 2020
2 year old Grandson loves it ! ...keeps him entertained for hours , very good quality table with lovely accessories .
Susan P, 18 Oct 2020
A nice table that I bought for my grandson's third birthday in the summer. No pre-drilled holes for fixing and although my daughter and husband managed to get the majority of the table fixed together. The top hard blue plastic rain fall piece was left unattached. Still playable as the top piece just fitted in the top. In some ways this was a blessing in disguised, as the table has been packed away for winter and with the top not fixed, it was placed inside table.
Anonymous , 17 Jan 2021
3 yr old grandson's birthday surprise...his response? "That's cooool!"
Michelle M, 05 Feb 2021
Bought for my grandson's first birthday and he loved it. He played with it for hours and didn't get bored at all. Delighted with my purchase and would definitely recommend this great little water table.
Kim D, 06 Feb 2021
My 4 year old grandson absolutely loves it. Great quality, sturdy and easy to assemble
Elizabeth B, 29 Mar 2021
Excellent value for money . Well built and easy to assemble. my grandson loves it and will have hours of fun playing with this
Miss C, 31 Mar 2021
The children love the rain shower table, they are in it as soon as they get outside. Made well and full of fun.
Anonymous , 10 Apr 2021
Great size for our 2 girls to play together - we actually had 5 children round this and everyone had enough space. The waterfall feature is a hit with our eldest, but it gets annoying having to keep pouring water in the top to make it go - it runs out very quickly. Overall a great product, and we will get lots of use out of it.
Anonymous , 10 Apr 2021
Item as expected however poor delivery service depsite selecting a delivery date when ordering.
Amanda S, 30 Apr 2021
Great outdoor toy bought for my Granddaughters 2nd birthday. Easy to put together, stable and well constructed. She loved it.
Anonymous , 09 May 2021
Really happy with product very well made
Anonymous , 09 May 2021
It arrived very quickly. We bought this for our 2.5 year old and she loves it. Should last her till she's 5/6 years old. Highly recommended
Katharine C, 22 May 2021
My son loves if, great fun for kids
Lynn P, 23 Jun 2021
Excellent. Children love it
Anonymous , 23 Jun 2021
It is really good for the kids, high quality and useful. Thank you.
Lynsey M, 27 Jun 2021
Table is great. Don't understand why they would create a plastic water table you have to screw together putting holes in the plastic. Has 2 levels which is great but again it's supposed to be screwed in place. I haven't for easier storage. Would be better if it clicked into place and came off. Plus no lid for storage. Need to cover it with tarpoline to protect it when outside and not in use. Kids though love it when they use it. The table is brilliant. Could have been better thought out. Sand table came with a brilliant lid. Wish the water table did too
julie l, 02 Sep 2021
The grandchildren loved this water table my 2 and 4 year old soon to be 5 really enjoyed it they played happily together pouring water in the top to make it rain and sending the little animals around the pond.It felt sturdy enougth for any rough and tumbles was easy to put together and arrived on time
Customer Photos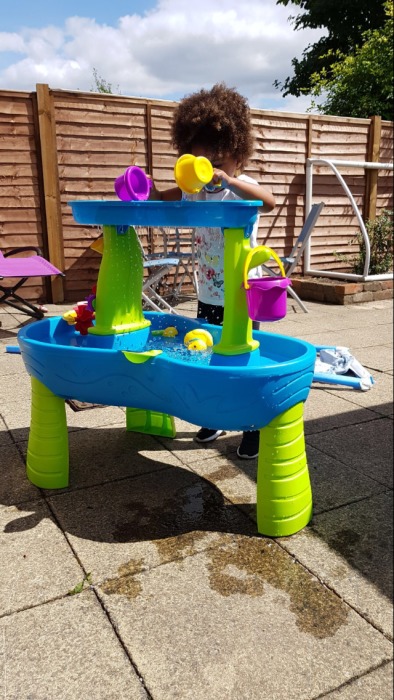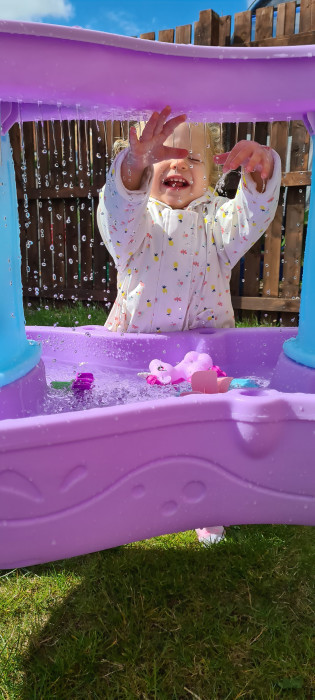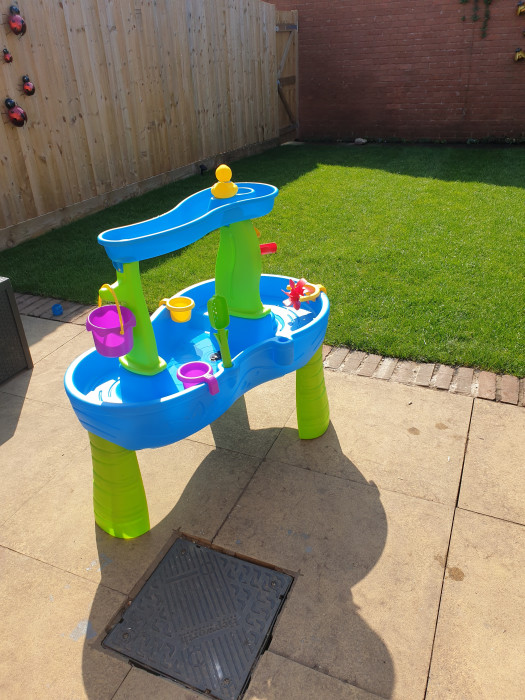 Questions & Answers
Q: Is there an outdoor cover for this item?
A: No cover is specifically available for this item, however we would recommend any sort of patio furniture as suitable.
Q: Is the umbrella compatible with this table?
A: Hi, yes the 40" Seaside umbrella is suitable for this table. https://www.activitytoysdirect.com/step2-40-seaside-umbrella-p1576/
Q: Is it true, as stated on google, that this item does not come with pre-drilled holes? I want to get this for my toddler but I'm disabled so can't drill holes.
A: All Step2 items do not have holes as they have indents and use self tap in screws.
Q: How long is the warranty
A: Step2 has 3 year warranty against manufacturing defects
Q: Is this the exact colour of the product or does it come in other colours?
A: There is another version we have available the Unicorn Rain Showers which is pinks and purples.
Q: Do you sell the accessory pack for this table?
A: Please contact sales@satb.co.uk
Thank you for submitting your question!
You may also like