Weight: 9.9 kg
Dimensions: 58.4 x 108 x 61 cm
Recommended Age: 18 months - 5 years
Step2 Cascading Cove Sand and Water Table with Umbrella
The new Cascading Cove Sand and Water Table from Step2 combines sand and water play into one wonderful table, which comes with a parasol to protect the kids from the sun! The table can be covered with a lid, which has roadways for extra play ideas!
Step2 Cascading Cove Sand and Water Table UK | Step2 850900
Features two sides: one for water, the other for sand separated by roadway
Molded-in roadways on the lid provide an additional play surface
Durable, one-piece plastic cover keeps sand dry
Elastic tie-downs on ends of lid keep it securely attached
Easy-to-use drain plug
Includes bridges, boats, bucket and spade.
Removable 42" (106.7 cm) umbrella provides shade
Holds 10 lbs (4.5 kg) of sand and 3 gal (11.4 L) of water
Minimal adult assembly required
Assembly instructions - https://images.step2.com/media/pdfs/850900_assembly.pdf
| Specifications | |
| --- | --- |
| Product Dimensions | 58.4 x 108 x 61 cm |
| Product Weight | 9.9kg |
| Recommended Age | 18 months - 5 years |
Step2 Cascading Cove Sand & Water Table Reviews
Anonymous , 13 Apr 2017
We bought this for our grandson who is 2 years old. He absolutely loves playing with sand and he loves this table, it is just the right height for him at the moment. There was a problem with the table, it arrived with only 3 legs in the box! A call to the retailer resulted in the missing leg arriving a couple of days later. It has a nice tight fitting lid held in place with elastic straps to keep it clean when not in use. The umbrella is a bit of a gimmick and I can't see us using it really. The table is pretty sturdy (once it has 4 legs!) and should last a long time, but when you stop and look at it, it is incredibly expensive for a bit of molded plastic that must cost about a tenth of the price to manufacture. But they are all the same.
Anonymous , 23 May 2017
It's great (we use it for water only as we have a separate sandpit) and was one of the only ones with lids, but after searching for so long I got fed up and just ordered and I would have lied one with one of the sticky up bits that has cogs and chutes for water to trickle down. Not sure one can be affixed or not and I don't think Step2 sell one that would attach.
Omar Yaqoob, 23 Jul 2017
Excellent service. Had a broken lid. Took few weeks but had it replaced.
Patricia Robertson, 03 Dec 2017
Bought this for my great nephew's 1st birthday, he loves it, many years of fun to come
Anonymous , 31 Jan 2018
Order delivered promptly.Price and quality great.I'm sure my grandchildren will have lots of fun playing outdoors with the sand and water table
Lianne Mottram, 13 Mar 2018
Bought for my boys 2nd birthday. Great size, perfect height. Using in kitchen until the weather improves! My little boy loves using it with his cars on the road and bridge and splashing them in the water.
Anonymous , 07 Apr 2018
Excellent product at the best price
Alan Taylir, 28 Apr 2018
Excellent product
Anonymous , 29 Apr 2018
Bought as a 2nd birthday present. The first time my granddaughter played with this she was there for an hour and a half, and went back to it twice more that day. I think she'd have stayed there all day, given the chance.
Janine Sheehan, 13 May 2018
Product was as advertised, delivered as promised and was a good price.
Anonymous , 04 Mar 2019
Very good durable table Very easy to put together My grandson loves it !!
Anonymous , 28 May 2019
Really pleased with this. My almost 3 year old grandson loves it. Worth every penny and quick and easy to put together. Very satisfied.
Anonymous , 23 Nov 2019
Haven't unpacked yet as for a present in December. However service and delivery were very good.
Charles M, 18 Dec 2019
Excellent service and delivery. Product is exactly what we were expecting as described on the website. Charlie McCormack
Anonymous , 08 Apr 2020
I bought this for my 4 year old granddaughter. She loves playing with it and the parasol helps keep it in the shade.
Lyndsey A, 09 Apr 2020
Very happy with my purchase. Item appears robust and well made. Will keep my toddler amused in the garden whilst we're on this lockdown. Quick delivery and a competitive price too. Thank you.
Rachel L, 15 Apr 2020
Bought for my daughter who is 18 months and it's perfect it's a sturdy table very easy to assemble. Due to her age we have sand in both sides at the moment but the two sides are divided clearly unlike some tables. It's easy enough to move when full with the lid attached. Added bonus that it comes with some toys and a sun parasol.
Anonymous , 15 Apr 2020
Really great water table. Not yet used it for sand. It's a lovely size for my 2yo. I really like that is comes with a lid and the draining plugs make tidy up time nice and quick. It arrived quickly, safely and on time. Highly recommend.
Anne E, 18 Apr 2020
Thank you for delivering this so quickly. This was a present for my grandson's birthday. You were the only company who could deliver it in time for his birthday. I am very grateful to you
Rebecca T, 06 May 2020
Love this water table. A very good size, very strong. The little bridges and boats etc are nice. The lid is so secure so not worried about leaving it out during the summer. Would definitely recommend.
Lisa M, 06 Jul 2020
Really loved this and bought it for my son who's 2. He is the right height for the table and even sits in the sand and water! The drainage is perfect on it and tucks away. Just don't forget to screw the legs on.... my husband didn't know they were in the box and when we moved it around the garden the legs kept coming off... I didn't marry him for his brain hahaha!
Glenn C, 09 Jul 2020
One very happy little grandson. Excellent value and great service
Anonymous , 11 Jul 2020
Very good and quick service. The table is very well made and sturdy. Brolly great for sunny days and plugs for easy emptying. Good height. My son is 5 so was looking for a higher table. Would reccomend.
Anonymous , 12 Jul 2020
Really good table, keeps kids entertained for hours!
Anonymous , 14 Jul 2020
Birthday present for our grandson's 3rd birthday....he loved it.
Anonymous , 15 Jul 2020
The table I ordered arrived missing a leg. The customer service was excellent and a replacement arrived the next day. I would recommend the company
Anonymous , 16 Jul 2020
Lovely sturdy tray with cover that won't blow off in the wind. Legs easy to remove for winter storage. Grandson who is 14 months loves it and I'm already planning other things to use in it like water beads. Lots of areas for play and plenty of scope for it not only growing with him but also for baby sister as she gets older. When we get the sunshine I will try the parasol!
Geraint W, 21 Jul 2020
Brilliant sand and water table. Love that i can open the plugs to let the water drain out after use and put the lid on to avoid it filling with bugs and stagnant water. Great product - would highly recommend
Karen F, 28 Jul 2020
Excellent item my grandson loves it! Easy to put together. Great price smooth transaction with a quick delivery... perfect. Would recommend
Sophie O, 03 Aug 2020
My 2 year old absolutely loved receiving this for her birthday. My 4 year old also loved playing with it too. It's really sturdy. Nice chunky plastic. The plug is very good. Easy to let the water out. I love the fact that it has two sections. So you can put sand in one side with small world animals and water in the other side with boats Or sea creatures etc. The Little parasol Is a nice feature too. You don't have to worry about moving it around the garden to a shady spot. Just pop the parasol up. It's only a lightweight one so is best to remove it and store it inside when not in use otherwise I think it would get weathered. The lid of the water tray also has really handy elasticated hooks to hook it onto the tray, meaning it won't blow off. Another excellent feature! A bit more expensive than other water trays about but it was 100% worth the money and worth paying out that little bit more to get something decent that will last.
Wendy S, 11 May 2021
Absolutely brilliant, just what I was looking for, and luckily found by chance. Perfect division for sand and water, sun shade comes in handy for rain too! Grandson loves it. Will give many summers of pleasure.
Anonymous , 15 May 2021
I bought this for my granddaughters first birthday. She is delighted with it. Easy to assemble. Let's hope we have the weather to enjoy it.
Charlotte J, 03 Jun 2021
Perfect, I'd say need 15kg of sand for this other side fills with water and the umbrella which is adjustable. The lady on the phone was really friendly and helpful too.
Helen K, 03 Oct 2021
Really pleased with the sand and water table purchased for my sons birthday. He can stand and hold it well, without worrying that it will tip over as with the sand and water in it becomes very sturdy. The parasol acts as a 5th leg and will provide shade for those sunny days.
Customer Photos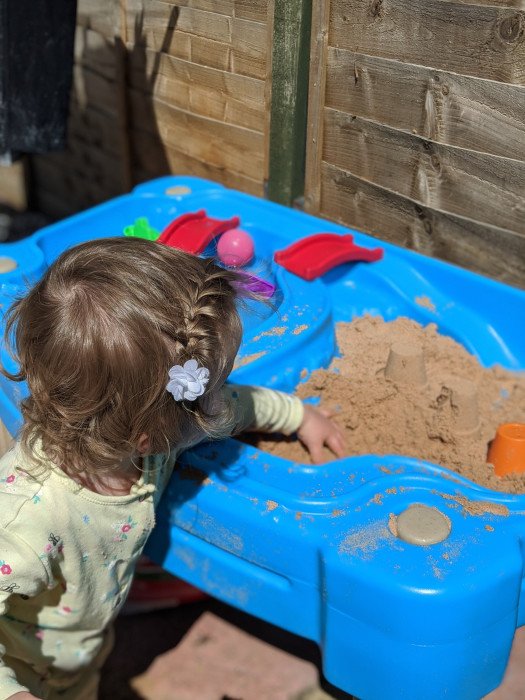 Questions & Answers
Q: Does this product come with the accessories shown in the picture -boats,bridges,spade etc
A: The accessories included are: umbrella, 2 bridges, 2 boats, bucket and spade.
Thank you for submitting your question!
You may also like