Weight: 16.82 kg
Dimensions: H=37cm, W=312cm, D=33cm
Recommended Age: 2 - 5 years
Step2 Up & Down Roller Coaster
The Step 2 Up & Down Roller Coaster will provide endless enjoyment and hours of fun - climb up the steps either side, sit on the car, and 'wheee', down we go. Still in our range after many years, owing to continual demand. Timeless!
See more in the Step2 Roller Coasters range.
Step2 Up & Down Roller Coaster UK | Step2 711400
Age 2-5 Years
Roller coaster with 2 sets of non-slip steps that lock onto 10' track
Comes with one coaster car with high back, handrail, and foot rests for a secure ride
Maximum weight 50 lbs
Car dimensions: H=38cm, W=59cm, D=33cm
Minimal adult assembly required
Comes with a 12 month guarantee
Packaging dimensions: H=110cm, W=67cm, D=41cm
Assembly instructions - https://images.step2.com/media/pdfs/711400_assembly.pdf
| Specifications | |
| --- | --- |
| Assembly Instructions | |
| Product Dimensions | H=37cm, W=312cm, D=33cm |
| Product Weight | 16.82kg |
| Recommended Age | 2 - 5 years |
Step2 Up & Down Roller Coaster Reviews
Claire Exton, 17 Apr 2017
Brilliant .. bought for a 2nd birthday .. perfect
John Southern, 15 Mar 2017
Product is very good. My son and his friends loves it and the quality is great too.
Anonymous , 02 Mar 2017
great toy, easy to assemble and at the best price around
Kim Aston, 04 Jan 2017
Ordered this for my daughter for Christmas it came the next day at 3pm and I'm over the moon with it fantastic service and good quality would 100% order from activity toys direct again!
Robyn , 21 Mar 2015
Absolutely fantastic toy!! So easy to put together. The car is really light for my 3 year old to push up, and has so much fun riding down. This will be a great toy for when the children's friends come round and play with hours worth of fun. Very sturdy , doesn't wobble and feels really safe. I MUST add how amazing the delivery service is. I ordered mid day, and it was delivered the next morning!!!! Over the moon, thank you!!
Katie , 22 Sep 2013
My home and garden look like a nursery but no matter what I've brought for my boys )1 & 2( nothing has held their attention for more than 5 minutes. We visited a play farm who had one of these rollercoasters and my niece )5( and son )1.5( loved it so I thought I'd treat my boys to one for their birthday. BEST present I have ever brought, my son plays on it all day long, him and my niece were outside for an hour yesterday going up and down, taking turns. I'm sure when my littlest boy is old enough he'll love it too. It might be expensive but it'll last till they're 5+ and the kids LOVE it. Huge hit at the birthday party.
Cindy , 11 Jun 2011
Excellent toy for outdoor and indoor use )providing you have the space indoors(. Robust, colourful, very easy to assemble - no DIY skills required. Purchased for my active grandson's 2nd birthday therefore supervision required as he prefers going down roller coaster backwards for added fun! Money well spent.
Derek , 14 Dec 2010
Very very fast delivery despite the weather and great buy, it was the cheapest I could find anywhere and my son loves it and plays with it for hours. Would recommend well worth it. A++++
Anonymous , 16 Nov 2017
The delivery was fast and the box came undamaged. The quality of the product itself is very high and when assembled it is sturdy and safe. I would definitely recommend this product.
Julie James, 19 Nov 2017
Excellent fast delivery
Pamela Blake, 11 Dec 2017
I brought this for my parent and toddler group and they love it
Anonymous , 22 Dec 2017
Great delivery, would buy from these guys again. Haven't opened the toy yet as it's crimbo day.
Christine Dominic, 07 Feb 2018
I purchased this for my 2 year old grandson's birthday. It has been a great hit with him and his brothers. Some supervision is required for the birthday boy, but he loves it. It is well made and was a really good buy. Great toy. Thank you
peter anslow, 17 Feb 2018
Fantastic fun for my great grand daughters and their friends.
Wendy Hanley, 02 Apr 2018
Excellent toy. Very well designed. Kids love it
Anonymous , 15 Apr 2018
Brilliant toy , easy to put together, and children played for hours, what more do you want
Mrs. Jenny Redwood, 22 Apr 2018
Great fun. Really sturdy. My grandson loves it. Made a great birthday present.
Anonymous , 09 Jun 2018
Great for kids aged 2 & 3.
Lorraine Jackson, 24 Jun 2018
Bought for our Grandson's 2nd Birthday. First present he opened, he didn't want to open anything else from then on :) He loved it! We put in on a slight decline, so made it go faster. His face is a picture. Would highly recommend this product, for both boys and girls...fab!
A , 26 Jun 2018
Great for the garden, kids love it
Anonymous , 06 Jul 2018
My daughters love this great item nice and sturdy
Gillian M, 09 Jul 2018
Having seen this at two separate play centres we tracked a supplier down to buy one for home. The construction is sturdy and very solid once the track pieces are put together. The ride on car locks into position until the child is seated and pushes off. The delivery time was phenomenal- less than 24 hours from purchase to delivery - would definitely use Activity Toys service again- quality and service levels both superb
Anna V, 26 Jul 2018
Great toy! Easy to assemble and all enjoyed by all of kids at my sons second birthday
Anonymous , 27 Jul 2018
Brilliant! My 2 and a half year old loves it. Quite sturdy and safe
Michelle M, 19 Nov 2018
This coaster is amazing. I bought it for my son's 2nd Birthday and he is on it constantly. It's a big hit with his friends to. He really does love it. Great quality, sturdy, easy to put together and away. Great service from activity toys direct and super fast delivery
John P, 25 Dec 2018
My 2 year old granddaughter absolutely loved it
T W, 26 Dec 2018
Brought as a Xmas present for grandson. The quality is great good strong robust plastic , fits the age it says. My grandson absoulte loved it. Well worth the money extremely impressed and would highly recommend.
Anonymous , 12 Feb 2019
Excellent product excellent service thank you! Very happy grandson
Ally L, 14 Apr 2019
Brilliant
Anonymous , 03 May 2019
Nice and safe. Little boy loves it, especially now he can push the car back to the top himself.
Anonymous , 27 May 2019
Great product - though the yellow part keeps attracting flies etc!
Anonymous , 02 Jun 2019
Fantastic item. Bought for Grandson 2nd Birthday. He absolutely loved it. Good quality
Margarette S, 23 Aug 2019
Grandson absolutely loves his up and down roller coaster he's 3 yrs old strong sturdy toy highly reccommend
Jan S, 27 Dec 2019
Apart from its size very large and hard to manoeuvre in the box to wrap ! This was a fantastic purchase , came quickly and easy to put together My 2 year old grandson loves it and I'm sure it will give hours of pleasure indoors (if you have the space ) and subsequently outdoors in the summer ! Looks as if it made to last !
Anonymous , 27 Dec 2019
Great fun my 1 yr old loves it, her little face lights up every time she has a go. My 4 yr old loves it too. Definitely a hit in the house
Emily K, 26 Mar 2020
Very good Well worth the money My children loved it Good for physical development aswell Amazing
Tabitha S, 03 Apr 2020
Life saver! The girls adore it and with being in isolation we couldn't have got it at a better time! Super quick to set up and take down.
Anne N, 13 Apr 2020
Brilliant indoors or outdoors. 2 year old twins absolutely love it. Play on it for hours using up surplus energy! Extremely well mad and easy to put together. Best thing could have bought to amuse children in lock down. A fantastic product.
Carl L, 14 Apr 2020
it's awesome, my little one who is 2 she loves it. Its a decent size and decent speed it comes down at.
Anonymous , 14 Apr 2020
My kids 6 and 3 absolutely love this ride on. So easy to assemble and take apart when not needed. Hours of fun for the kids. Definitely recommend.
Anonymous , 15 Apr 2020
It was a good buy lots of fun for grandchildren
Geraldine H, 15 Apr 2020
I got this for my granddaughter and she loves it, I would recommend this for any toddler x
john k, 04 May 2020
Very poor value, very very slow ride my children are not interested in it as it is to slow age 3 and 4 the worst garden toy I have ever purchased total waste of money. Very disappointed. Would not recommend very over rated.
Anonymous , 07 May 2020
We pre-ordered the item and it came exactly when promised. My son loves it! It's reasonably light and easy to put together. I can see him getting a lot of use out of it for years to come.
Natasha J, 14 May 2020
This item is just as they describe, my 2year old loves it, he also slides his balls and cars down it so there's lots of fun to be had. Delivery was really fast to which I didn't expect as it stated it wasn't in stock for a few days but it actually came the day it was back in stock.
Anonymous , 14 May 2020
Item was delivered ahead of schedule and our granddaughter loves it! Very pleased!
Emma W, 15 May 2020
My 2 year old daughter loves this. Very easy to put together and take apart. Definitely a great purchase.
Joe E, 26 May 2020
Daughter loves it. Definite recommend.
Shirley H, 31 May 2020
My twin grandsons love it
Ellie L, 01 Jun 2020
Very good buy my 3 year old loves it. Also very quick postage, quicker than they said it would arrive which was a bonus.
Gillian D, 30 Jun 2020
Absolutely fantastic, originally bought one 23 years ago for my son, now bought this one for my granddaughter. Hours of fun that she will play on for years to come. Fast delivery.
Kevin S, 30 Jun 2020
Brilliant creation!
Julie H, 17 Jul 2020
Absolutely love the up and down rollercoaster, got it for my twin grandchildren who are turning two. They can't get enough. Fast delivery aswell
Amreen A, 12 Aug 2020
Brilliant, best toy I've bought in ages. Occupies my 4&2 year old, they can control the speed so it suits them both.
Anonymous , 15 Aug 2020
Fantastic toy, sturdy and loads of fun. Easy to assemble, nothing else needed but children.
Rebecca R, 17 Aug 2020
Great item, very solid and so easy to put together. Light enough to move around the garden so it doesn't kill the lawn and my little one loves it
Mr Gerhard R, 07 Sep 2020
Hours of fun for littleones
Thuy Y, 16 Oct 2020
Great product and loads of endless fun for the kids
Anonymous , 18 Oct 2020
What a fabulous gift this was for my grandson.....the squeals of excitement is something to treasure Well worth the price
Anonymous , 18 Oct 2020
Brilliant fun for my grandchildren. Good sturdy track and car... really pleased
Teresa T, 18 Nov 2020
Arrived on time haven't used yet as Christmas present but cannot wait
Thuy Y, 29 Nov 2020
Great toy! Hours of fun!
andrew j, 05 Dec 2020
Set it up ready for Christmas! My two year old is going to love it !!
sharon d, 25 Dec 2020
I carnt Thankyou enough I was amazed how good the delivery was on a pre order
Anonymous , 30 Dec 2020
We bought this for our kids for Christmas and they love it! It's set up in our hallway to go into their playroom at the moment but will go in the garden in the summer. This item was on preorder when I purchased it but as soon as it was back in stock I was contacted to let me know it would be with me next day and it was! Great service, price and product. Thank you!
Rajesh K, 10 Jan 2021
Once the roller coaster came into stock it was delivered very quickly and in time for Christmas. The kids love it, good quality product and highly recommended to keep kids entertained
Larna B, 16 Jan 2021
Great product and brilliant customer service, I am very happy to order from this company again.
Joan D, 12 Mar 2021
Excellent, hours of fun , very strong and durable
Laura H, 24 Mar 2021
Absolutely fab! Got this for our little 2.5 year old daughter and she loves it. It's the first thing she runs to in garden! The big smile we get when she goes up and down the roller coaster is just phenomenal! Highly recommend, super fast delivery, easy to assemble and brilliant price compare to others
Anonymous , 28 Mar 2021
Great choice for outdoor toys that are different to the norm - recommend it to anyone with a few metres of garden spare
Anonymous , 08 Apr 2021
Absolutely brilliant toy. My kids are 2 and 3 and love this. The adults even had a go! Easy to put aside too. Great buy. Would defo reccommend
Kym C, 04 May 2021
Haven't yet opened as it's a Xmas present for my son but he is going to absolutely love it
Leigh W, 07 May 2021
My son loves his birthday roller coaster! He was 2 today, got the hang of it in minutes. Team were very helpful when the item hadn't arrived too and a replacement was sent the next day. Highly recommend!
Rosemary H, 10 Jun 2021
Excellent service and great product.
Jemma S, 07 Jul 2021
So much fun, easy to assemble and pretty safe, my two year old can't get enough and when he's not on it my 4 year old is!
Shirley G, 13 Jul 2021
Bought two of these for both sets of Grandchildren they are between 3-6 years they absolutely loved the roller coaster and play on it all the time takes two mins to assemble and ordered one day came the next - great company to order from!
Belinda M, 23 Jul 2021
My grandchildren (aged 2 and 3) love the roller coaster and I added the expansion pack once I was confident they can play safely. Lots of fun and practicing taking turns too
Nicola P, 07 Aug 2021
Great fun for my grandchildren they lv it
Jocelyn C, 09 Aug 2021
Really mixed review for this product, as if you ask the girls they absolutely love it. They have great fun on it and I'm sure they would recommend it. However, I was very disappointed with the build quality, especially considering the price. The bottom section seems like it wasn't formed correctly and is incredibly difficult to fit together.
Anonymous , 09 Aug 2021
Kids love it seems sturdy enough
Anonymous , 29 Aug 2021
Big hit with the grandchildren!
Ann H, 13 Sep 2021
My grandsons are very very happy
Anonymous , 05 Oct 2021
A Christmas gift so not used yet. Excellent customer service. Delivery very quick.
Ben B, 13 Oct 2021
Wow I love it and my kids are well impressed, fabulous company to buy from and would definitely recommend them
Ann B, 13 Oct 2021
Not used yet for christmas Can't give accurate stars as don't know
Gary H, 21 Oct 2021
This is brilliant fun, we bought my 2 older grandsons one of these a few years ago with Thomas the tank engine and they used it constantly. The new one is for my youngest grandson of 17 months and am sure he will love it just as much
Reni G, 26 Oct 2021
My little boy loves it. Delivery was very fast and I had no problems with the company. The roller coaster is perfect.
Jess C, 01 Nov 2021
I still haven't received my order!!!
Frances S, 16 Dec 2021
This was for our kid's present for December, we live in Ireland and unfortunately Activity Toys Direct did not ship to Ireland. I hatch a plan to send to Scotland as our family there had a parcel to send over to Ireland. It turned out that traditional shipping was more expensive than the roller coaster to buy from Scotland to Ireland for this size box. I contacted Activity toys and spoke with Gary and he arranged for the roller coaster to be returned from Scotland and then shipped to Northern Ireland (which is in the UK) to another family member and then a little drive up the road from me to collect it. To say I couldn't recommend their customer service highly enough would be an understatement.
Customer Photos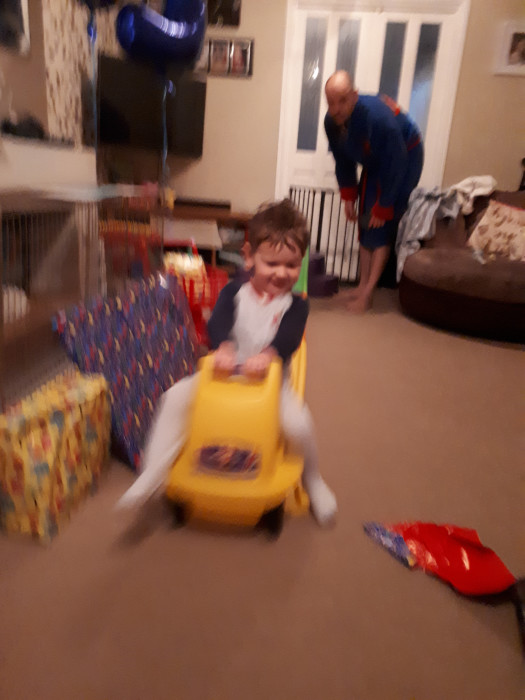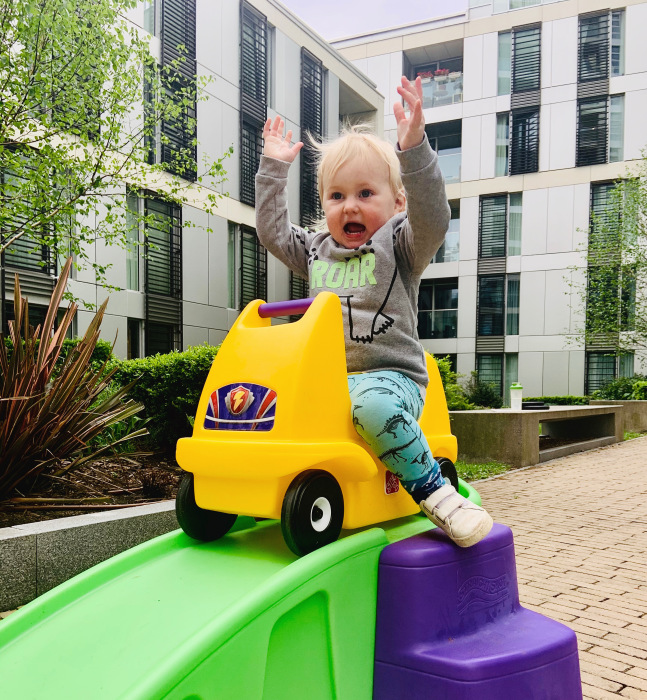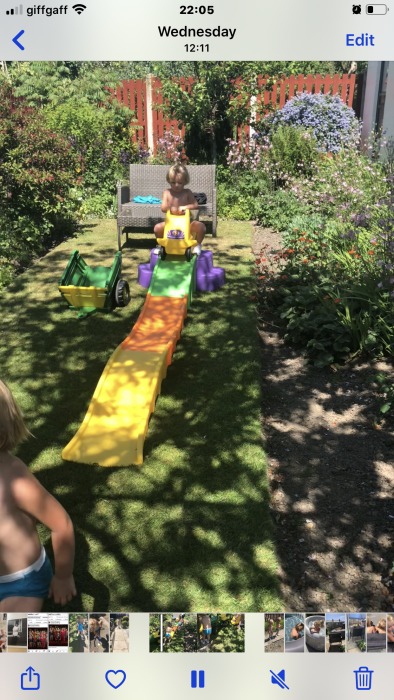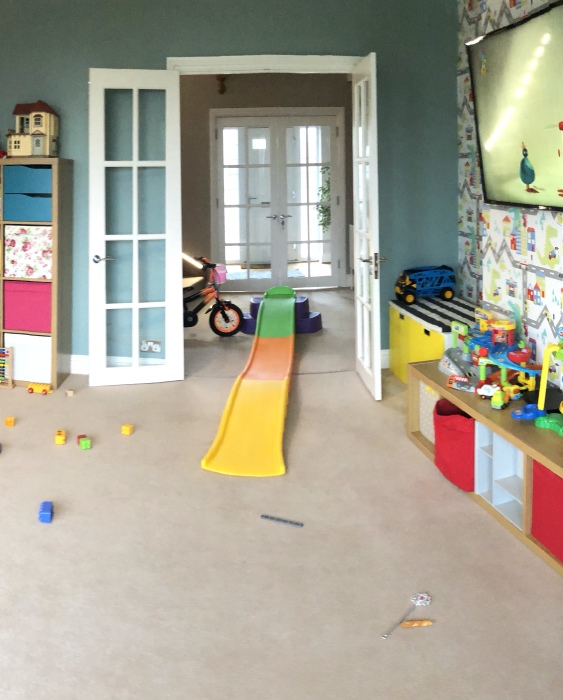 Questions & Answers
Q: Can this be disassembled easily for storage and reassembled easily for play, and do the pieces stack?
A: This can be easily disassembled, however the parts do not stack.
Q: Can you buy replacement car for this item?
A: Please email the UK distributor for Step2 at sales@saber-international.co.uk and they should be able to help you.
Q: do you ship to the Republic of Ireland?
A: We only deliver to UK Mainland
Q: What is the full length of the product once assembled?
A: The length is 312.4cm
Q: Can this track be extended ?
A: Yes with the extension track. This is currently out of stock we hope t have this available again soon.
Q: What is the height of the platform where you set off?
A: The track dimensions are H 37.5 x W 312.4 x D 77.5 cm
Q: Does this item come in 1 box or 2? And can you tell me the weight of each box?
A: This is one box @ 15.9kg
Q: Does it work well in grass and Astro turf
A: Yes this would fine on both, however would be better on short grass.
Thank you for submitting your question!
You may also like