Weight: 19 kg
Dimensions: 113.6 H x 90 W x 39.4 D cm
Recommended Age: 2+
Step2 Lifestyle Dream Kitchen
The Lifestyle Dream Kitchen from Step2 is one of the most realistic play kitchens yet! Its compact design and subtle colour scheme reflect that of a real modern kitchen. With plenty of interactive features including an electronic play phone, and a stove with fun lights and sounds, kids will have hours of fun!
Step2 Lifestyle Dream Kitchen UK - Step2 852100
Framed window with working overhead light and dish rack will encourage kids to make believe they are washing the dishes and play food while in their play kitchen
Five electronic features: play phone, stove top burner, overhead light, oven keypad, and microwave keypad
37-piece accessory set included (colors of accessories and play food may vary)
Requires six "AA" and five "AAA" batteries, not included
Adult assembly required
| Specifications | |
| --- | --- |
| Product Dimensions | 113.6 H x 90 W x 39.4 D cm |
| Product Weight | 19kg |
| Recommended Age | 2+ |
Step2 Lifestyle Dream Kitchen - New Colours Reviews
DOUGLAS COLLINS, 28 Oct 2017
This kitchen is amazing. Our Grandaughter absolutely loves playing with this and cooking us up meals. She absolutely loves the pans boiling away and all of the added extras
Anonymous , 21 Nov 2017
Fantastic quality. Takes a while to set up but is worth it!
Anonymous , 10 Feb 2018
Excellent Kitchen, highly recommend, my brother has the same kitchen for his children and I noticed how much my girls enjoyed playing with it. Its has been a huge hit in my house, especially the creative play which is achievable.
Salvatore C, 03 Nov 2018
Very faster ship very good item. Its good for 3, 4 ,5 years old. Like on the foto. Maybe need more caps or fruit or any other peace for kids. But still very good item.
Anonymous , 11 Dec 2018
It's very nice kitchen. My daughter love it
Anonymous , 20 Dec 2018
Fantastic item. Delivered speedily. There's going to be a very happy toddler on Christmas morning.
Jason T, 26 Dec 2018
Grandkids present and they loved it, will give some years of fun. Was easy enough to put together, although the interactive pan hob wasn't very straight so we had to improvise, but it worked. Our own daughter had one of these years ago so they are good quality overall and built to last
Anonymous , 03 Mar 2021
Arrived on time and just as described.
Customer Photos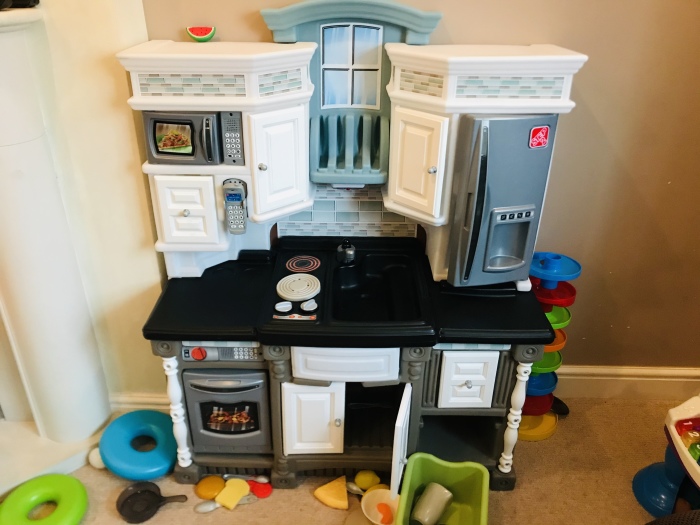 Questions & Answers
Q: Hi do all of the white cupboard doors open or are some fixed?
A: All the white cupboard doors do open.
Q: Does the kitchen have a fridge
A: Yes, this includes play fridge.
Q: Looking to buy this for Christmas present for my daughter so won't be opening until Christmas Eve does receipt and guarantee cover the time period incase there is a fault when opened?
A: We would always recommend opening and checking the product well in advance of Christmas, so that we can assist in the unlikely event that there is a fault, and avoid any disappointment on Christmas morning.
Q: Is the colour the same as in the pictures? What do you mean by 'new colours' in description?
A: The colour matches the pictures. The 'new colours' is simply to differentiate this from an older colour scheme which has since been discontinued.
Q: Hi, how much would it be for just the accessories please?
A: Please contact us on mail@activitytoysdirect.com
Q: When will this product be back in stock
A: This is due in the next 4 - 5 weeks.
Q: Hi does the fridge door open?
A: Yes the fridge door does open.
Q: When is this item coming back in stock? Will it become again or before Christmas?
A: Yes this is on order and will arrive in the next 4 weeks. Once we have a date we will put this on pre-order.
Q: Please could you tell me if/when this kitchen will be back in stock
A: There are no dates at this time. If you sign up for the stock alert you will be alerted as soon as we receive stock.
Thank you for submitting your question!
You may also like