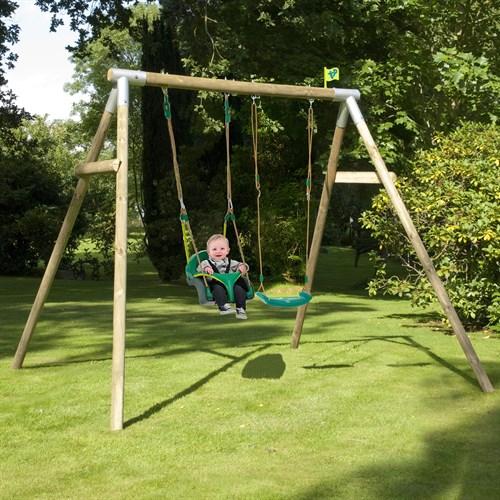 Weight: 0 kg
Dimensions: 303cm W x 279cm D x 233cm H
Recommended Age: 3+
TP Knightswood Double Swing Set 4
Double the fun with the TP Double Knightswood Swing Frame! This sturdy swing frame can take two single swing seats or one double swing (such as the super fun Nest Swing). All this means lots of swinging fun for several children at once! What's great is that this swing frame can accommodate all TP swing accessories, including the double swing attachments
See more in the Knightswood range.
TP Knightswood Double Swing Set 4
Tall and strong, this swing frame stands over 240cm high.
Fits all TP single swing seats.
Age 6months-12 years, depending on the swing seats selected. All swing seats are additional purchases.
1 year guarantee on all parts
Dimensions: 303cm W x 279cm D x 233cm H
Questions & Answers
There are currently no questions.
Thank you for submitting your question!
You may also like