Weight: 11 kg
Dimensions: H=97cm, W=108cm, D=51cm
Recommended Age: 18 months+
Step2 Wagon For Two Plus
No more tired little legs with this solid, durable and safe children's wagon which allows children to be transported around in style and comfort.
The Wagon For Two has an easy-latch door and a storage compartment under the rear seat can hold toys, snacks and parent's keys. The long parent handle makes pulling easier and even folds underneath the wagon when not in use for easy transport and storage.
What better way to take the kids shopping!
Step2 Wagon For Two Plus UK | Step2 766500
Age 18 months +
Comes complete with two safety belts
Easy-latch door opens to two contoured seats and deep leg wells with moulded-in drain holes
Long handle for easy pulling that folds away
Minimal adult assembly required
Comes with a 12 month guarantee
Packaging dimensions: H=50cm, W=102cm, D=39cm
| Specifications | |
| --- | --- |
| Assembly Instructions | |
| Product Dimensions | H=97cm, W=108cm, D=51cm |
| Product Weight | 11kg |
| Recommended Age | 18 months+ |
Step2 Wagon For Two Plus Reviews
Lydia , 30 Jul 2012
Wow my 18 month son loves this. He couldn't wait for me to put it together he was getting so excited and then sat in it so happily when went for spin sipping drink en route! My boyfriend wasn't sure about it but after using it thinks its great too as lots of space inside and comfortable seats.
Jinky Edwards, 22 Dec 2010
My twin boys love this wagon! It was given to them on their first birthday. And we have been using it everyday when we go to park or around the shops, as long as neither of them is due for a nap we use this more than their double-pushchair. Really a great idea to keep toddlers at one place.
The Hassalls, 08 Oct 2009
This has been a fab product.Kids love it play in it, pull each other.Bit bulky to take in car but they think it's a train come carousel ride. Lots of giggles every time it's used. Excellent delivery too. Thanks
Keris Williamson, 03 Aug 2017
The wagon is brilliant! Mine are both too old now for a pram (2 and 4) but on very long walks can get tired legs. I pull this along with us and we fill it with everything we might need for the trip plus the kids if they want! Give me a good work out too without being particularly difficult to pull. Would recommend
Anonymous , 03 Nov 2017
Excellent delivery times. Price very good. Wish it was a little bigger and folded down but would definitely recommend to any mum's out there. We took this to Thorpe park because of my 2 year old and the bags...life saver.
Carol L, 12 May 2019
Purchased for my gorgeous twin granddaughters for their first Birthday, they love it and their big brother loves taking them for a ride!!!! Fantastic !
damian a, 10 Jun 2019
This is a great product and much easier for a trip to the park that loading up our twin pushchair. The twins love it, highly recommended.
Anonymous , 03 Oct 2019
I wanted a wagon with a door for my toddler to open and close. I had a good experience with activity toys direct though, but the wagon is cheaply made and likely won't last but my son loves it. The positives: has door, under seat storage (under 1 seat), has 2 cup holders, has seat belts, can hold 2 people so the kids have fun. Negatives: It is cheaply made, the wheels are secured by plastic caps that you hammer on. Where the metal rod (that supports both wheels) goes through on the plastic body has no support, it rests on the plastic body so I can see that wearing out. Others on step 2 US website state wheels have come off with their child in it, that does worry me. It is hard to steer round corners you need to use your foot to redirect the wheels. The handle could be a few inches longer, I'm 5'6 and it's fine. The back of the seats could be higher to support the child a bit more. The door cannot be shut by the child, you have to lift it slightly to lock it in place. It took me 3 hours to put together, as it was hard to get the handle on. I used a pen torch and this helped me see the holes. Overall, my son loves it. I store it in my small flat because he plays with it so much. He gets in and the wagon, loads it up with toys and even likes to eat it in. I wish Step 2 would make the changes. I know someone mentioned on another site that they changed the wheels to one's for a lawnmower.
Anonymous , 11 Nov 2019
Ideal for my active twins on walks when they need a rest or just prefer to be pulled along for a change. Spacious and comfortable and easy to manoeuvre.
Anonymous , 10 Apr 2020
Absolutley love this wagon. I have twins 13 months old and it is perfect for them. We have taken them out for daily walks both uphill and downhill. Very sturdy, good quality and an eye turner. People have asked me where they can buy one. We just love it and am certain we will have some very good days out with it.
Anonymous , 11 May 2020
Fantastic!!
Anonymous , 05 Jun 2020
This is absolutely amazing it means I can go on long walks without my children saying they're tired It's so easy to take around and has really good wheel turning Defo good buy
Anonymous , 29 Jul 2020
This is much loved by our preschool children who love to haul each other around the garden. This is our second Step2 wagon; the last lasted over ten years and survived hundreds of preschoolers, they were devastated when it broke, and overjoyed when the new one was delivered!
jamie r, 06 Aug 2020
This is one the best purchases we have made for our boys , They love being in it . The wagon is so easy to pull . So many people comment how cool it is great buy
Cecilia S, 21 Nov 2020
The Wagon is really sturdy and easy to pull or push arround. My 4 and 2 years old loves it.
stacey w, 31 Mar 2021
Great little wagon my 22month old twins love it so much easier than the pram. Next day delivery, can't beat it.
Jas S, 06 Apr 2021
Excellent toy. Not the easiest to make up but not very hard either. The quality is A* honestly. Would 100% recommend. My twins are almost 2 years old and are so easy to cart around in it. Would buy again.
Sophie B, 30 Apr 2021
The kids love it! Took about an hour to assemble, really straightforward with the right tools
Anonymous , 09 May 2021
Really pleased with purchase... my little girl really enjoys riding in this... fast delivery.
Customer Photos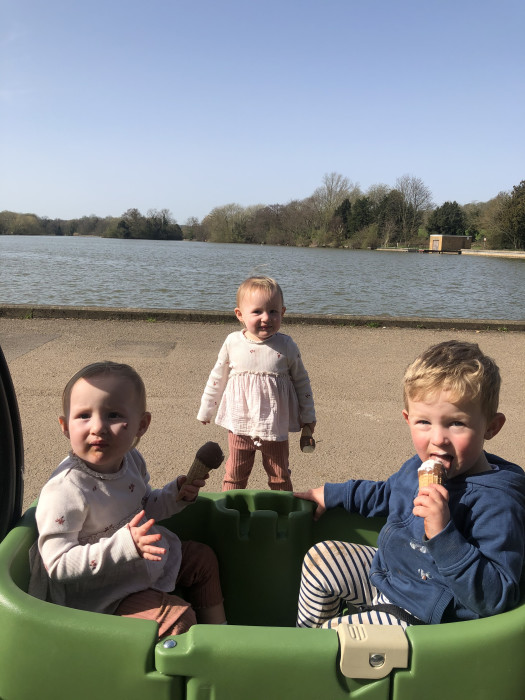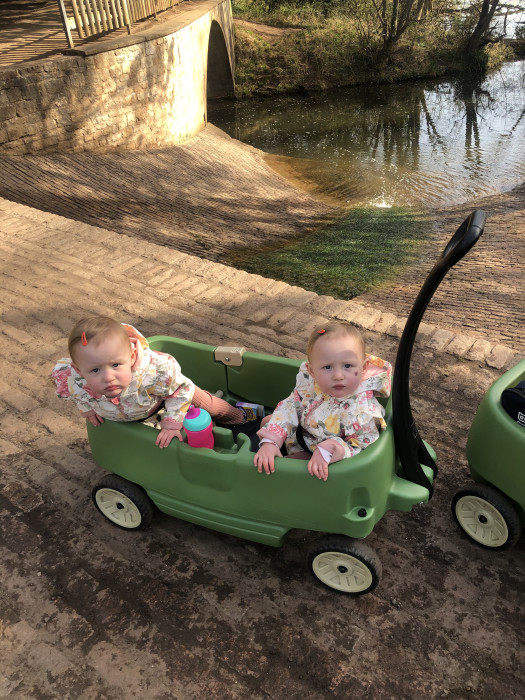 Questions & Answers
Q: Are you able to push this as well as pull?
A: Yes, both are fine.
Q: Is it OK four a 4 year Old ?
A: This is recommended from Step2 from age 1.5 - 5 years.
Q: Hi there, does it fit in the larger boot of the car?
A: The product dimensions are 100.3 x 108 x 51.4cm however the handle does fold away under the wagon for easy transport.
Q: Hi what are the wheels made out of? Rubber or plastic?
A: The wheels are made out of plastic
Q: Are the tires rubber or plastic ?
A: The wheels are plastic.
Q: Do you have a canopy that goes with this?
A: Unfortunately there is no canopy available for this.
Q: What's the max weight it can hold?
A: Maximum wagon weight: 75 lbs. (34.1 kg.) total.
Thank you for submitting your question!
You may also like