Weight: 14.3 kg
Dimensions: Track - 32.4 x 279.4 x 68.6 cm
Recommended Age: 2 - 5 years
Step2 Thomas the Tank Engine Up & Down Roller Coaster
This hugely fun Thomas themed Up & Down Roller Coaster ride on toy will delight children during playtime and keep them entertained for hours upon hours. The coaster car itself features an authentic Thomas the Tank Engine design including the shape and decals. As with all Step2 yous, safety is a key priority with this roller coaster too as it features non slip steps on both sides, recessed wells that will keep the car secured in place until the rider wants to go and the car itself has high back, handrail and foot rests. The ultimate in roller coaster fun which is set to be one of the hottest toys this year!
See more in the Step2 Roller Coasters range.
Step2 Thomas the Tank Engine Up & Down Roller Coaster UK | Step2 736600
2 non-slip steps lock securely into 4 piece track for access from both sides
Recessed retainer wells hold coaster car until child is ready to roll
Over 9 feet (2.74 meter) of up and down riding track
Fully assembled car has high back, handrail and foot rests for secure ride
Detailed Thomas the Tank Engine with authentic face, decals and colours
Adult assembly required
Roller coaster track dimensions: 12.75" H x 110" W x 27" D
Coaster car dimensions: 16.25" H x 25.13" W x 12.5" D
Maximum weight 50 lbs. (22.7 kg)
Designed for children ages 2-5
Please note - This is NOT compatible with Step2 Up & Down Expansion Pack.
Assembly instructions - https://images.step2.com/media/pdfs/736600_assembly.pdf
| Specifications | |
| --- | --- |
| Assembly Instructions | |
| Product Dimensions | Track - 32.4 x 279.4 x 68.6 cm |
| Product Weight | 14.3kg |
| Recommended Age | 2 - 5 years |
| Max User Weight | 22.7kg |
| Track Dimensions | 32.4 x 279.4 x 68.6 cm |
| Car Dimensions | 41.3 x 63.8 x 31.8 cm |
Step2 Thomas the Tank Engine Up & Down Roller Coaster Reviews
Marion Holland-leader, 23 Apr 2017
Bought this for grand kids ages 18months to 5 years they all love it, easy to put together, sturdy, and hours of fun.
Patsy Mcneill, 28 Mar 2017
Yer easy to put together very strong
Christine Izzard, 01 Jul 2017
my grandson really love it super fun
Anonymous , 03 Jul 2017
Kids absolutely love this toy and have had hours of fun with it.
Anonymous , 09 Jul 2017
Brought this for a 2 year old that absolutely loves it! Easy to put together and distracts them for hours!
Rebecca Murphy, 21 Jul 2017
Purchased as a birthday present for our 2yr old, he's loves it, easily to assemble too.
David Miller, 24 Jul 2017
Bought for my grandsons 2nd birthday. He absolutely loves it ! Good quality and securely locks together.
Clare Allan, 01 Aug 2017
Great toy. My boy is on it over and over. Good delivery and service
Laura Marsh, 23 Sep 2017
Extremely fast and reliable delivery and service... amazing produce which our son loves and at a great price too! Couldn't recommend enough.
Hammond Natalie, 07 Oct 2017
My kids went on this at a party and loved it which is why I decided to spend the money and get one for our home. It does seem like a lot of money for something plastic but my two boys aged 3 & 1.5 love it and I can see them getting a lot of use out of it and also good for when their friends come over to play !!!!!!
Janet Hollise, 09 Oct 2017
Bought this for my three grandchildren - 2 one year old boys and a three year old girl. We had a riotous day with lots of screaming- they absolutely loved it. Worth every penny.
drew simpson, 22 Dec 2017
Haven't actually opened the toy yet but as for the service, it was great! It came very quickly and the man delivering was lovely and helpful!
Anonymous , 26 Dec 2017
This Christmas present for my niece arrived just in time and she absolutely loved it as did all the kids who came round. Aged between 2 and 4 they all had a go and it kept them entertained for hours. Would definitely recommend. It is well built and good value for money. It was a firm favourite this Christmas and will go out in the garden during the summer for hours of entertainment
Anonymous , 03 Jan 2018
My Grandson loves it.
Alison Waddell, 24 Jan 2018
My son loves this he got it for Christmas late as I got him an other train ride on with track but sent it back as it was terrible for the money so he got this and loves it can't wait for the summer so he can get it outside
Mrs Pauline Donaghy, 31 Jan 2018
Bought for my great grandson he loves it but it's a pity there isn't more track?
David Concannon, 19 Feb 2018
Excellent my grandson loves it would recommend activity toy great service fast delivery 5 star service
Lady Eve Williamson, 15 Apr 2018
An absolutely fantastic toy. I have purchased three now, for my great grandchildren. the 3 years old and the 1.1/2 years old just love them. A really fun toy for little ones. Eve W.
A , 02 Jul 2018
Bought this item for my 2 year old grandson who loves it. It is well built & reasonably priced.
V Masters, 02 Jul 2018
I brought the Thomas the Tank Roller coaster for my sons 2nd birthday! I was finding it really hard to find something for his age range with Thomas on. However I then come across this and new he would absolutely love it which he does! He literally doesn't stop going up and down on it. As soon as he got off he was saying "Again Again! and rolling Thomas back up the track! it may be a little pricey but its worth every single penny! My nieces and nephew who are 1,3&4 also loves this! #BestThomasTheTankToyEver!!!
Verified C, 01 Aug 2018
Absolutely fantastic
Eileen M, 20 Aug 2018
My great grandson absolutely loved this. Very well made and can be used indoor or outdoor. He also loves to run his small cars down the track.
Maureen A, 07 Oct 2018
This is the best toy ever, my grandson loved it and his sister who doesn't even like Thomas. Just fabulous cannot praise it enough. Hurd and hours of fun. Please make an adult sized one
kim b, 01 Nov 2018
Quick delivery easy to put together the grandchildren will love .
Anonymous , 02 Dec 2018
Great toy that will last some years yet. Well packaged and delivered quickly.
Natasha G, 02 Dec 2018
bought this for my little boy for Christmas fast delivery pieces all there dont know what its like yet as for xmas
Janet K, 08 Dec 2018
My grandson loved it and my other grandchildren had fun with it too
Alison B, 20 Feb 2019
Grandchildren love this. Quality is good great service
Anonymous , 01 Mar 2019
Easy to assemble, sturdy and a great hit with the children! Very pleased with this product.
Anonymous , 08 May 2019
Easy to order and came next day delivery. Unfortunately there were parts missing from the box which meant we couldn't assemble the coaster. Activity Toys Direct did send the missing parts via 1st class post. My 2 year old has enjoyed playing on it.
Anonymous , 13 May 2019
Literally couldn't have found a better present for my 2 year old's birthday. He loves it. The only downside is trying to get him to share with his 4 year old brother!
Sharon P, 28 May 2019
4 year old loved putting the stickers on thomas. Very easy to put together and very portable so can take it with you when going away.
Gemma M, 15 Jun 2019
My 2 and 3 year old love this toy. God value too
Anonymous , 22 Aug 2019
My wee boy loves it
Justine P, 20 Sep 2019
Kids love it and very fairly priced
David S, 23 Nov 2019
Bought as a Christmas present for my grandson, hopefully all the bits are there. Especially as the box is badly damaged and has been sellotaped back together. Not impressed
Katherine B, 24 Nov 2019
Superb toy bought for my 2 Grandsons - they absolutely love it
Grant A, 24 Dec 2019
Fantastic quality and very prompt service and delivery!! Highly recommended
James B, 02 Jan 2020
Bought this for Xmas for my little bit he has been playing with it every single day non stop
Anonymous , 24 Mar 2020
Our kids love riding it across the garden.
Anonymous , 16 Apr 2020
Great service and product. Delighted
John H, 16 Apr 2020
My partner is a roller coaster nut and this is an ideal toy to introduce our 2 yr old. He loves it. It was easy to build and is very robust. It was a lot of money but worth it
Michelle W, 18 Apr 2020
Our Little Girl Has Had So Much Fun With This. Best Purchase Ever!
Anand P, 04 May 2020
Great product my daughter loves it especially that she can ride Thomas around also. Shame any extension to the tracks is so expensive
Anonymous , 05 May 2020
Bought one for our Grandsons last Christmas who live down South. They have had lots of fun on it aged 2 and 3- both inside and outdoors recently. This is the second for our Grandson aged 20 months and he loves it just as much.
Pamela S, 07 May 2020
Children enjoy playing on Thomas easy to fix together or move around but disappointed the stickers were missing and after emailing gif on response
Bushra H, 09 May 2020
Excellent product. I got it for my 2 year old I would not let her climb onto it without my help as the ride easily pushes away and she can slip and fall without completely getting on at this age. Other than it is fabulous and she loves it. Such a joy to see her riding on it. Wish the track was longer
Anonymous , 28 May 2020
My grandson loves this and i win best birthday present again
Ann D, 02 Jun 2020
Sturdy well made toy, both grandchildren are delighted with it. I have only one criticism track is too short, would like an extension, but the extension on sale does not fit this model.
Robert P, 05 Jun 2020
Grandson loves it! Very good prompt delivery, especially considering the lockdown at this time. Smiles all round, just what we needed
Helen e, 12 Jun 2020
Lovely item will definitely purchase more items
Anonymous , 02 Jul 2020
A robust toy that is a winner! It keeps young children amused for hours and it will provide years of fun before children grow out of it. Perfect for sharing with other young guests who come to stay. A must for Thomas The Tank Engine lovers. Although this toy is not cheap, it should be considered a healthy investment.
Mr Chris B, 07 Jul 2020
Easy to set up and the kids love it
Anonymous , 11 Jul 2020
2nd Step 2 Roller Coaster I've bought from Activity Toys - always so straightforward to purchase. Brilliant delivery time. My grandsons adore this toy! I'd recommend the toy and the Company to anyone! A very satisfied customer.
Becky B, 31 Jul 2020
My almost 2 year old son loves the roller coaster...as soon as he gets up he wants to go straight out and ride on it. Well worth the money
Samantha H, 15 Aug 2020
Arrived earlier than planned so had to try and hide if from my children as the box has a picture of the item on all sides! We are yet to try it out as it's for my sons birthday on the 25th August but it looks brilliant and is exactly like something he's been on previously in a party so I'm sure he will love it. Thank you
Carol P, 17 Aug 2020
Hi I have bought two of these Roller Coasters over a period of 6years for two separate grandkids. The first one has been well used and now being used by a sibling. The second one we have just bought and already being thoroughly enjoyed. Would highly recommended this item, well made and very enjoyable for a one to five year old.
Rosalynd J, 22 Aug 2020
Really pleased with this toy. Good quality and quick delivery.
Lauren b, 24 Aug 2020
We love the Thomas coaster! Amazing value for money. I got my son one for his 4th birthday and it's the perfect size with plenty of growing room to.
Claire C, 10 Sep 2020
Absolutely fantastic!!! My 2 year old loves it- great quality, great price and quick delivery!
Anonymous , 13 Sep 2020
My little grandson loves it.
Patsy H, 15 Sep 2020
I knew this was going to be a hit with my boys (4 and 2) before they had it. And it is! Was a 2nd birthday present for my youngest and although it took him more time to feel confident on it, my eldest showed him how and they love it! It is sturdy so I can imagine if we care for it in winter it'll last a long time
Sarah L, 13 Oct 2020
I haven't opened the box yet because it is a present for Christmas. But im so happy i managed to reserve this gift hes going to be so excited. Thankyou for the great communication and fast delivery.
Anonymous , 16 Oct 2020
great item my grandson will love this, great price.
Gary T, 18 Oct 2020
Christmas present but I can see hes going to have hours of fun
Wendy M, 27 Nov 2020
Not unpacked or assembled yet as intended for Christmas gift. Looks sturdy and strong - better quality than expected.
samantha w, 16 Dec 2020
Amazing toy my son & daughter love it, delivery was quick and customer service were quick to answer any questions I had ! Very happy with my shopping experience with this business
Kym P, 29 Dec 2020
So disappointed-this was a present for our grandson but still has not arrived! Was told you tried to deliver on the 23/12 but could not find the address! Was promised it fir today 29/12- it has still not arrived! Very upsetting.
May B, 01 Jan 2021
Santa gave this to my granddaughter for Christmas. Her little face lit up when she saw it and she and her little brother had so much fun! We built it in seconds on Christmas Eve. Good quality and sturdy well worth the money. I would also like to say the delivery was fantastic they came into stock on the 22nd December and we had it the next day. FANTASTIC
Gemma R, 04 Jan 2021
Bought this for my 3 year for Christmas as he watches the videos on YouTube. He's not keen in ride in toys so wasn't sure if he would like it however it's been the biggest hit of Christmas for all kids. Was on it all day and everyday since and so nice to watch them having so much fun. Worth every penny.
Joanne B, 10 Jan 2021
Bought this for my grandsons 2nd birthday, him and he's 4 year old brother absoutly love it.
Anonymous , 23 Feb 2021
This toy is an expensive purchase at £135 and I pondered it for sometime before taking the plunge. I am happy to say I am really happy with it. All three of my children (age 6, 4 and 2) absolutely love playing on it and can do so independently. I bought a large waterproof storage bag so it can be stored outside inoffensively when not in use. They have played on it for far longer than any other garden play equipment and I would definitely recommend.
Vicky J, 08 Mar 2021
This is excellent, my two year old absolutely loves this rollercoaster. Mummy however is a little tired from putting the train back on its tracks
Valentin C, 24 Mar 2021
Happy with this rollcoaster
Anonymous , 05 Apr 2021
Great toy!
Robert W, 21 Apr 2021
My grandson loved it
Melissa R, 27 Apr 2021
Item arrived without two wheels or stickers. Contact customer service obviously due to lockdown I have it some time and still had no response. So haven't been able to fully make use of the item.
Deborah S, 10 May 2021
My 4 year old grandson loves this
Clare B, 22 May 2021
Amazing fun, my son loves it and has spent hours playing on it!
Joanne S, 01 Jun 2021
Easiest order and delivery ever!! Fully recommended to all my nursery mums, was bought as an addition to birthday party set ups and easily most popular item there x
josie g, 20 Jun 2021
Grandchildren absolutely love it. Hours of fun. Easy to set up and well worth the money.
Adam B, 30 Jun 2021
The greatest present for any Thomas fan!!
Ian P, 12 Jul 2021
Enjoyable
Maja A, 29 Jul 2021
This is a fantastic toy, my 3 year old got it for his birthday and loves it. The toy is very safe and has been a fantastic addition to our garden!
Sarah H, 08 Aug 2021
Bought for me 2 year olds birthday whose Thomas obsessed. He wouldn't get off it and can also use Thomas separate to ramp and use the ramp for other things too. Very sturdy. Very happy with this purchase
HENRY M, 14 Aug 2021
Grandson is delighted with this rollercoaster,and. It is very strong and sturdy. easy build,,only thing I don't like is having to put stickers on it!
Joseph p, 16 Aug 2021
Great toy for kids from 10 months to 5 years. Very easy to assemble, and trivial to pack away for the winter. A little pricey, but you are paying for what is currently a unique product. Once similar items get on the marketplace, say in a year or two, the price will drop.
Customer Photos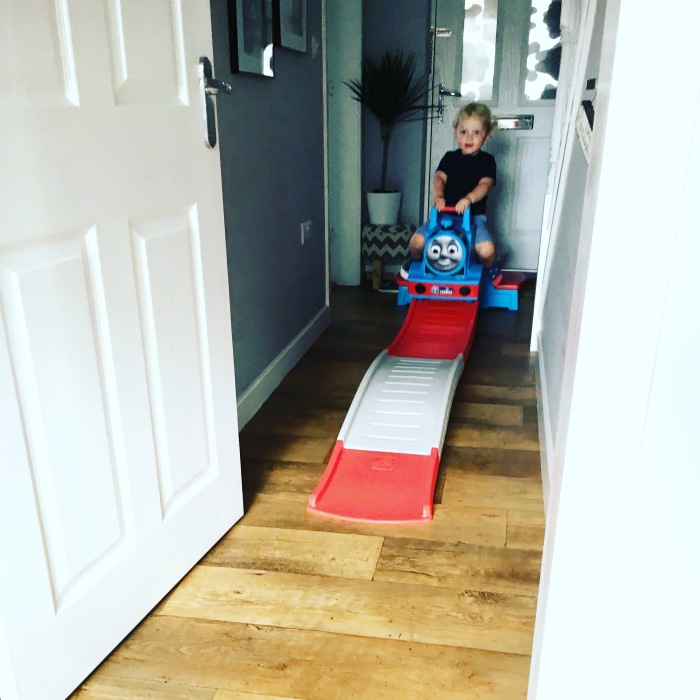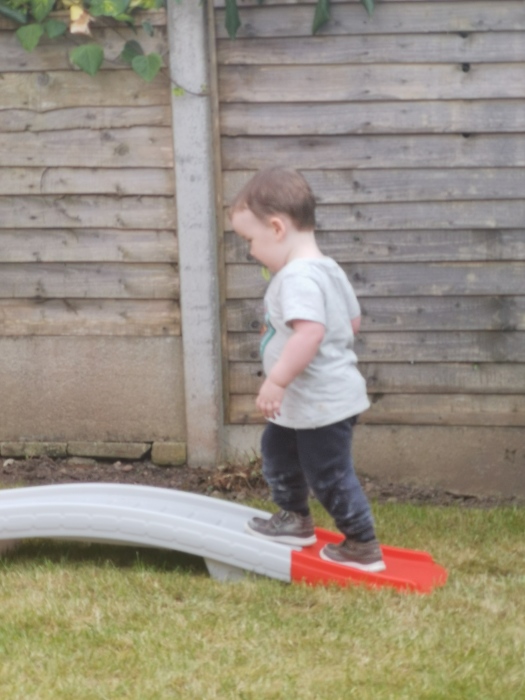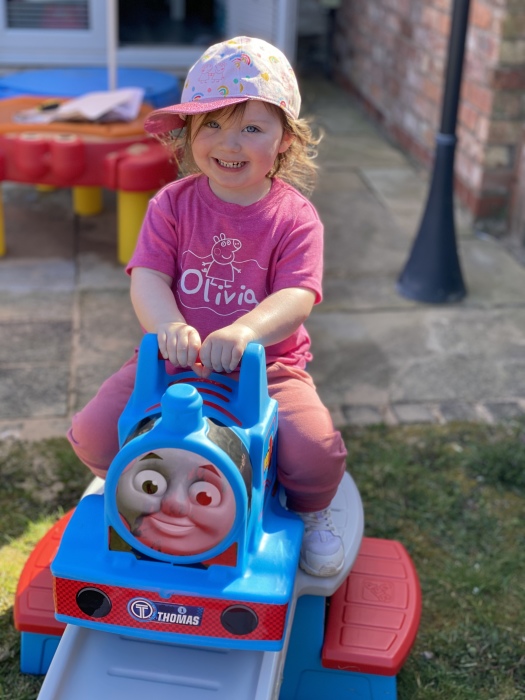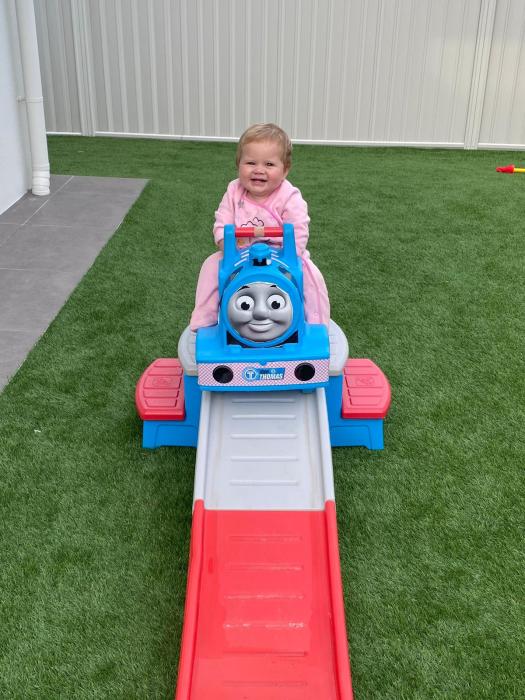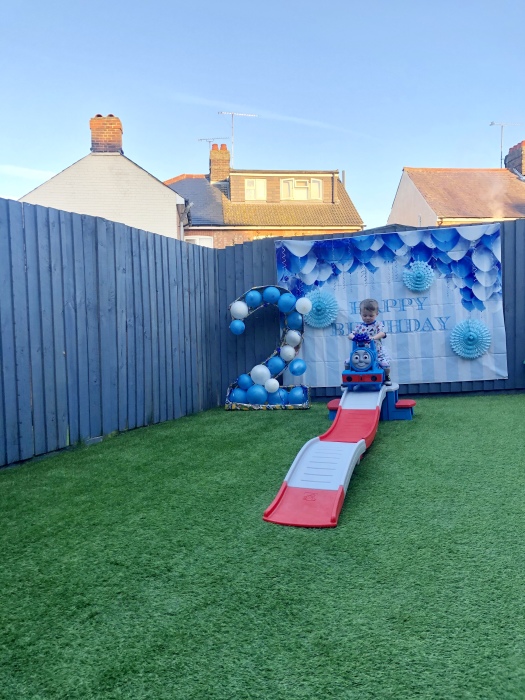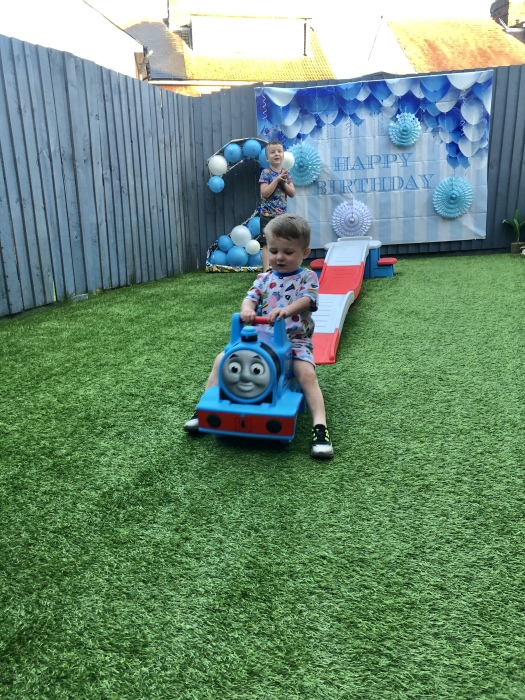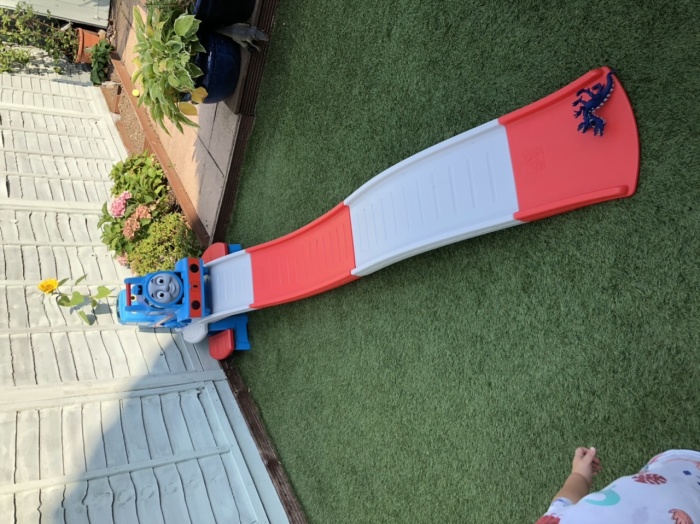 Questions & Answers
Q: Can you extend the roller coaster track?
A: Unfortunately not as there are no more pieces compatible with the track.
Q: Hi, Has anyone heavier than the max range used this and is it safe? I'm buying it for a 1 year old and a 3 year old but can guarantee my 9 year old daughter will be wanting to play on it too!
A: As these are the manufacturer specifications we can only really advise sticking to them - as a further point of reference Step2 advise the maximum user weight is around 23kg.
Q: Can the train be used on hard ground also? What happens when the train gets to the end of the track? Is it possible to buy extra track?
A: Yes, the train can be used on hard ground. The car will come to a stop shortly past the end of the track. At this time, no extra track is available for purchase.
Q: Can replacement stickers be bought for the face, etc? they usually get damaged quite quickly with the sun and rain...
A: please contact us at mail@activitytoysdirect.com and we can source them for you.
Q: Other than the fact it's Thomas, is the track identical to the step two rollercoaster?
A: The track is smaller at 279.4cm
Q: This comes with Guarantee?
A: Yes this comes with a manufacturers warranty.
Q: Can you buy a second Thomas (twins)
A: Please contact sales@saber-international.co.uk - they deal with all the spares for Step2 in the UK.
Q: What is the total weight of the box and contents? It is important this is accurate for sending to my daughter otherwise se I may be charged extra by delivery company.
A: The weight for this is 14.3kg.
Q: What are the dimensions of the box?
A: The box dims are - 90.2 x 55.9 x 50.8cm
Q: Hi. Is there anyway to get the Thomas roller coaster hipped to Ireland please?
A: Unfortunately we only deliver to UK Mainland at this time I'm afraid.
Q: Is Thomas suitable up to age 5 or 6? (the info on the web page says both in different places)
A: This is recommended for ages 2 - 5 years.
Q: Can the track compact down for storage?
A: Yes you can unassemble the coaster to store.
Q: Do you deliver Italy?
A: We only deliver to UK Mainland.
Thank you for submitting your question!
You may also like