Weight: 25 kg
Dimensions: 74.9 x 85.1 x 160.7 cm
Recommended Age: 2+
Thomas the Tank Engine Children's Bed
Choo Choo! Make way for Thomas with the new Children's Thomas the Tank Engine Bed from Step2! This fantastic Thomas bed will make bed time fun for the kids, providing a friendly face to brighten up any room. Realistic decals also add to the beautiful design of this Thomas the Tank Engine bed. You can choose whether to have the cot bed with or without a cot bed mattress..
See more in the Thomas the Tank Engine range.
Step2 Thomas the Tank Engine Children's Bed Features
| Specifications | |
| --- | --- |
| Product Dimensions | 74.9 x 85.1 x 160.7 cm |
| Product Weight | 25kg |
| Recommended Age | 2+ |
Step2 Thomas the Tank Engine Children's Bed (With Mattress) Reviews
Anonymous , 27 Dec 2017
My 3 year old son loves it so much. Arrived the day after I ordered it and very easy to put together. I actually put him in it after he fell asleep on Xmas eve and woke up with the biggest smile
Adrian Bishop, 03 Feb 2018
Excellent product. Easy to assemble. Son loves sleeping in his new Thomas bed . Would highly recommend this product and company to anyone.
Robert Whitney, 29 Mar 2018
Grandson loved it, did not want to get out of it
Carl P, 17 Apr 2020
The boy loves it & he sleeps well in it, so obviously comfortable as well.
Adel M, 19 Mar 2021
Lovely little bed and the customer service is brilliant. If I could pick one improvement is that the funnel isn't fixed to the bed, but we are going to glue it on. It's a perfect size for a 2-3 year old and it comes with a mattress too.
Customer Photos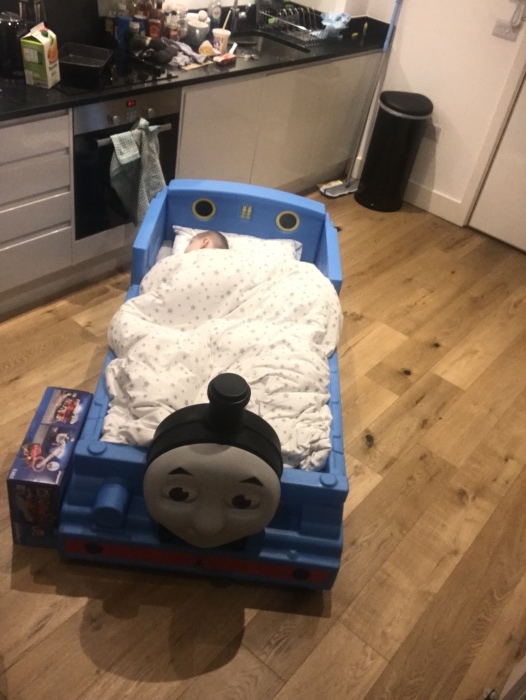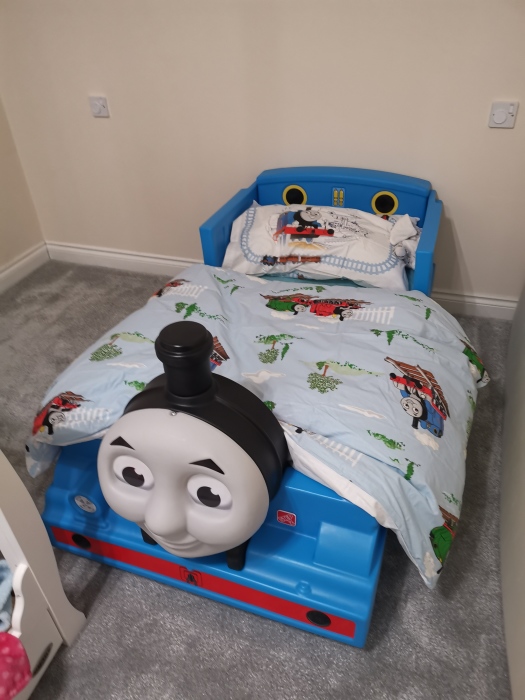 Questions & Answers
Q: Can you just buy the mattress as I have already got the bed and can't get a mattress to fit
A: We have these available but would you would need to order over the phone - please call us on 0800 028 1168.
Q: What material was used to make Thomas bed?
A: This product is made out of Linear Low Density Polyethylene.
Q: Would love to get this for my son. Just need more details about the mattress. Do you have details of the mattress sold with the bed? Is it foam? Coil sprung? Do you have dimensions, pictures? etc... Does a standard 140cm x 70cm toddler mattress fit? Many thanks.
A: The mattress we include is a foam mattress. That needs to be at least 1310mm in length, 690mm in width and a thickness of 100mm
Q: Can you buy replacement stickers for the bed?
A: Please contact sales@satb.co.uk who do all the Step2 spares
Q: Hello, are you planning on having more stock of this bed? Thank you
A: Unfortunately this item has now been discontinued
Thank you for submitting your question!
You may also like