Weight: 9.8 kg
Dimensions: 90.8 x 50.2 x 120.7 cm
Recommended Age: 18 months - 4 years
Step2 McLaren 570S Push Sports Car
Cruise around town in the ultimate luxury push car with the new officially-licensed Step2 McLaren 570S Push Sports Car! Kids can pretend to drive with the movable steering wheel, as well as playing with the working horn. There's also a storage compartment beneath the seat so there's always room to carry more toys around!
Step2 McLaren 570S Push Sports Car UK | Step2 879900
Ultimate kid's dream car features the realistic design of the McLaren 570S sports car
Interactive steering wheel allows little drivers to rev their engines with the electronic features!
Speed in and out of the turns with the ultra-quiet Whisper Wheels™ design
Take the ultimate kid's car on the go by folding the oversized handle underneath for easy storage and quick transport
Store your little ones favorite toys in the under-the-seat storage for long neighborhood walks or strolls through the park!
The sportscar features two driver cup holders and the adult push handle features a swivel cup holder for mum or dad
Maximum push car weight: 50 lbs. (22.68 kg)
Requires 2-AAA batteries, not included
Adult assembly required
| Specifications | |
| --- | --- |
| Product Dimensions | 90.8 x 50.2 x 120.7 cm |
| Product Weight | 9.8kg |
| Recommended Age | 18 months - 4 years |
Step2 McLaren 570S Push Sports Car Reviews
Urfana Begum, 14 Jan 2018
Lovely
Brian Barker, 18 Apr 2018
Looks great, cannot wait to see our grandson driving along in it.
Anonymous , 06 Jul 2018
Relatively easy to assemble. Grandson loves it, very easy to push and manoeuvre. Would recommend.
Anonymous , 08 Nov 2018
I Oder this push
Gary B, 11 Dec 2018
Grandson will see it christmas day. He'll love it !
Anonymous , 24 Jun 2019
Good product! Won't be again again unfortunately due to dpd being so bad with their delivery.
Mira W, 02 Jan 2020
Very happy with the product and service from Activity Toys Direct. Great toy at a very reasonable price, and we were able to select express delivery as we ordered at short notice. Recieved clear and accurate updates about when to expect delivery, and to top to off the delivery driver was super friendly and helpful! Great buying experience, we will definitely use you again in future.
Anonymous , 15 Jan 2020
My 11mo loves this. I'd have preferred a 5 point harness than the waist seatbelt to make him extra secure, but it hasn't caused any issues. He absolutely loved his first drive to the park.
Arifa P, 09 Apr 2020
I am extremely disappointing there's pieces missing no instructions or pole to put the tyre through this was very expensive and as my little one has seen the outer skeleton of the car he is upset because he can't use it
Anonymous , 14 Apr 2020
Pros, It's good. My son in 1 & likes it. Didn't realise all the detail on it is stickers which you apply yourself. The horn doesn't beep, it makes a car engine sound & the cup holder would only fit a bottle of water as apposed to a coffee cup.
Jade U, 17 Apr 2020
On arrival of the car the box was open, parts of the box were indented and parts of the car were poking out the sides. The parts of the car that are orange were covered in black marks which didn't come off. I spoke to customer service who were less than helpful and then wanted £15 for the collection of the return and would then deduct this money from the return. Diabolical. Won't be using this site again.
yasmin A, 02 Jun 2020
He's only 7 months but loves it, and stands out too, so instructions that come with it are rubbish in a different language but apart from that perfect
yasmin A, 02 Jun 2020
He's only 7 months but loves it, and stands out too, so instructions that come with it are rubbish in a different language but apart from that perfect
Anonymous , 05 Sep 2020
Was very happy apart from having to drill holes to put the bolts in
Jenny L, 01 Nov 2020
have not opened car yet as it is a Christmas present , but great service
Customer Photos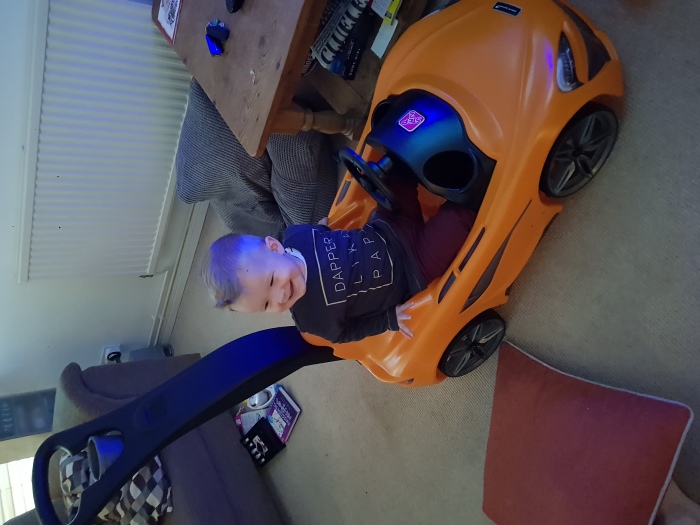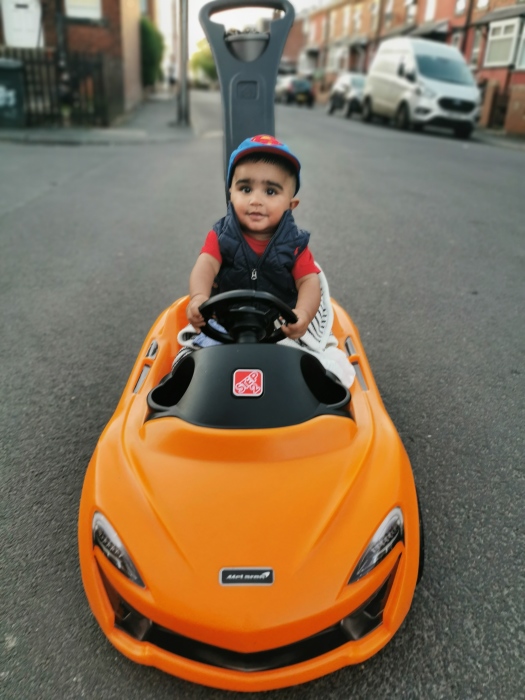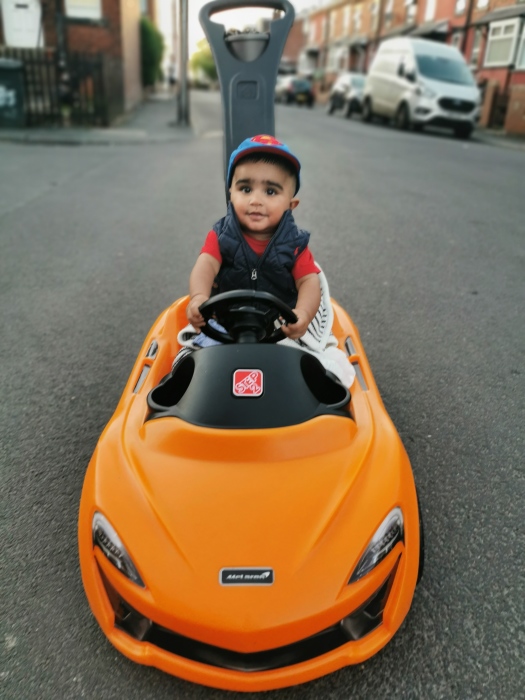 Questions & Answers
Q: Does the handle steer the car?
A: The handle itself is fixed in place to the back of the car. It can be used to push the car around corners in the same way that you would push a pram.
Q: Do you delivery USA
A: Unfortunately we are UK Mainland only. However this is an American brand which you can find here https://www.step2.com/p/mclaren-570s-push-sports-car
Q: Do you have these or any other s like this in pink
A: This is what we have available in Pink https://www.activitytoysdirect.com/step2-whisper-ride-cruiser-pink-p1716/
Thank you for submitting your question!
You may also like