Weight: 17.27 kg
Dimensions: H=146cm, W=64cm, D=169cm
Recommended Age: 18 months - 5 years
Step2 Lookout Treehouse
A lovely tots treehouse with sturdy steps and a fun slide. The periscope goes up and down and can rotate through 180 degrees. Double wall construction needs no maintenance and will last for years.
Step2 Lookout Treehouse UK | Step2 776900
Age 18 months to 5 years
Large, easy-to-climb steps
Durable slide for quick exits
"Shingled" roof for shade
Durable, maintenance-free construction
Adult assembly required
Comes with a 12 month guarantee
Packaging dimensions: H=99cm, W=65cm, D=48cm
Step2 Lookout Treehouse Reviews
Joanne , 29 Feb 2012
I am a childminder and I have brought this product for my early years children. It is very easy to put together appart from that there was no holes for the screws to attach the roof. They still had loads of fun playing on it and looking through the periscope. I would range this product for 1 - 3 years of age.
Questions & Answers
There are currently no questions.
Thank you for submitting your question!
You may also like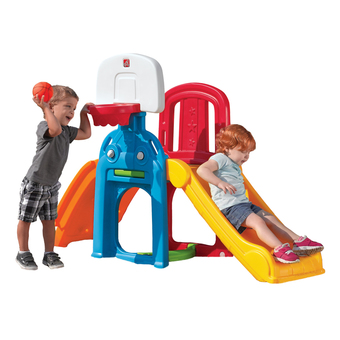 Step2 Game Time Sports Climber
£109.00
£114.99
★★★★★
Step2 Skyward Summit
£499.99
£599.99