This bundle contains the following items:
Weight: 18.7 kg
Dimensions: 39.4cm H x 217.2 W x 49.5cm D
Recommended Age: 18 months - 4 years
Step2 Choo Choo Train Combo
This combo pack includes the very popular Choo Choo train with its extension trailer included! Not only does this combo save you money but it includes all the great features of the original Choo Choo train. Such features include plenty of leg room for each child, safety seatbelts fitted in each car and a storage compartment in the red car for all those trip necessities. All aboard this fabulous fun filled train!
Please note these wagons are not compatible with the older version of this toy
Step2 Choo Choo Train Combo UK | Step2 719400
Age 18 months - 4 years
This is supplied as 3 cars in total
Has comfortable seats with roomy foot wells and moulded-in cup holders
Features 8" Silent Ride Tires for a smooth quiet ride
Long, easy-pull handle
Seat belts included
Cars lock together securely
Maximum weight: 22.68 kg (50lbs) per car
Minimal adult assembly required
Comes with a 12 Month guarantee
| Specifications | |
| --- | --- |
| Product Dimensions | 39.4cm H x 217.2 W x 49.5cm D |
| Product Weight | 18.7kg |
| Recommended Age | 18 months - 4 years |
Step2 Complete Choo Choo Train Combo Reviews
michelle , 11 Jan 2013
I think this is fab for triplet mommys also childminders.its easy to pull an steer an very sturdy an kids love them :)
Roberta Girinelli, 25 Jul 2017
Brilliant! Stable and sturdy. It would be perfect with a break incorporate in the handle. Overall very satisfied.
Bryan M, 27 Oct 2018
The kids absolutely love this. It is very well made and I would highly recommend. I have 3 toddlers with the eldest being 4 and we can pull them all along with no problems and lots of happy faces!
Lorraine C, 07 Nov 2019
Oops sorry have been sending bad reviews and have just realised you are the wrong company so sorry
Mrs C A, 16 Apr 2020
Arrived very quickly. It was a good price and my grandchildren love it!
Anonymous , 12 Aug 2020
I love this Choo Choo wagon! It is so much fun for my 1 year old triplets!
Belinda M, 23 Jul 2021
My grandchildren (aged 2 and 3) love love love this choo train ... and pulling them around the garden in it helps me keep my daily steps up! Win win
Customer Photos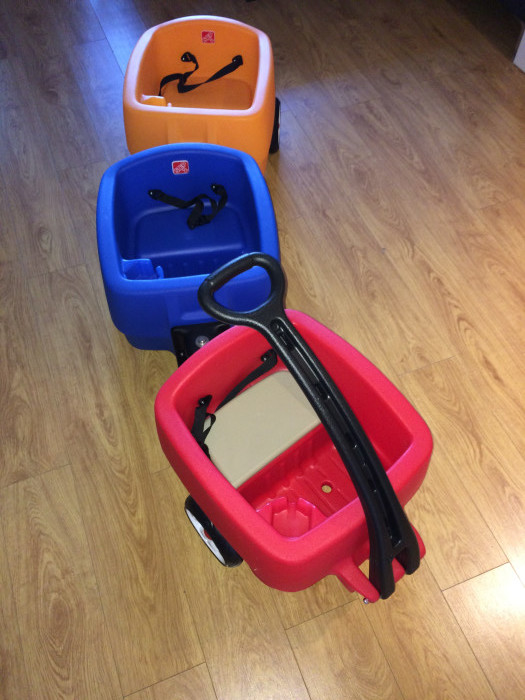 Questions & Answers
Q: Can you add a fourth cart?
A: Step2 advise that up to 3 trailers can be added, equalling a total of 5 carriages long.
Q: Can you confirm that this package includes all 3 carriages as shown in the picture
A: The Combo is all 3 carriages as it is a combination of the Choo Choo Wagon and Trailer.
Thank you for submitting your question!
You may also like