Weight: 12.6 kg
Dimensions: 39.4cm H x 135.9cm W x 49.5cm D
Recommended Age: 18 months - 4 years
Step2 Choo Choo Wagon
The Choo Choo Wagon is perfect when leaving the house with more than one child. Each car features a comfortable seat with plenty of leg room and even has moulded-in cup holders for convenience. The red car has a storage compartment underneath the seat and both cars come complete with safety seatbelts. Also available is the Choo Choo Trailer, and by adding further trailers, you can make a five car train! All aboard!!!
We also do a Complete Choo Choo Train Combo deal which includes the trailer in the package.
Please note these wagons are not compatible with the older version of this toy
Step2 Choo Choo Wagon UK | Step2 701700
Age 18 months - 4 years
This is supplied as two cars
Has comfortable seats with roomy foot wells and moulded-in cup holders
Features 8" Silent Ride Tires for a smooth quiet ride
Long, easy-pull handle
Seat belts included
Cars lock together securely
Maximum weight: 22.68 kg (50lbs) per car
Minimal adult assembly required
Comes with a 12 Month guarantee
Packaging dimensions: H=48cm, W=131cm, D=43cm
| Specifications | |
| --- | --- |
| Product Dimensions | 39.4cm H x 135.9cm W x 49.5cm D |
| Product Weight | 12.6kg |
| Recommended Age | 18 months - 4 years |
Step2 Choo Choo Wagon Reviews
Diane Oderlap, 01 Mar 2012
We bought this plus an extra cart for our triplets who are now 19 months old. They absolutley love it and its a bit of a show stopper so be warned :0(. I would definitely recommend this, and know a few other triplet mummies who bought one around the same time as me and all are as impressed as me!
Denise Adnitt, 15 Aug 2017
the children and I love our choo choo we get out and about everywhere this summer and people keep asking about it so may see a few more around soon :)
Laura Walsh, 08 Jan 2018
...the Choo Choo wagon is fantastic! A fun way to help me get out with my Twins with ease. The twins love it and attracts much attention when out and about.
Kelly A, 28 Aug 2020
I love this choo choo wagan. It was the only thing I could think to buy my twin boys for their first birthdays. I bought all my other children ride ons for their first birthday and really wanted one for the twins. I was so happy to come across this. They love going to rides out and about on it. And yes it does attract some attention. People find it very exciting.
Kerry C, 24 Apr 2021
I bought for my great nephew,4 and great niece, 2 as they get tired on a walk and are getting a bit heavy to carry. They love it, they love riding in it and playing with it, pulling their toys. It's very sturdy and very good value for money. It's easy to pull with the 2 of them on the flat, but find it a bit harder going up hill, but my nephew has no problem!!
Customer Photos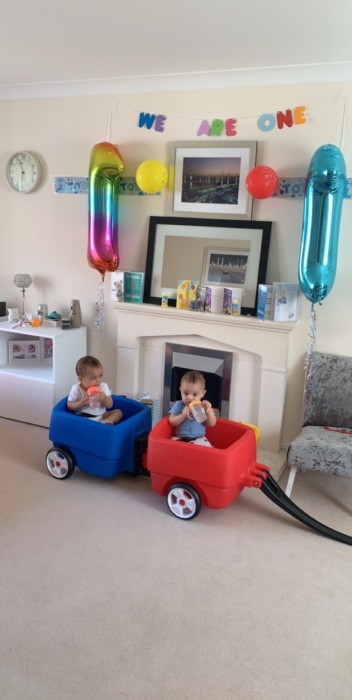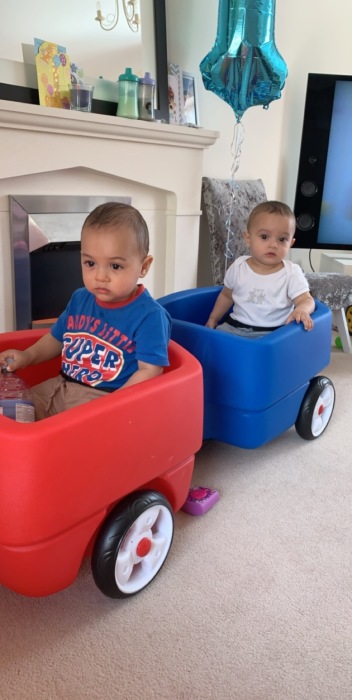 Questions & Answers
Q: Can I disconnect 1 of the 2 trailers just to use 1 seat only
A: No, the Choo Choo Wagon is designed to be used as two trailers.
Q: Are the wheels plastic?
A: Yes, the wheels are completely plastic.
Q: Photo suggests red/blue combo but video suggests orange/blue. What colours come as standard when ordering please? Thanks!
A: The version we have is red/blue and then the optional trailer is orange.
Thank you for submitting your question!
You may also like