Weight: 0 kg
Dimensions: 2.7m L x 2.05m W x 2.35m H
Recommended Age: 3 - 12 years
The Soulet Piment Swing Set offers a double swing with the extra challenge of a rope ladder on one end and a climbing rope at the other. The Piment is styled to blend into the natural surroundings of your garden and offers great value whilst giving your child activity-packed outdoor fun.
Wood is a natural material; climatic changes contribute to cracks inside the wood. In hot, sunny weather the timber will shrink. Conversely in wet weather the wood will expand. Cracks in the wood, dependent on these weather conditions, are common, and do not affect the structural integrity of the wood. For more information on how weather will effect your frame, please use this link.
Fabulous playset for year round fun
Made from premium FSC® certified, pressure treated round pole timber
Includes 2 colourful swing seats. a climbing rope and a rope ladder
Swing set uses heavy duty blow moulded seats for extra strength
Supplied flat packed with easy assembly instructions
Easy to assemble.
All hardware supplied for installation including ground anchors for concreting into the ground
Recommended age: 3 to 12 years
Assembled size: L3.0 x W2.05 x H2.35m
Warnings
Please allow a 2m safety perimeter
Adult supervision required at all times
Not suitable for children under 36 months – fall hazard and small parts – choking hazard
Minimum user age 3 years, maximum user age 12 years
Maximum user weight 50kg
Outdoor use only
Only for domestic use
Product may vary slightly from image shown
| Specifications | |
| --- | --- |
| Product Dimensions | 2.7m L x 2.05m W x 2.35m H |
| Recommended Age | 3 - 12 years |
Soulet Piment Swing Set Reviews
Eileen Kerrison, 13 Aug 2017
Good value for money
Anonymous , 26 Aug 2017
Brilliant my kids love it.
selina gregson, 27 Sep 2017
Fantasic swing set. Easy to put up too. Great delivery, actually came when they said it would. Defiantly will use you again.
Kevan M, 13 Sep 2018
Not yet erected as its a present for a grandchild. Looks good so far. Was delivered in two parts but couriers were to blame. Extremely good value for money compared to other suppliers.
Linda H, 25 Feb 2019
Swing set was delivered and looks just like it did in the picture, quite easy to put together strong structure and ropes for swing and climbing ladder. Speedy delivery
Paul J, 09 Mar 2019
Good value for the money Will with you again thank you
Josephine C, 14 Mar 2019
Good value for money. purchased for my grandaughter and she loves it.
Amira H, 01 Jul 2019
Dissapointed with the delivery. Booked the delivery weeks ago specifically for today. Received email to say it would be delivered today, waited in allday and it hasn't turned up. Haven't been notified that it wasn't going to turn up so quite miffed. Actual swing set will be great once we actually receive it.
Elaine B, 08 Jul 2019
Bought this as a joint birthday present for our grandchildren and they love it, its lovely quality and far more than just a double swing with the rope ladder and climbing rope's either end.
M K, 09 Oct 2019
My two grandchildren (9 & 7) liked it though they could not yet use it as much as they wanted because of the weather. The delivery system was however unreliable. In spite my instructions on the onder and a reminder on the day of the delivey to call me an hour before arrival to provide access, which was also reconfirmed by your office, the pacakages arrived un-announced causing much inconvenience. The installation/grouting of the swing was not as simple as you claimed. It took me two handy men, two bags of ready mix and some minute reading of the accompanied drawings, the total cost for installing the swing securely was twice the price of the swing. Any interested buyer should be aware of it.
Anonymous , 01 Aug 2020
Very fast delivery. My daughter loves it. The original top post arrived with a split in it across the fittings. I reported it and received a new one the following day. Excellent service.
Anonymous , 20 Aug 2020
I put it up on my own, very simple to do, don't need silly instructions. Kids love it and it's a decent price... Well worth the money!
Customer Photos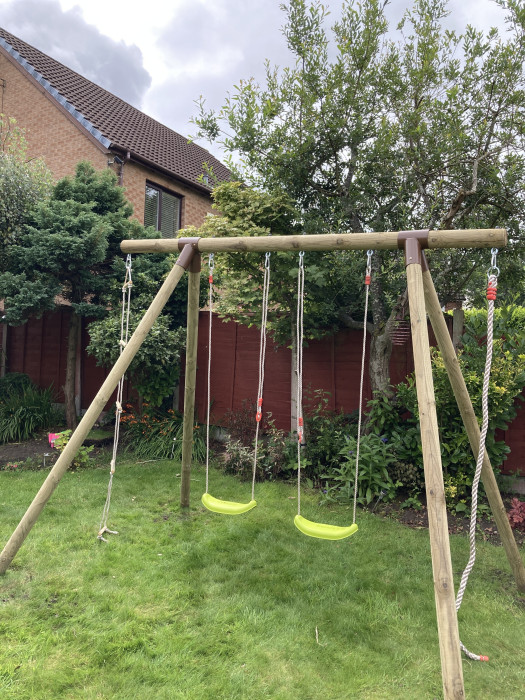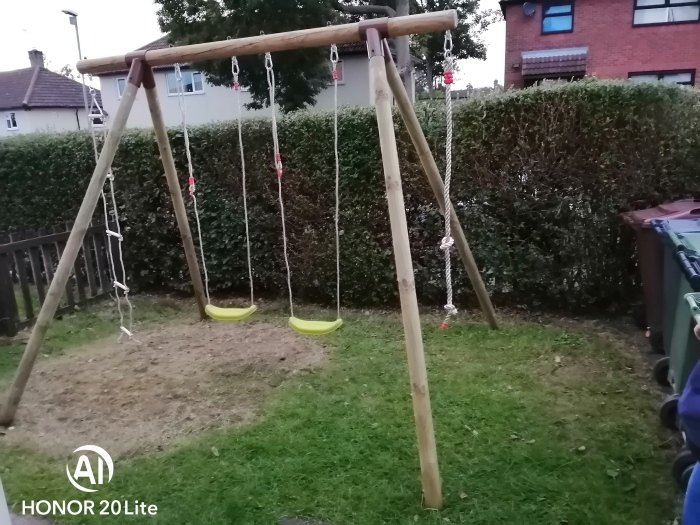 Questions & Answers
Q: Hi, can a swing seat be easily fitted? We already have one that clips on. Thanks
A: Yes, the swing is designed so it should be easy enough to swap out with any other swing seats.
Q: Hi, do you have the dimensions/diameter of the wooden legs? I've bought this off you but could do with buying some screw ground anchors.
A: The legs are 80mm diameter.
Thank you for submitting your question!
You may also like