Weight: 0 kg
Dimensions: 148 x 162 x 203 cm
Recommended Age: 3 - 10 years
Plum Single Wooden Swing
NOTE: This item is constructed of natural wood and it may split or crack, this does not affect the structure or strength of the item, even if there are cracks in the wood on delivery this is completely normal and will not affect the strength and durability of the product. For more information, please see our About Wood Page
The Plum Single Wooden Swing is a beautiful addition to any garden. This swing is made from high quality FSC certified wood, so you're guaranteed years of enjoyment. The ropes which hold the seat and swing set together are sturdy, and the seat is blow-moulded to ensure comfort and stability.
This swing comes with Carabinas (Snapshackles) enabling the changing of seats quick and easy. A flat seat can be swapped for a baby seat in seconds unlike others which require spanners.
Plum Single Wooden Swing
Features and Benefits:
Classic single swing for timeless play time fun in the garden
Made from premium FSC certified timber
Swing set uses soft feel ropes and heavy duty blow moulded seat for extra strength
Swing set frame has cross braces for extra stability
12 month warranty against wood rot and insect damage
Supplied flat packed and pre-drilled with easy assembly instructions
Easy to assemble in approx 1 hour with 2 adults
All hardware supplied for installation including ground anchors for concreting into the ground
Recommended age: 3 to 10 years
Assembled size: L1.48 x W1.62 x H2.03m
Warnings:
Please allow a 2m safety perimeter
Adult supervision required at all times
Not suitable for children under 36 months – fall hazard and small parts - choking hazard
Minimum user age 3 years, maximum user age 10 years
Max user weight 50kg
Suitable for outdoor, domestic use only
Product may vary slightly from image shown
| Specifications | |
| --- | --- |
| Assembly Instructions | |
| Product Dimensions | 148 x 162 x 203 cm |
| Recommended Age | 3 - 10 years |
Plum Wooden Single Swing Reviews
John Brook, 04 Jun 2017
Just what I wanted, essay to put together and working in no time
Elizabeth Hudson Evans, 20 Jul 2017
Hello. Very quick service but we are putting it up and we are missing the 70 ml size 8. long screw. Party tomorrow so will have to go on a hunt. A wee bit disappointed. Otherwise good quality good service. An over site I am sure but annoying
nicola hall, 15 Sep 2017
The swing hasn't been built yet as it's a present. Everything arrived on time, the delivery guy was lovely and the price was good.
Anonymous , 24 Sep 2017
Good enough but it took 2 adults a Couple of hours to put it together and I felt the safety anchors could have been stronger - they buckled when we lifted the swing into the holes which had been dug for them.
Brad Ehlen, 13 Apr 2018
We love it - great value
Anonymous , 01 May 2018
Fantastic product, relatively easy to assemble and one very happy 4 year old!
Anonymous , 14 May 2018
Fantastic service. Delivered on time. Granddaughter very pleased with the swing. Good quality swing and easy to put together.
Emma Kerr, 14 Jun 2018
Great swing frame. Bought separate seat for our baby so this swing will do her through all ages. Only thing that could be better would be to have hold-down pegs that can be hammered into the ground, rather than the ones supplied that need cementing in. My hubbie can do a mod to avoid this but other swings already come with the hammer in type. Great service from Activity Toys and best price by far for this item.
Gary Lea, 19 Jun 2018
Great swing. Very happy with this product
Bethany Field, 24 Jun 2018
Brilliant purchase, our little boy loves his swing!
Anonymous , 28 Dec 2018
This was purchased as a gift for my son's first birthday by his grandparents & he loves it. It's very well made and easy to put together. We bought a separate baby seat to go with it until he is older. We would highly recommend this product.
Toby T, 18 Feb 2019
Great product, a quality wooden swing, it's well designed and easy to assemble at an affordable price. Impressive customer service... the product arrived with slight damage and they replaced it the next day, with great communication.
Anonymous , 07 Mar 2019
Was sent to my grandaughter as house warming present. Delivery was quick but have not had it put together yet
Clare W, 23 May 2019
Great quality, excellent speed of delivery. Can't fault anything
Tyler W, 01 Jun 2019
Great product
David C, 04 Nov 2019
I haven't seen it as I had it delivered to my god daughters house directly. They haven't opened up and inspected yet. Expectations are high as transaction and delivery spot on. I'll update when seen constructed and in use.
Rebecca J, 05 Apr 2020
Brilliant swing!! Looks good and so sturdy! In terms of delivery- very quick but the swing came in 2 parts. We received one part one day and the second the following day! Which is fine, however there was no communication stating this so we phoned the courier to check where 'part 1' was and it took about 45 mins on the phone before they could finally tell us that part 1 just hadn't 'come in' yet. So just don't expect the swing to come in one go!
Anonymous , 05 Apr 2020
The swing itself is excellent. Easy to assemble and solid. My only concern was that the metal pegs for fixing the swing in concrete are too flimsy and bend too easily. We supplemented with some steel ones from another company which fixed this problem.
Anonymous , 16 May 2020
Ideal. Exactly what I required for my grandson. Good solid wooden frame with anchors which need to be set in concrete.
Anonymous , 16 May 2020
So grateful to you for getting this swing to my grandson for his 2nd birthday. His squeals of delight over zoom made our day. My son and daughter in law put the swing together following clear instructions. The only thing you didn't mention until right at the end was that the swing should be secured with concrete. This will be done at a later date but perhaps you should warn buyers a little sooner than the last page of instructions. However at the end of the day everyone is delighted with the product.
alun m, 07 Apr 2021
My daughter loves it very easy to put together top job
Customer Photos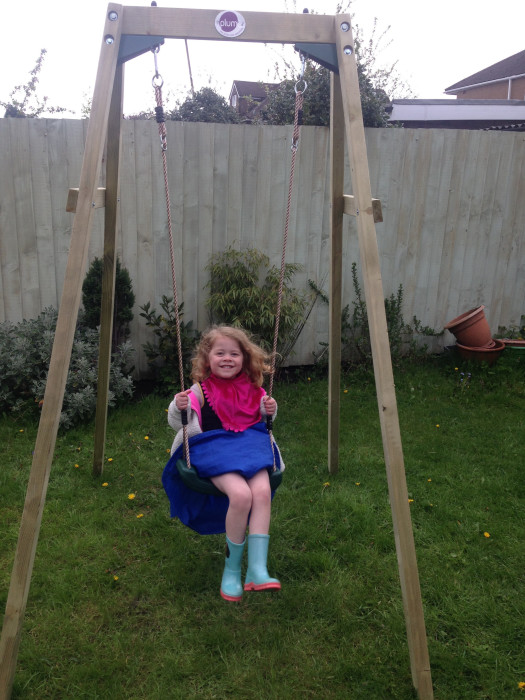 Questions & Answers
Q: Would the TP Quadpod2 Swing Seat TP900, be compatible with this swing frame?
A: Yes, this seat is compatible.
Q: Is there a baby swing seat attachment that would be compatible with this swing please? If so can you please let me know which one?
A: We would advise the Plum Baby Seat Red
Q: How much does the item weigh?
A: The swing weighs approximately 15.2kg.
Q: Does this swing have to be cemented into the ground or can it be used anchored into the ground.
A: All Plum swing sets are recommended that they are cemented into the ground. If they are not and there is a problem this will void the warranty.
Q: Can you purchase just the frame
A: Unfortunately not, the seat is already pre-packed into the hardware box.
Q: can you cement the frame on a lawn, or does it have to be fixed onto a hard surface
A: This needs to be on a grass and concreted into the ground. Plum advises goods should not be installed over a hard surface.
Thank you for submitting your question!
You may also like