Weight: 0 kg
Dimensions: Full height: W148 x D162 x H190cm. Low height: W131 x D98 x H122cm
Recommended Age: 1+
Plum Wooden Growing Swing Set
NOTE: This item is constructed of natural wood and it may split or crack, this does not affect the structure or strength of the item, even if there are cracks in the wood on delivery this is completely normal and will not affect the strength and durability of the product. For more information, please see our About Wood Page
The Plum Growing Swing Set is a lovely swing that can grow as your children do! The frame can be extended via leg extensions, turning the swing from a junior sized swing into a full-sized swing! The seat can adapt too - The cute three-in-one seat comes with a detachable front T-bar and back, allowing you to adjust the seat to suit your little one!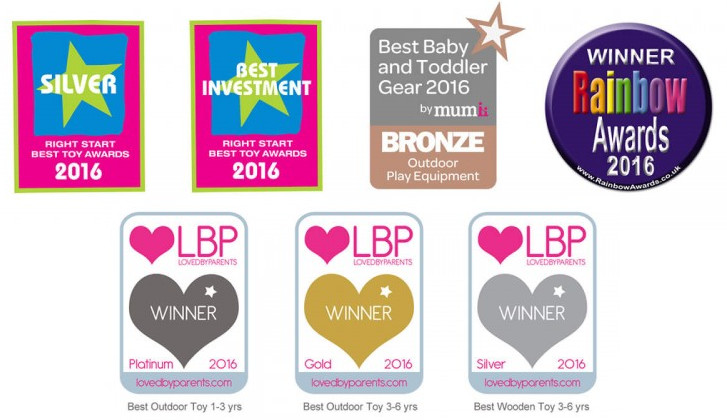 Plum Wooden Growing Swing Set
Bolt covers and caps cover the fixings, protecting little fingers and hands.
The super-soft, poly hemp ropes are kind to little hands.
Remove the back rest and safety harness to convert the Growing Swing to a child's swing seat.
Max user weight: 45kg
Approx assembly time - 1 adult 1 hour
Recommended age: 12 months +
| Specifications | |
| --- | --- |
| Product Dimensions | Full height: W148 x D162 x H190cm. Low height: W131 x D98 x H122cm |
| Recommended Age | 1+ |
Plum Wooden Growing Swing Set Reviews
Anonymous , 22 Apr 2017
Arrived on time. Well packaged. However, on assembling it, we found the instructions weren't that clear and some of the wood appears to be in not too good a condition. We are hoping that it lasts and stands up to the good British weather!! Also the front of the seat was so hard to attach and now we can't get it off, but other than that, a good price and the metal parts are excellent.
Anonymous , 02 Mar 2017
Nice solid swing.
Emma Marwick, 12 May 2017
Brilliant item delivered quickly and great price!
Anonymous , 15 May 2017
EASY TO ASSEMBLE GREAT PRODUCT
Anonymous , 22 May 2017
So far appears to be a good product and my daughter is enjoying it! Had a small issue in that the swing had been packed with some incorrect size bolts, but Activity Toys Direct were really good and got the right bolts sent out the same day as I called (not an Activity Toys Direct issue; think it was always like this from when packed). Easy enough to build, just check you're using the right bits at the right time - some of the labelling good be clearer
Anonymous , 28 May 2017
I preordered the swing for when it was back in stock, within a couple of days it was delivered. It was a present for my grandson 1st birthday whose face lit up when he saw it on his birthday. Very sturdy and colourful he could not wait to have a go.
Karol Sumner, 14 Jun 2017
Brilliant my grandson is 7 months old and loves his baby swing which will go into a fully grown one at a later date. The swing is really sturdy and good value for the money we paid.
Hazel Hughes, 22 Jul 2017
Loved the swing which was brought for our granddaughters 1st birthday, the only thing was there were no instructions to put it together
Anonymous , 04 Jan 2018
The swing is of amazing quality and my niece loves it! In
james vickers, 22 Jan 2018
Swing took me an hour to put together and looked great when finished. My granddaughter loves it.
peter freedman, 10 Apr 2018
Good value, straight forward to assemble. Works well but unfortunately it hasn't improved the weather but what has. Years ending in number 8 aren't too hot generally.
Alexandra Salajan, 02 May 2018
Great and very nice looking swing! My toddler loves it!
ABDUL AHAD KHAN, 10 May 2018
Very pleased with the purchase
Michael jones, 19 May 2018
Great swing my granddaughter loves it nice quality had a issue with a pack of washers too small had to buy some more still worth five stars for quality
Clarry Wells, 06 Jun 2018
Brillant very well built
Yvonne Blackburn, 20 Jun 2018
Delighted with this purchase. Looks and is good quality. A great idea to have a swing seat that converts as children get older. Our grandaughter was delighted with it, especially the cat seat!! Delivery on time, assembly took 2 adults just over an hour. Very good value.
Anne J, 24 Jul 2018
A lovely swing for my 12 month old granddaughter. Great quality and solidly made. She loves it and it has the added advantage that it can be adapted as she grows bigger.
Anonymous , 29 Jul 2018
A sturdy construction, quite easy to assemble although the instructions are just drawings and not always easy to follow.
Anonymous , 30 Jul 2018
The one leg on swing was uneven so struggled to get it to balance , swing seat is lovely to look at x
Anonymous , 01 Aug 2018
Bought this for our granddaughter . she loves it
Paul M, 24 Sep 2018
Excellent
kevin m, 02 Nov 2018
Item received on time, bought for my grandson and he is loving it many thanks kevin
Helen B, 08 Feb 2019
Exactly what I wanted my great niece and nephew will.ger so much pleasure from the swing for years to come
Sandra Y, 01 Mar 2019
Fab... easy to erect, very sturdy, great value for money and most importantly Molly (age 1) absolutely loves it .
Anonymous , 08 May 2019
Arrived on time. Easy to assemble in an hour. Perfect for our one year old daughter who likes the orange seat. It's good price for a swing that will grow with het and last a while. Would highly recommend to anyone looking for a swing.
Susan W, 12 May 2019
My granddaughter loves it glad I purchased it
Anonymous , 19 May 2019
Great quality swing my granddaughter loves it. Xx
Irineu M, 05 Jun 2019
Very good tanks
Linda C, 07 Jun 2019
Great swing for my 1 year old grandson looking forward to seeing the swing grow with him
Gut M, 09 Jul 2019
Lovely swing children love it , solid, arrived on time
Anonymous , 07 Aug 2019
Fabulous swing set - very well made.
Wendy G, 30 Dec 2019
Fab!! Just the right thing for our Grandson. Good ordering system and prompt delivery. Thankyou.
Edward Y, 04 Apr 2020
How many times do I have to write? I asked you to replace the broken seat!
Nikki D, 04 Apr 2020
Great swing which will grow with my kids. Super compact and perfect for our little garden.
Janice K, 06 Apr 2020
Very sturdy well made swing. Delivered in good time . Grandchildren loving it
Anonymous , 09 Apr 2020
Grandson loves this swing
Anonymous , 20 May 2020
Bought this swing as a birthday present for our granddaughter.....and she loves it! Although we had to pre order it, the swing was delivered on time as stated online. My son had no problems putting it together and stated that it was a stable and solid swing of good quality.
Anonymous , 27 May 2020
Really sturdy swing, looks lovely in the garden and our grandson (10 months) loves it.
Dolores T, 03 Aug 2020
Very nice and strong.
Pauline D, 26 Mar 2021
I would love to review it and tell you it's great but I haven't received it yet. This is day 3 and all the delivery company say is it will be prioritised but clearly hasn't when we were meant to revive it on 23rd - really poor service - missed my granddaughters birthday present !
Anonymous , 02 Apr 2021
put together easily. with instructions. been used once,success. thanks
John D, 05 Apr 2021
Very pleased with design of the product and delivery service. It might be useful to advise that a socket set would greatly assist construction.But impressed with the product
Mark V, 22 Apr 2021
Seems of reasonable quality and easy enough to build. Plum are a well known brand and widely sold by many well known retailers so it should be good. Service received from Activity Toys Direct was very good.
Customer Photos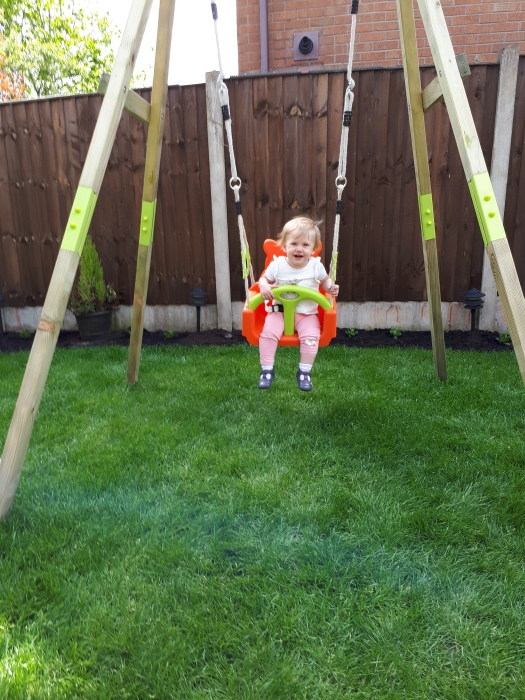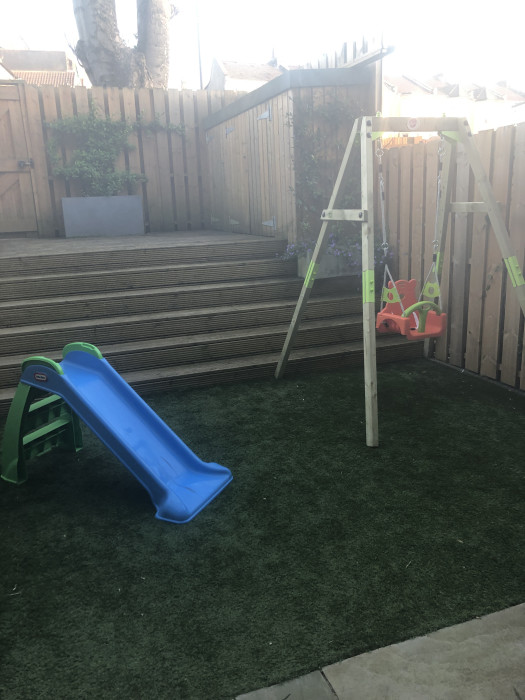 Questions & Answers
Q: Does this swing come with ground stakes?
A: Yes, ground stakes are included to anchor the swing into the ground.
Q: What age does this swing go up to ?Saw a similar one on Mothercare's web site and it went up to 10 years old is this the same swing ?
A: Hi, Plum recommends a maximum user weight of 45KG so it should happily accommodate a 10-year-old.
Q: Does it come with extensions pieces to make bigger as child grows, or do you have to buy extra extension legs ???
A: Both the sizes of swing you see in the picture are included in this product - you do not need extra extensions in order to swap the swing to full height.
Q: Does this swing need to be put on grass? Can it be put on paving, or would this be unsafe? Thank you
A: The swing does need to be concreted into the ground and comes with anchor pegs to do so, so this might be more difficult on a paved surface. We would generally advise installing on grass or a softer surface just in case the child falls from the swing.
Q: Would you be able to use this on a sloping garden, not massively sloping, but could you adjust one leg rather than the other to combat the slope?
A: Unfortunately we can only advise that this be installed over a flat surface.
Q: What type of ground anchors are supplied? Do they bolt to the legs and do they HAVE to be concreted even on grass?
A: The anchors supplied are metal stakes which attach to the legs which need to be concreted into the ground.
Thank you for submitting your question!
You may also like