Weight: 0 kg
Dimensions: L244 x W162 x H123cm
Recommended Age: 1+
Plum Toddlers Tower
The new Plum Toddlers Tower is the perfect first play centre for preschoolers! Kids as young as 12 months can enjoy the wide variety of activities on this frame! Toddlers can climb up onto the Wooden Play Centre frame and take in their surroundings, before sliding back down on the 4ft plastic slide. The swing arm is an ideal way for children to learn how to swing, and comes with a red baby seat with T-bar to keep kids safe and secure while they play.
Includes bell, steering wheel, and letter box for even more fun!
| | |
| --- | --- |
| | Winner of the Right Start Best Toy Awards 2016 |
| | Made For Mums Toy Awards Finalist 2016 |
Plum Toddlers Tower
An ideal first play centre for kids as young as 12 months.
Plum baby seat has a plastic T-bar to keep kids securely in the swing seat
Max user weight 25kg
Platfiorm height: 60cm
Slide length: 4ft
Please allow a 2m safety perimeter.
Adult supervision required at all times.
For outdoor domestic use only.
Approximate assembly time - 2 adults, 5 hours.
Specifications
Assembly Instructions
Product Dimensions
L244 x W162 x H123cm
Recommended Age
1+
Max User Weight
25kg
Platform Height
60cm
Slide Length
4ft
Assembly Time
2 adults, 5 hours
Tools Required for Assembly
Ratchet Socket Wrench x 2 with 13mm Socket x 2, 17mm Socket x 1
Cordless Power Drill with PH#1 x 1, PH#2 x 1, PZ#2 x 1, 5mm Drill Bit, 7mm Drill Bit
Mallet
Warranty (Frame)
5 Years against failure due to rot
Warranty (All Other Parts)
1 year
Plum Toddlers Tower Reviews
Anonymous , 26 Aug 2017
Bought for our Granddaughter for her first birthday. She loves the swing and slide and it will last her for the next two or three years. Easier to put together than first thought, great value for money. Very pleased with the purchase.
Tim Hayward, 02 Oct 2017
Frame arrived on time. All part clearly marked and well made. The last job is to attach the slide which we found to have a small crack at the top. A phone call to customer service agent Gary, and another was in the post! Excellent service
Stephen Corfield, 15 Nov 2017
Brilliant and brilliant after sales
Christine Blake, 17 Apr 2018
Lovely play area for our growing toddler. Great quality finish and well designed. Colours are vibrant and appealing. We love the bell/post box/steering wheel accessories which add another dimension to play. We managed to build it in a couple of hours and have been using it daily ever since. On the more expensive side by money well invested. Would highly recommend to others.
John Robinson, 15 May 2018
The tower arrived on the specified date, very easy to assemble and securely fix to the ground, it seems a very robust product I'm sure grand children will test it well
Anonymous , 20 May 2018
Quality piece of equipment
Anonymous , 28 May 2018
My son loves this,the slide is a good size,but the swing not really much room to move swing up as his feet drag across the floor .quite a few chips in the wood though which is disappointing as cost enough .
matthew williams, 29 May 2018
Looks Great, wood quality is good, very sturdy when assembled and easy to follow instructions with numbered parts. Does take a long time to construct though ( 4 hours for me and the father in law, Instructions suggest 5 hours for 2 people) only suggestion is to make sure you have a good socket set as some nuts are hard/impossible to do up with spanners. Would definitely recommend and buy again
Binny Pangli, 31 May 2018
It's brilliant for my 17 month old, he loves it and it's the perfect size for our garden. Very speedy delivery too :-)
Valerie Aslett, 05 Jun 2018
Brought this for my 1 year old Grandson It went together easily and is very safety conscious piece of equipment he absolutely loves the swing would recommend this
Laura T, 20 Jul 2018
Excellent and fast delivery
Anonymous , 09 Aug 2018
Quick delivery, easy to assemble/only required two people for some parts. Would highly recommend activity toys direct.
Anonymous , 11 Dec 2018
This is for a Christmas present but I am sure everything will be ok delivery etc was spot on
Anonymous , 23 Apr 2019
Superb prompt service, well packaged up. Looks super, yet to be visited by our Grandson so not tried out yet. Took much longer to put together than anticipated & had to borrow socket spanners from a neighbour.
Anonymous , 26 Apr 2019
Excellent quality and would recommend for anyone wanting to purchase this
Gemma R, 29 Apr 2019
Great quality. Excellent size. Fairly easy to build.
Paddy K, 11 May 2019
Slide was broke before I even started to build it
Rajmeer B, 15 May 2019
I received a faulty product and the owner of the company (Garry) was less than helpful. I was left to pay collection charges for receiving a product which arrived faulty and I no longer wanted. It then took over 10 days to get a refund because he 'forgot to press a button'. I do not recommend this company at all!
Neill B, 27 May 2019
Very impressed with how sturdy the tower is. Wouldn't be out of place in a nursery. However... there were several parts missing (handles, screws and covers) with two pieces of wood not quite fit for use. Plum Toys though were very efficient at posting these out quickly so it ended well. Be ready for at least 6 hours work though.
Anonymous , 12 Jul 2019
Perfect for our grandson as he grows and explores
Pauline M, 23 Jul 2019
excellent service from start to finish great product
Kinga L, 24 Jul 2019
My son love Toddlers Tower:) Thank you:)
Esme S, 04 Aug 2019
Far better that expected Very well made I would recommend this to anybody
Anonymous , 05 Apr 2020
Very good climbing frame. My 15 month old daughter loves it. Relatively easy to put together and great once it's up
Alex S, 05 Apr 2020
The item was delivered in a timely manner and is of very good quality. Unfortunately I've not been able to assemble it yet as there was a part missing. However, despite the current situation, I have made contact to get this part sent out and I was impressed with the service provided.
Tony L, 06 Apr 2020
No pre drilled holes for any screws to enable lining up. Suggest you also drill holes yourself prior to inserting screws as the wood quality is quite poor and tends to split in places. Not worth anywhere near the price tag.
Customer Photos
Questions & Answers
Q: Are you able to change the baby seat to a normal one as children grow? Thanks
A: Yes, you can swap the baby seat to another seat as required. The snap shackles on the frame allow the seats to easily be removed and replaced. Please bear in mind that you may need to shorten the ropes on other swing seats to attach them, as the toddler tower's swing frame is lower than most.
Q: Are the extras on the pictures included i.e the steering wheel, post box etc. Thanks
A: Yes, these are included.
Q: what age does this go upto thank you
A: This item is suitable from 12 months plus and has a maximum user weight of 25kg.
Q: Does this need to be fixed into the ground. We have artificial grass
A: Yes, this item needs to be fixed to the ground to help with stability.
Q: How is this fixed to theground
A: Ground anchors are supplied with the frame to be cemented into the ground.
Q: How flat does the ground have to be for this to be anchored and safe?
A: Plum always recommend installing these over a flat surface for maximum stability.
Q: Do the dimensions include the slide?
A: Yes, these are the full dimensions including the slide.
Q: Can the swing section be detached once the child has outgrown it?
A: We would advise leaving the swing on the frame, as the legs are anchored down and help with the stability of the whole product.
Q: It says it needs cement to fix it. How much do I feed to buy and is there anything else I need to get to fix it
A: The only thing you will need to purchase will be the cerement as the swing is supplied with the anchors. You will need enough to fill four squares sized 30 x 15 x 15cm
Q: Does the slide detatch at all for when trying to cut the grass and get the lawnmower in ?
A: The slide should not be moved, this could cause weakness in the plastic.
Q: Where can I get the assembly instructions from
A: If you email us directly or Plum Products have them live on there website.
Thank you for submitting your question!
You may also like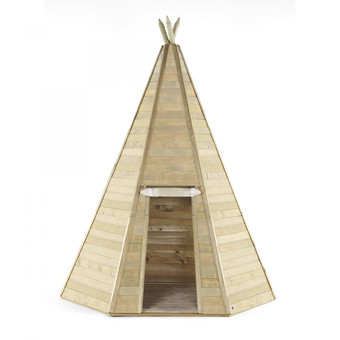 Plum Grand Wooden Teepee Hideaway
£449.99
£599.99
★★★★★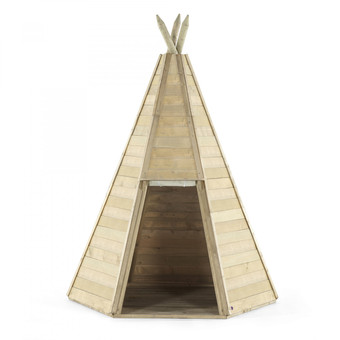 Plum Great Wooden Teepee Hideaway
£329.95
£399.99
★★★★★