Weight: 42 kg
Dimensions: L2.40 x W2.20 x H2.20m
Recommended Age: 3 - 12 years
Plum Spider Monkey II Swing Set
NOTE: This item is constructed of natural wood and it may split or crack, this does not affect the structure or strength of the item, even if there are cracks in the wood on delivery this is completely normal and will not affect the strength and durability of the product. For more information, please see our About Wood Page
The Plum Spider Monkey II is one fun filled swing set that multiple children at once can enjoy in the garden! This swing set includes a super fun circular net swing which can accommodate up to two children at once meaning more fun all around. The frame is made from high quality FSC wood which has been pressure treated for extra strength. The Plum Spider Monkey II is a high quality swing set that children will love from the off!
Plum Spider Monkey II Swing Set
Exciting wooden swing set perfect for encouraging sociable, active play
Features a circular web swing seat, suitable for children to sit, kneel or lay on as they swing
Made from premium FSC certified, pressure treated round pole timber
Swingset frame has cross braces for extra stability
12 month manufacturer's warranty against wood rot and insect damage
Supplied flat packed with easy assembly instructions
Easy to assemble in approx. 2 hours with 2 adults
All hardware supplied for installation including ground anchors for concreting into the ground
Tools required for assembly:- Power drill with .5mm drill bit-
Ratchet socket with 13mm & 17mm sockets
Mallet and step ladder
Recommended age: 3 to 12 years
Assembled size: L2.40 x W2.20 x H2.20m
Warnings:
Please allow a 2m safety perimeter
Adult supervision required at all times
Not suitable for children under 36 months – fall hazard and small parts – choking hazard
Minimum user age 3 years, maximum user age 12 years
Maximum user weight 100kg, max two users
Suitable for outdoor, domestic use only
Product may vary slightly from image shown
| Specifications | |
| --- | --- |
| Assembly Instructions | |
| Product Dimensions | L2.40 x W2.20 x H2.20m |
| Product Weight | 42kg |
| Recommended Age | 3 - 12 years |
Plum Spider Monkey II Swing Set Reviews
William Hardwick, 02 Mar 2017
Very easy to put together even single handed, although it is quite heavy on ones own, my Grand daughters loved it and wanted to stay p!aying on it even after dark, a great success. Bill H
Anonymous , 26 Apr 2017
Brought this swing for my son's 5th birthday. He loves it and so do his older brother (age 9) and sister (age 7)
Valerie Marshall, 02 May 2017
This swing was very easy to put up and it's very good quality the children love it.
Anonymous , 13 May 2017
The basket is canvas and needs assembling. The frame is easy to assemble and it seems good value. I was missing a few screw covers and I contacted the seller who arranged replacement quickly.
Anonymous , 23 May 2017
Quick delivery, description was wrong and needed to drill which it stated it didn't need this. Contacted customer service and was pointless, overall decent product though
Janet Stanton, 20 Jun 2017
Super fast delivery my grandaughters love it ..... A great addition to the garden
Anonymous , 29 Jun 2017
Excellent product, kids love it
Mathew James, 31 Jul 2017
Excellent swing. Our two year old daughter has disliked playground swings for the last year, it took her around 10 minutes on this swing for her to start enjoying it and now she never leaves it alone, she's also happy to sit in playground swings now too.
Anonymous , 03 Aug 2017
Great sturdy product, easy to assemble, kids love it - I've even had a go myself.
carolyn jenkinson, 04 May 2018
My 10year old twins love this. Really sturdy.
Miss N, 11 Jul 2018
This swing is fantastic. Very large so check sizes before buying. Fantastic quality.
Paul V, 05 Dec 2018
Brilliant swing at a brilliant price with fantastic delivery. Thanks
Anonymous , 24 May 2019
Got this for my autistic sons 6th birthday & he absolutely loves it. Haven't been able to get him off of it since it was built. Brilliant buy!
Anonymous , 19 Aug 2019
Nothing wrong with the product, although a little expensive, however the delivery service from the seller and Tuffnells as the courier company couldn't be worse. Missed the delivery date, then turned up 3 days later and dropped off half the product. Came back 4 hours later with the rest, although it was in the van to start with. The seller didnt have a clue where anything was, and didnt sort it out.
Paul B, 30 Mar 2020
Excellent value for money ,meant to give it a five star rating my finger slipped .Love this product .
Karen T, 05 Apr 2020
Looks good and happy with quality. Found it here much cheaper than anywhere else. Will last many years
Anonymous , 08 Jun 2020
Great swing, even mum and dad like it... Pretty straight forward to build, took just over an hour. Instructions suggest the metal anchors should be sunk into concrete blocks but can't see many folks digging up their lawns. We hammered the metal anchors in to the ground flush with the face of each leg. When attached to the legs in the way the legs cannot lift when the swing is in use. Alternatively you could dig up your lawn and hire a cement mixer?
Thomas R, 09 Jun 2020
Fantastic delivery as always. Driver very helpful. Was straight forward to put together. Very big which is what I wanted. Kids love it big and small.
Jackie L, 12 Jun 2020
Wonderful! Amazing !!! Grand kids love it ❤️And such Amazing fast delivery !!!
Miss W, 14 Jun 2020
Amazing quality product, my kids love the new addition to there play area. The only issue encountered was with the courier tuffnels. Customer service is amazing staff are very well spoken and helpful.
Andrew T, 14 Jun 2020
Strong and sturdy swing . Well worth the money .
Anonymous , 19 Nov 2020
My box was damaged when delivered but no missing parts. The swing is sturdy and is made of good quality wood. Assembly easy enough but definitely requires two people to assemble. You will need a drill. Kids love it.
Lucy G, 20 Mar 2021
Fantastic item , kids love it easy to assemble very sturdy
Amanda I, 30 Mar 2021
Very robust, easy assembly and a huge hit with our 2 year old grandchild - getting her off it is the hard part
Sue B, 03 Apr 2021
Easy to assemble and the grandkids love it.
Janet J, 17 Oct 2021
Amazing easy to assemble whole family had to try it out over the weekend
Customer Photos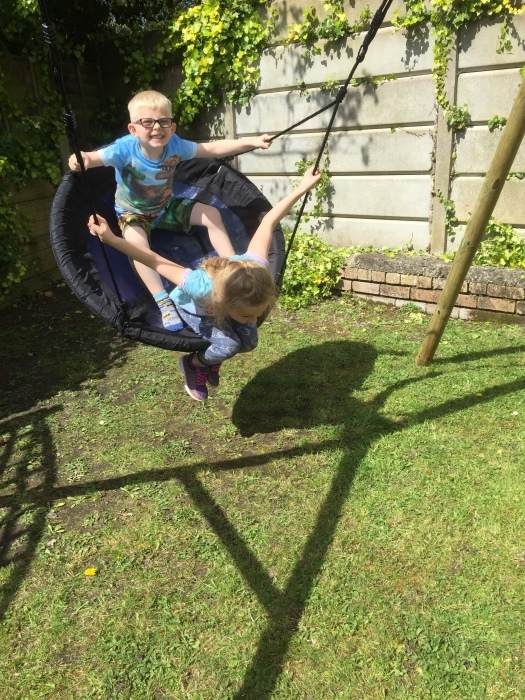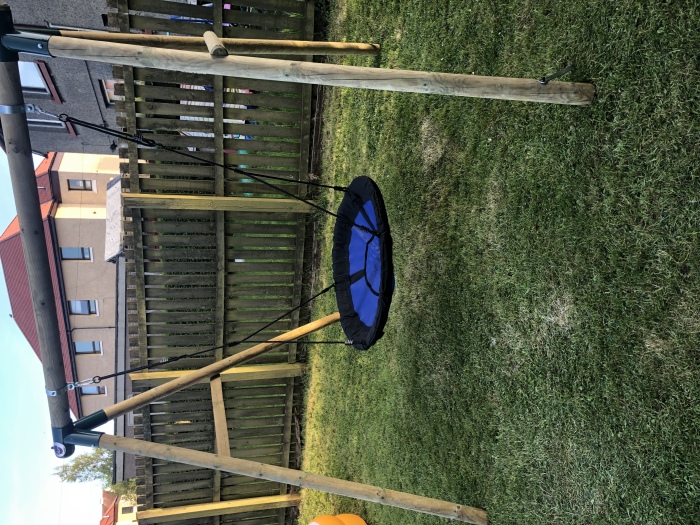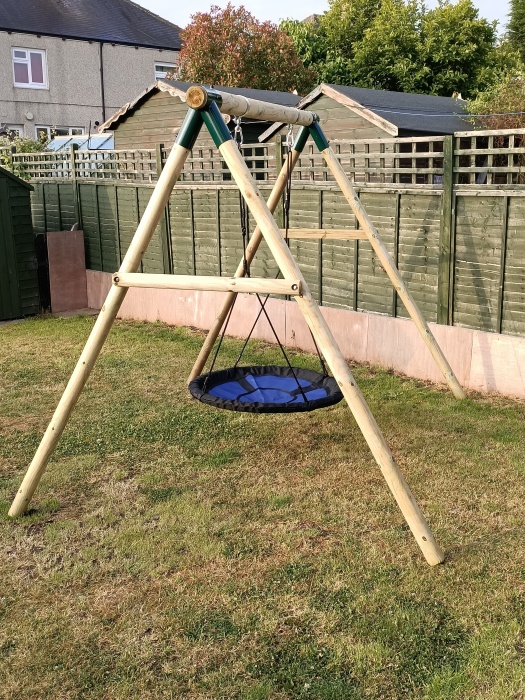 Questions & Answers
Q: How big is the seat please
A: The seat has a diameter of 100cm.
Q: Hi would this sit ok on Astro turf or does it need to be concreated into the ground? Thanks
A: Plum advises that this swing set be concreted into the ground for stability.
Q: I purchased this product as it stated that it as suitable for children up to 12 yes however on the instructions is states no older than 10 yrs! Can you advise which is correct?
A: On Plum's specification on their own website, they simply specify 3+ with a combined max user weight of 100kg - as such this product should be suitable up to around age 12.
Q: I have the spider monkey 11 swing but I now need the actual swing replaced as it has ripped , it's 2 years old . Can I buy just the swing ?? Thank you
A: For spares and replacements, please contact the manufacturer directly at Plum Play: https://www.plumplay.co.uk/contact-us
Q: Is the seat water proof?
A: The seat is made from a canvas. It the seat gets wet this will need wiping down to dry.
Thank you for submitting your question!
You may also like