Weight: 101.5 kg
Dimensions: L 364 x W 275 x H 242 cm
Recommended Age: 3 - 12 years
Plum Premium Wooden Lookout Tower with Swings
Have lots of climbing and sliding fun on the new Wooden Lookout from Plum Products! This bundle contains a swing arm and two single swing seats for extra fun! Climb up the ladder and then slide back down the wavy slide, or challenge yourself to reach the top of the rock climbing wall! Beneath the tower is a sandpit so you can dig and build! The tower even comes with accessories, including binnoculars, a play telephone, and a chalk board!
Plum Premium Wooden Lookout Tower with Swings
Wooden lookout tower with platform
Ladder and rock climbing wall to climb
8ft wavy slide to get back down
Sand pit beneath platform
Comes with accessories: binnoculars, telephone, chalkboard and more!
Made from high quality, FSC certified Norwegian Spruce, promising optimum thickness, durability and strength
Wave slide converts to a water slide for even more fun – just attach a hosepipe!
Sand pit includes ground sheet that prevents weeds growing through yet allows water drainage
Recommended age 3-12 years
Maximum user weight: 50kg
| Specifications | |
| --- | --- |
| Assembly Instructions | |
| Product Dimensions | L 364 x W 275 x H 242 cm |
| Product Weight | 101.5kg |
| Recommended Age | 3 - 12 years |
Plum Premium Wooden Lookout Tower with Swings Reviews
Claudia , 31 May 2016
Bought this Wooden Tower set for my grandson who is 20 months old. Definitely a good buy. My husband and daughter put it together in about 5 hours. The next day they then cemented it into the ground. My grandson absolutely loves it, although he is a little scared of the slide and he will only go down it when you hold his hands at the moment. I am sure once he's a little older he will be fine. My husband changed one of the swing seats to a baby swing seat and he loves it when you swing him and he loves going up the steps of the tower, which he can do without any help and standing on the platform having fun and playing with the telephone. This also seems to be the place he goes to hide when you play chase with him! A brilliant swing set for the garden and I am sure that my grandson will have years of fun as well as burn all that energy he has. Well worth the money and cheaper then many of the other retail outlets selling it.
Victoria Lowe, 14 May 2017
Wanted a play centre that was suitable for three grandchildren under 5 that we meet their needs as they grew. After much research decided to purchase this item. Activity toys direct website was very user friendly. Ordering and delivery process faultless. Not disappointed, excellent build quality. All items numbered and clear assembly instructions. Couple of items missing/damaged. Emailed Activity toys direct with details/photos. They forwarded to Plum and issue was dealt with quickly and efficiently. 5* service from all. Looking forward to seeing this item get lots of use this summer.
Anonymous , 09 Dec 2017
Bought this fir the grandchildren for Christmas. It took a few hours to put together but worth the effort. They absolutely love it. It's of good quality materials and the accessories just finish it off nicely. We bought a baby swing to replace one of the standard swings and our grandson of 17 months just loves it. A great buy
Andrew Kew, 06 May 2018
Tower itself is great but be prepared to do a bit of extra work to finish it. We had to saw some pieces into shape and a few of the screws weren't big enough to hold some of the pieces properly so had to use some wood glue (not any of the load bearing pieces tho). Also the kit was missing several pieces of wood which had to be ordered seperately and the slide was cracked when it arrived so the tower still isn't complete a week later. Activity Toys Direct have been really good though and have ordered the required pieces from Plum so it's been ok but still would have preferred it all to be there from the start. All in all it's a really good tower for the money, our child loves it, but be prepared for a bit of a headache putting it up, it took my wife and I a full weekend.
Anonymous , 02 Sep 2019
One corner bracket missing, screws for the safe wall round tower too short, not gripping the wood such that the panels flew off in the wind- utterly unacceptable. Were a small child up high on the platform that could have been a trigger for a nasty fall; ditto, were a wee child on the ground by the tower when this happened, the child could have been injured or concussed.
Jon A, 30 Mar 2020
Great service. Delivered quickly and available to call as we wanted to check that all the parts had been delivered. Instructions require some thought and would recommend an impact driver drill and socket wrench. But it comes together nicely. Would recommend the product and Activity Toys Direct
Anonymous , 02 Apr 2020
Relatively easy to build. The addendums provided separate to the instruction booklets would be better if all placed in one box.
Jeff P, 04 May 2020
Bought this just before the lockdown started as we were worried our children would be bored. Delivery was prompt. A descent price for the lookout tower and swing set. I have a 4yo, 2yo and 13wo. The older two have been loving this since the lockdown started. Negatives - the 4yo has learnt to swing like no-ones business and although the tower and A-Frame supports are secured there is flex in the cross-member that supports the swings. The whole swing frame should be heavier gauge timber.
Anonymous , 17 Jun 2020
Excellent product and outstanding service from Activity Toys Direct. My granddaughter (30 months) took to it straightaway and even created her own game from the tower playing hide and seek with the adults below. Would highly recommend the product and especially Activity Toys Direct.
Julia O, 28 Jun 2020
Exactly what we wanted to keep our little man (and not so little princess) entertained. Wood is good quality and didn't take my husband too long to put together ( about a day) but helps if you have the proper tools. There were a few screws, nuts and bolts missing which we had to purchase from b&q (cost around £10!!). The finished result looks good, there is a bit of movement in the frame but this is to be expected. All round a great item
Anonymous , 02 Oct 2020
Really pleased with the set we bought for our grandchildren would definitely recommend this thanks
Customer Photos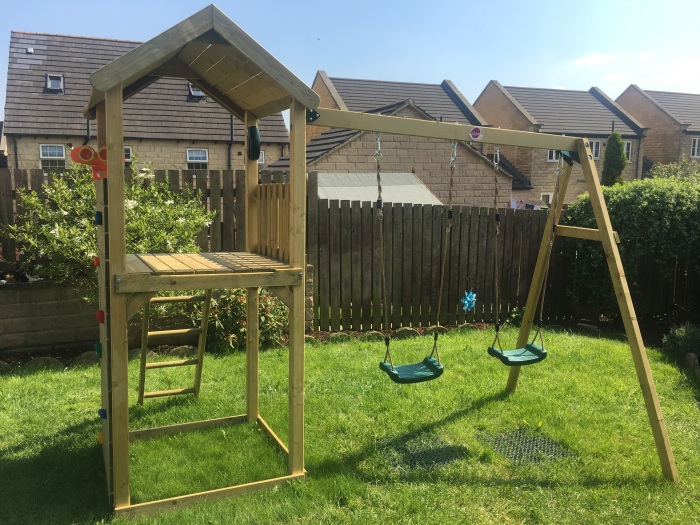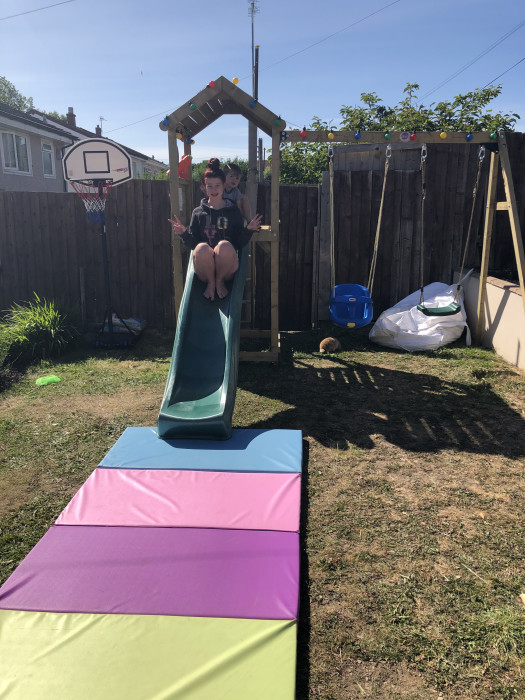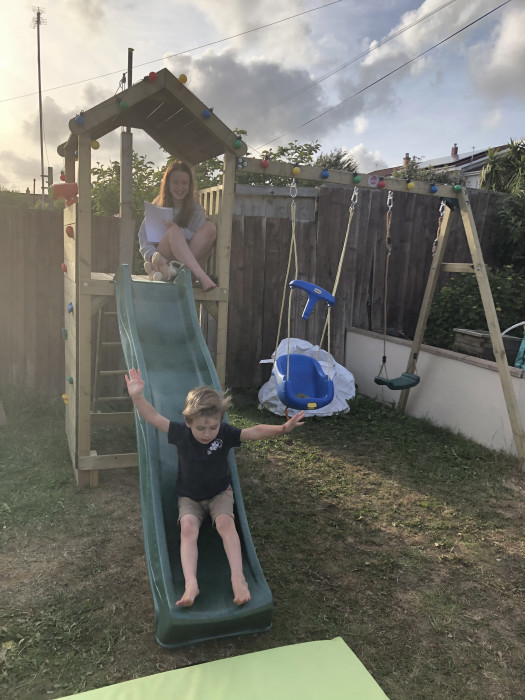 Questions & Answers
Q: Can you swap the swing seat with a Toddler seat?
A: Yes - any of the swings on our site are compatible with this swing arm.
Q: Does this need to be fixed to the ground?
A: Yes, the product comes with ground anchors.
Q: Could this be fixed to artificial grass which is laid on concrete?
A: This must not be installed over concrete, asphalt or any other hard surface.
Q: It says the slides 8ft, but how high off the ground is this please?!
A: The platform the slide is attached to is 1.4m high.
Q: Does this come with just one swing?
A: This comes with one swing arm which can hold x 2 swing seats
Q: I have ordered a baby swing but dies it come with a normal swing or do I need to order that too.
A: The Lookout Tower with Swings come with x 2 standard swing seats. Any additional seats require (eg baby seat) would need to be purchased.
Q: How many parcels in total and what sizes of the parcels for the delivery please?
A: Inc protektamats there are 8 parcels total. Longest being 8ft slide. Most boxes are around 6ft.
Q: What materials are required to assemble the climbing frame?
A: Tools Required - Ratchet Socket Wrench x 2 with: 13mm Socket x 2 17mm Socket x 1 Cordless Power Drill with: PH#1 x 1 PH#2 x 1 PZ#2 x 1 5mm Drill Bit 7mm Drill Bit Mallet x 1
Q: Can you purchase a sandpit cover for this model?
A: We do not sell covers for the sandpit I'm afraid.
Thank you for submitting your question!
You may also like