Weight: 47 kg
Dimensions: 2.4m L x 2.2m W x 2.2m H
Recommended Age: 3 - 12 years
Plum Marmoset Wooden Swing Set
The Plum Products Marmoset Swing Set is a great value double swing, it's easy to assemble and will look great in the garden.
The round pole premium FSC® certified timber is pressure treated for extra strength. The play set top bar is 100mm in diameter and the legs are 80mm in diameter making the frame highly robust. Metal swing attachments encircle the pole so no drilling is required though the top beam- maintaining the strength and integrity of the timber. The sturdy frame also has wooden cross braces giving the swing extra stability. Parents can have peace of mind their children are riding a high quality swingset, with safety standards at the centre of its design.
Wood is a natural material; climatic changes contribute to cracks inside the wood. In hot, sunny weather the timber will shrink. Conversely in wet weather the wood will expand. Cracks in the wood, dependent on these weather conditions, are common, and do not affect the structural integrity of the wood. For more information, please read Plum's wooden product guide.
Plum Marmoset Wooden Swing Set
Double the seats for twice the fun!
Made from premium FSC® certified, pressure treated round pole timber
Playset uses soft feel ropes and heavy duty blow moulded seats for extra
strength
Swingset frame has cross braces for extra stability
Metal swing attachments encircle the pole so no drilling is required through the top beam, maintaining
the strength and integrity of the timber
Supplied flat packed with easy assembly instructions
Easy to assemble in approx 1 hour with 2 adults
All hardware supplied for installation including ground anchors for concreting into
the ground
Tools required for assembly:-
Cordless drill with .5mm drill bit
Ratchet socket with 13mm x 1 & 17mm x 1 sockets
Mallet and step ladder.
Recommended age: 3 to 12 years
Assembled size: L2.40 x W2.20 x H2.20m
Warnings
Please allow a 2m safety perimeter
Adult supervision required at all times
Not suitable for children under 36 months – fall hazard and small parts – choking hazard
Minimum user age 3 years, maximum user age 12 years
Maximum user weight 50kg
Outdoor use only
Only for domestic use
Product may vary slightly from image shown
| Specifications | |
| --- | --- |
| Assembly Instructions | |
| Product Dimensions | 2.4m L x 2.2m W x 2.2m H |
| Product Weight | 47kg |
| Recommended Age | 3 - 12 years |
Plum Marmoset Wooden Pole Swing Set Reviews
Anonymous , 08 Apr 2017
Excellent quality swing and at a brilliant price. We bought this for my daughters 4th birthday and she loves it. Husband said it was very easy to put up and should last for years. Really impressed with the excellent service too and named day delivery. Thank you activity toys direct
Doug Bradshaw, 02 May 2017
Instructions not very explicit about how to make the frame stable, given that the poles only loosely fit into the jointing sleeves. The end result is probably safe under domestic use, but may wobble laterally, rather unnervingly. Dimensions given for concrete base mounts are evidently only approximate. Erection time excludes concreting (24hrs).
Elaine Thoms, 30 May 2017
Great item. Great delivery
Carol Cramman, 31 Aug 2017
Excellent quality. Looks great in the garden and the kids absolutely love it. Hopefully, it will provide years of fun.
Anonymous , 08 Jan 2018
Swinging Fun for Twins on this Plum double swing! The frame is strong and quite easy to assemble. We have set it into concrete. There is a metal anchor pin supplied for each pole, which can be set into the ground or into concrete. We used postfix concrete. You dig the hole and get ready to set the metal anchor pin, fill the hole with a measure of water and then tip the bag of concrete in and wait for it to set. Then attach the wooden poles of the assembled frame to the metal anchors. A bit of planning is needed to ensure that this is set out correctly. Result: great fun swinging and, I suspect, a long lasting outdoor toy, for many years to come. Great value for money and very prompt delivery from Activity Toys Direct.
Anonymous , 30 Apr 2018
Great sturdy swing my daughter was thrilled with it! It was easy to assemble good clear instructions. We have bought the nest swing that can be used on it as well as the 2 swings.
Anonymous , 31 May 2018
This swing was easy to assemble with easy to follow instructions and well designed parts. By using quick setting cement it was in use by two happy grandchildren the same day.
Wendy C, 04 Jul 2018
Such a lovely swing set. Strong and sturdy. Simple to set up. Kids very happy and should get a few years use out if it so great value too.
Mrs Susan W, 10 Aug 2018
Well I was getting rid of my grandkids's baby swings so decided to go for a nice looking wooden set, I've been delighted with my purchase, lovely solid wood and the kids think they are brilliant, well priced and good delivery service, can't rate them highly enough
Anonymous , 17 Sep 2018
Looks great, kids love it. Assembly is fine with two people and instructions clear. Good value compared with other sites. Fast delivery and appreciated being able to choose delivery date.
michael w, 28 Oct 2018
Arrived on time and well packaged. Easy to assemble with good, clear instructions. The Grandchildren, 2 and 4 years old, think its wonderful. The ground anchors that came with the swings are not suitable for our location. We will have to buy different ground anchors when the children get bigger, the sort that can be driven into the lawn as we don't want to concrete them in.
GARY W, 20 Mar 2019
Very pleased with the swing set. Next day delivery, no complaints at all.
Jacqueline E, 26 Apr 2019
Great swing set. Easy to erect. Solidly made. Didn't get 2 free anything's?
alison h, 15 May 2019
A great product that was delivered promptly and easily the next day. The swing is strong and well built. Very happy with the safety aspect for my grandchildren (though recommended it is cemented in for added safety). Will be purchasing again for my other grandchildren.
BRIAN D, 09 Jun 2019
quick delivery, took a while to put together as two pages were missing from the instructions, otherwise all is ok.
alison h, 22 Jul 2019
This is the second swing ordered for other grandchildren as we were really pleased with the quality and service.
Sharon T, 18 Aug 2019
Excellent product and great delivery service
Anonymous , 20 Sep 2019
Good value - great addiction to the garden.
Customer Photos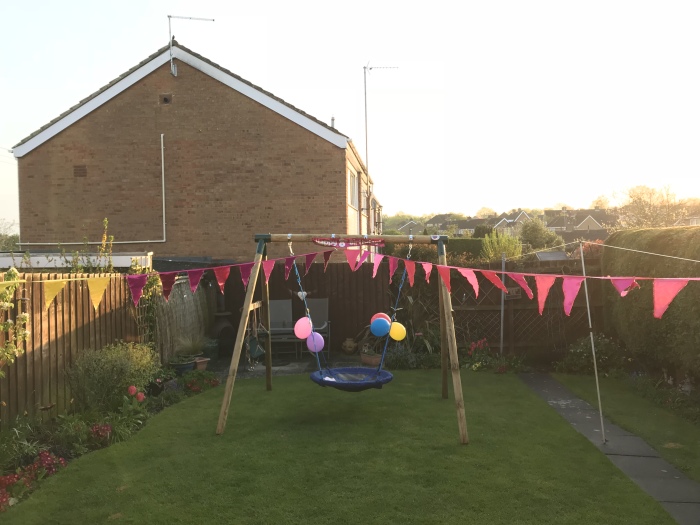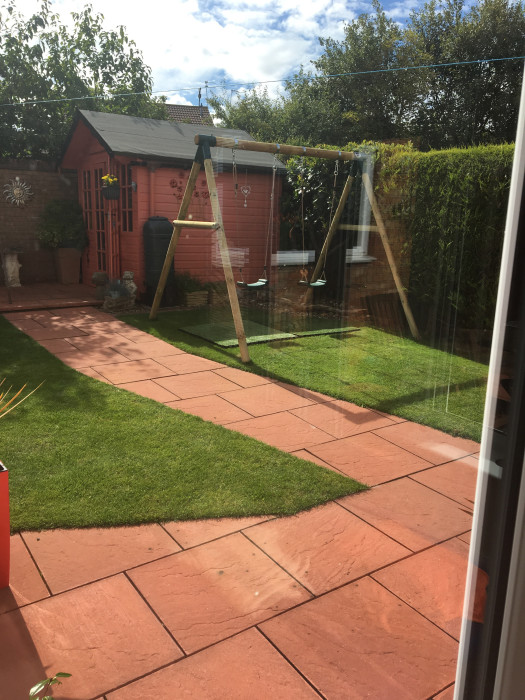 Questions & Answers
Q: Can you attach different items to swing hooks? For example swap a swing for a trapeze or others? Thanks
A: Yes, you can attach different swing seats to this. Plum swings come equipped with snap shackles which make them compatible with any of our seats.
Q: Is there a warranty.
A: This product is guaranteed for twelve months from the date of purchase against manufacturing defects.
Q: Can you use a baby seat for one of the swings?
A: Yes - we recommend the Plum Baby Seat in Red https://www.activitytoysdirect.com/plum-baby-seat-red-p1714/
Q: Hi, please can you tell me if this needs any anchoring to the ground and if so whether these attachments come with the swing. Thanks
A: This requires anchoring into the the ground. the anchors are supplied with the swing.
Q: Do you deliver to Northern Ireland
A: We only deliver to UK Mainland.
Q: Are the brackets that attach the wooden poles plastic or metal?
A: Hello, these are steel.
Thank you for submitting your question!
You may also like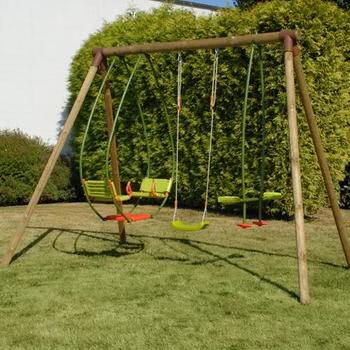 Soulet Garrigue Wooden Swing Frame
£309.99
★★★★★