Weight: 0 kg
Dimensions:
Recommended Age: 6+
Plum Magnitude Trampoline and Enclosure, available in 8ft, 10ft, 12ft and 14ft.
The Plum Magnitude Trampoline range is available in 8ft, 10ft, 12ft and 14ft, it combines a fantastically fun design with pioneering safety features built in. This inventive trampoline adopts a fresh approach to the traditional trampoline design, greatly improving upon it. The Plum Magnitude trampoline features a unique Plum 3G curved enclosure which not only gives children more space for super fun jumping but also protects them from any exposed springs thereby substantially increasing safety during playtime. This trampoline also utilises the Plum 'Tramp Klamp' bracket which supports the structure greatly and ensures the all important joints have rust free protection. The core trampoline structure is made from strong galvanised steel making it one durable product that will last for years with no rust in sight! Super fun, super stylish and super safe, the Plum Magnitude Trampoline is a premium trampoline that attempts to cement itself as a cut above the rest in the trampoline department.
Also available: Protect your trampoline through the winter weather with a Plum Trampoline Cover!
See more in the The Best Summer Toys 2018 range.
Plum Magnitude Trampoline and Enclosure available in 8ft, 10ft, 12ft and 14ft.
Galvanised steel Tramp Klamp® bracket encases the joints for rust free protection and delivers great integrity and longevity
Innovative 3G® enclosure design curves in to protect the jumper from springs, whilst maximising jumping space
Trampoline frame made from steel galvanised inside and out for rust free protection and increased strength
High quality zinc coated springs and durable jumping mat provide the ultimate bouncing experience
Trampoline legs secured with push button locking system
Supplied with spring loading tool for easy assembly
Life time guarantee is against failure due to rust for the play lifetime of the child for who it was purchased
Supplied flat packed with easy assembly instructions
Number of legs: 3 (8ft & 10ft), 4 (12ft & 14ft)
Recommended age: 6 years +
5 year manufacturer warranty on frame
2 year manufacturer warranty on padding and mat
1 year manufacturer warranty on net
Plum Magnitude Trampoline is available in 8ft, 10ft, 12ft and 14ft.
***Please Note*** Plum state that the trampoline must not be installed over concrete, asphalt or any other hard surface, doing so will void any manufacturers warranty. Please spend the time to read through Plums installation guidelines when assembling these trampolines.
Specifications
8ft
10ft
12ft
14ft
Recommended Age
6+
Max User Weight
75kg
100kg
125kg
125kg
Number of Springs
42
60
72
80
Frame Height
60cm
76cm
89cm
89cm
Enclosure Height
180cm
180cm
180com
180cm
Number of Legs
3
3
4
4
Padding Thickness
2.5cm
Padding Material
PVC
Plum Magnitude Trampoline and 3G Enclosure Reviews
Lucy , 04 Jan 2017
This is a fantastic trampoline. Very easy to put together ours was assembled in the dark on Christmas eve!. The bowl shaped enclosure ensures maximum bounce space and makes it feel much bigger than it actually is - lots of people assume its 12ft not 10. Its been in use for almost 12 months now and we've had no issues at all with it. We have it anchored down to the lawn with heavy duty bouncy castle anchor pegs, which I would recommend.
Anonymous , 11 May 2017
Great service. We experienced an issue with the delivery, but Beth from Activity Toys Direct was straight on the case and sorted everything out. Our two boys love the trampoline and all in all we are very satisfied.
Michelle Rhodes, 29 May 2017
Speedy delivery, my daughter is over the moon with her birthday present which her Dad mananged to put up mostly in the dark.
Anonymous , 22 Jun 2017
GREAT SERVICE AND DELIVERY, WE HAD HELP TO PUT IT UP BY SOMEONE WHO HAD ALREADY PUT ONE UP AT CHRISTMAS SO IT TOOK 2 PEOPLE 1 HOUR TO COMPLETE (EASY WHEN YOU KNOW HOW). DISAPPOINTED IT DID NOT COME WITH A COVER FOR WHEN THE WEATHER TURNS OR A LADDER.
Anonymous , 03 Jul 2017
Excellent so far
Georgina Greaves, 04 Jul 2017
Really happy with the trampoline, its perfectly bouncy for my 6 year old and shes spent hours on it already, the only thing I would say is the side padding does retain rain water and leak making it really wet and unpleasant! But I've now cut some holes into the underside of the padding so hopefully it'll drain out.
ROB WATSON, 17 Jul 2017
Delivery came on time and as expected. Very easy to put together though I did it by myself (best advice 2 people are required). once you literally follow the instructions you will be on your way, and the end result is one very happy 6 year old.
Anonymous , 21 Aug 2017
Great product although the ladder is a little thin!
Simon Reeves, 31 Aug 2017
Trampoline was dispatched immediately, well within the timeframe given. Unfortunately, the courier company were somewhat incompetent in delivering their part of the process, but customer services at ATD were very friendly and helpful, both on the phone and by email. When trampoline finally arrived, it took two of us to set it up within the two hours that the instructions suggested we would need. Would highly recommend the product and ATD.
Anonymous , 13 Oct 2017
Excellent trampoline including ladder and cheaper than Amazon. Quick delivery too.
Joyce Martin, 19 Mar 2018
Excellent product. Easy to erect. Sturdy. Best price I could find. Prompt delivery.
Anonymous , 09 Apr 2018
Brought to replace an old plum trampoline that had lasted over 5 years. I stayed with plum because I knew the product and my boys said friends with different brand trampolines weren't as bouncy so we decided to stick with what we know. I love the new net design especially the fibreglass poles that run around the top - this will keep the net in much better condition and stop children hanging off it - the curved design really does maximise bounce space and will prevent kids leaning on the net & tearing it. I ordered the 14ft by mistake but there was no way the kids were going to let me return it for the 12ft - they are delighted and it's just as bouncy as our old 10ft trampoline. To allow for the extra circumference it is higher off the ground than our old 10ft so I would definitely recommend the ladder - it also prevents kids using the protective padding to pull themselves up. Excellent product and great design improvements.
Leigh Moore, 01 May 2018
Arrived on time and I managed to erect by myself in circa 3 hours. Looks good, bounces good (so the kids say) and good value for money. Thank you.
Laura Carlisle, 05 May 2018
Great trampoline. Ladder has round bars so not great in feet and can get flat bars which are better. However trampoline great and kids love it. Very well made
Anonymous , 10 May 2018
Excellent customer service and great trampoline. My children love it and so do I
Matthew Moare, 10 May 2018
Great price for a fantastic trampoline with ladder. It is really spacious without taking-up too much ground space as its shape it dome which allows more bouncing room. My daughter is on it everyday and is one happy girl!
Anonymous , 21 May 2018
Excellent service and delivery. Took a couple of hours to put up as expected. Instructions were clear and easy to follow. Would be great if the legs were slightly adjustable to account for uneven ground, but couldn't find any trampoline with that function on the market!!
Alison Eastwood, 23 May 2018
Fabulous. Kids love it, and so do us parents.
Anonymous , 29 May 2018
Excellent trampoline but a bit fiddly to put up, you need 3 people when trying to put the legs on. It is well built and the kids love it.
Anonymous , 08 Jun 2018
easy to assemble looks good sturdy quality
Anonymous , 13 Jun 2018
Excellent trampoline - at 14ft it's huge but we wanted a big one! We had excellent customer service and would definitely recommend to friends
SARAH P, 17 Aug 2018
Great trampoline much sturdier than the old one but the mat came with a small hole in it 2 weeks later when its got gradually bigger.
Lyndon L, 03 Sep 2018
Nice produce, took two people just over two hours to assemble and all fairly easy (except for the flexi-ring along the top of the net - that was a bit of a pain!). Whole thing seems well made and with a good level of safety. 10ft is plenty large enough for a 6 year old - we almost got the 12ft but, glad we downsized. You loose about a foot either side on internal mat area, so 8ft on this item is still plenty enough room.
Donna E, 18 Feb 2019
Brilliant just missing one spring
Anonymous , 23 Apr 2019
Great product, excellent service with prompt delivery
Anonymous , 30 Apr 2019
Great trampoline and great service.
Helen M, 30 Apr 2019
Really good design, maximising space. Easy enough to build with 2 of us, and appears to have really good bounce. Kids love it. Activity Toys Direct are great... Best price, free ladder, amazingly fast delivery.. What more can I say?
Anonymous , 08 Jul 2019
Only up 2 months and zip not working already. Disgusted due to money spent on do called high quality item supposedly safe .⁰
Anonymous , 09 Jul 2019
Fantastic trampoline very well made and easy instructions, you need 2 adults to put this together.
Susan T, 12 Aug 2019
Great trampoline, kids love it. Delivered day after being ordered as promised. Instructions easy to follow. Great customer service
Craig L, 03 Jan 2020
Great product and fast delivery but ladder is missing!!
Simeon T, 23 Feb 2020
Good one, very good size
Anonymous , 23 Mar 2020
Excellent! No complaints.
Justin C, 29 Mar 2020
good size and the 3G enclosure helps add space inside
Rod T, 02 Apr 2020
Nice size and good shaped net but a very flimsy trampoline. We move it around so that it's not in the same place all the time and when we lift it up to move it it bends out of shape. There is not enough strength and rigidity in the main ring for a trampoline of that size. Disappointing.
Ellen F, 02 Jan 2021
A brilliant trampoline at a very good price. It's very good-looking, well-made and very strong. It also has a great bounce to it. My boys are completely safe in it as the springs are covered and the netting is very strong. I would highly recommend this trampoline to anyone.
Diane N, 06 May 2021
My son loves his new bigger trampoline. its a great product, even though my free ladder didnt turn up.
Craig S, 10 May 2021
No ladder and the zip on the enclosure is broken no reply from plum
Customer Photos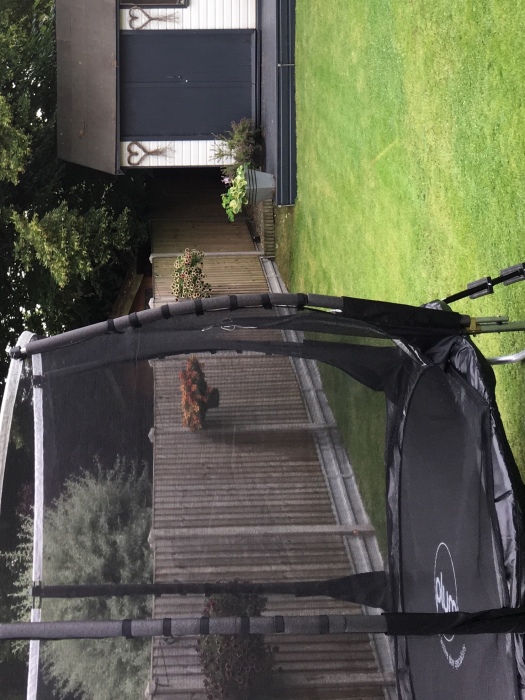 Questions & Answers
Q: Is the mat padded?
A: The protective mat around the edge of the trampoline is 2.5cm thick.
Q: What is the width of the enclosure at its widest point? Because of the curve it looks bigger than 10ft in the pictures. Thanks!
A: The trampoline itself is 10ft in diameter, and the enclosure does bulge out a little wider than this due to the curved poles on the enclosure - we would advise that it is only a couple of inches wider than the trampoline.
Q: How many kg can this trampoline support?
A: 8ft - 75kg 10ft - 100kg 12ft - 125kg 14ft - 125kg
Q: How big is the flat pack packaging for the 10ft trampoline. I need to hide it before xmas!
A: Largest box is around 6ft there are 2 boxes total.
Q: Does it come with a ladder?
A: This does not come with a ladder at this time
Q: Does it come with anchor pegs or do I need to get these separately ?
A: You would need to purchase anchors separately.
Q: can i order a replacement net for the plum magnitude 3g 10 ft?
A: For Plum spares you would need to contact them directly.
Q: Does the enclosure easily fold down?
A: The enclosure does not fold down.
Thank you for submitting your question!
You may also like