Weight: 0 kg
Dimensions: H330cm x W220cm x L220cm
Recommended Age: 3+
Plum Grand Wooden Teepee Hideaway
The new Grand Wooden Teepee from Plum is the perfect garden hideaway! Kids can create a secret hidden den with their friends and enjoy the outdoors. The Teepee is a perfect playhouse for children to simply relax in the shade from the summer sun, or can be the centre of their imaginative games with friends! To add to this, the FSC-certified wood is not painted and acts as a blank canvas, letting you (or your little ones) paint and decorate the den however you choose!
Smaller version also available - See the Plum Great Wooden Teepee Hideaway!
Plum Grand Wooden Teepee Hideaway
Made from sustainably sourced FSC wood.
A blank canvas - paint it yourself, or let the kids decorate their own den!
Includes an easy to lay wooden flooring
Adult assembly required
Only for domestic use. Outdoor use only.
Minimum user age 3 years.
Adult supervision recommended at all times.
Not suitable for children under 36 months – small parts.
12 month manufacturer's warranty.
Plum Grand Wooden Teepee Hideaway Reviews
Elaine W, 11 Apr 2019
Bought this Huge TeePee for grandchildren at Christmas. Built over the last few days (April) and delighted with it. Went together easily, and 1200 screws later!! is very stable & solid. We are considering adding a weatherproof door of some sort, but will see how it goes with the roll down canvas flap initially. Plenty big enough for grown-ups to stand up and join in with the kids, which was the whole reason for choosing this over a standard Wendy House - table & chairs are already in situ!
Clare N, 15 Jul 2019
This arrived very quickly. I arranged for a professional to assemble it for me which took two of them a day-and-a-half. This included some adjusting of the floor. It has good headroom inside, looks fantastic and will be enjoyed by all the grandchildren
Sarah S, 12 Apr 2020
This is a wonderful teepee, great build quality and looks amazing. The only problem my husband found was that it's very time consuming putting together (over 2000 screws) and the lathes don't fit in places due to the wood being bowed. He had to make a few adjustments to make them all go together. The delivery was very prompt, only a couple of days which was great. Would recommend this company, no doubt.
Customer Photos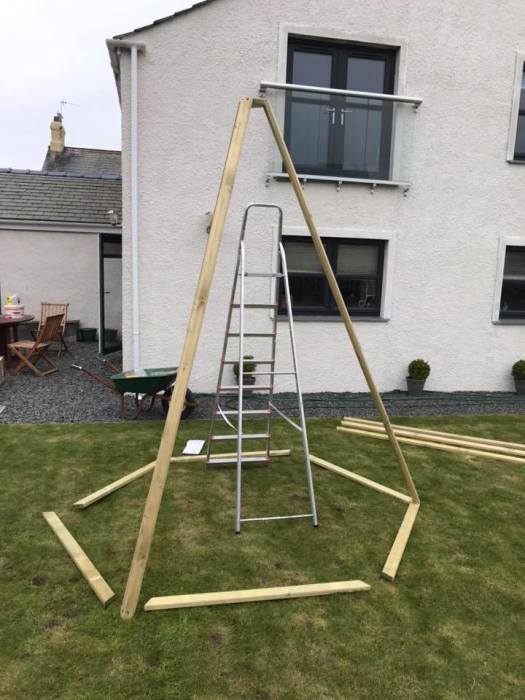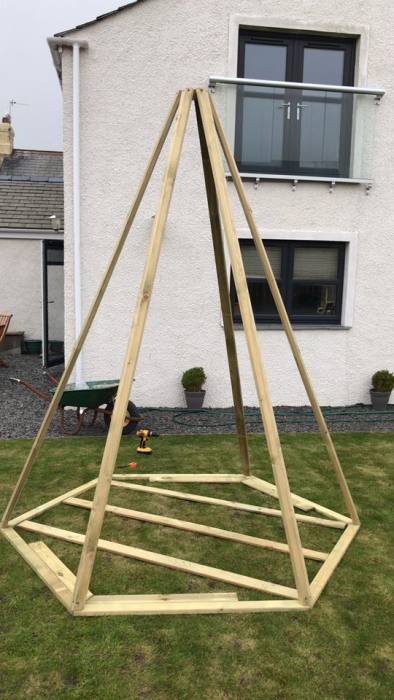 Questions & Answers
Q: Hi, is the teepee waterproof and is the roof closed off at the tip? Or does the rainwater pour inside the teepee?
A: The teepee is designed to be waterproof - the roll-down door is also waterproof to keep the contents of the teepee dry.
Q: Hello, do you needs to put a base down first for the temp
A: This product should not be installed over concrete, asphalt or any other other hard surface.
Q: Do you need planning permission for this as it is over 2.5m high
A: You will not need planning permission for this.
Q: Will the base not rot if put straight onto grass?
A: This item is designed to sit on the grass, after time the grass under the teepee will die off.
Q: Is it dark inside?
A: As there are no windows I would expect when the door is down it will be dark inside.
Thank you for submitting your question!
You may also like