Weight: 50 kg
Dimensions: 3.3m L x 2.2m W x 2.2m H
Recommended Age: 3 - 12 years
Plum Gibbon Swing Set
NOTE: This item is constructed of natural wood and it may split or crack, this does not affect the structure or strength of the item, even if there are cracks in the wood on delivery this is completely normal and will not affect the strength and durability of the product. For more information, please see our About Wood Page
This combination of swing attachments is one of our strongest selling swing frames. The Plum Gibbon Swing Set offers a climbing rope and rope ladder challenge at either end of the frame- each of which uses the unique soft feel rope.
The round pole premium FSC® certified timber is pressure treated for extra strength. The swingset top bar is 100mm in diameter and the legs are 80mm in diameter making the frame highly robust. Metal swing attachments encircle the pole so no drilling is required through the top beam, maintaining the strength and integrity of the timber. The sturdy frame also has wooden cross braces giving the garden swing set extra stability. Parents can therefore have peace of mind their children are riding a high quality swing set, with safety standards at the centre of its design.
Plum Gibbon Swing Set
Perfect size for playing and socialising with friends
Made from premium FSC® certified, pressure treated round pole timber
Playset includes double swing, soft feel climbing rope and cargo rope ladder
Swing set uses soft feel ropes and heavy duty blow moulded seats for extra strength
Swing set frame has cross braces for extra stability
Metal swing attachments encircle the pole so no drilling is required through the top beam, maintaining the strength and integrity of the timber
Supplied flat packed with easy assembly instructions
Easy to assemble in approx 2 hours with 2 adults
All hardware supplied for installation including ground anchors for concreting into the ground
Tools required for assembly:- Power drill with .5mm drill bit-
Ratchet socket with 13mm & 17mm sockets
Mallet and step ladder
Recommended age: 3 to 12 years
Assembled size: L3.30 x W2.20 x H2.20m
Warnings
Please allow a 2m safety perimeter
Adult supervision required at all times
Not suitable for children under 36 months – fall hazard and small parts – choking hazard
Minimum user age 3 years, maximum user age 12 years
Maximum user weight 50kg
Outdoor use only
Only for domestic use
Product may vary slightly from image shown
Specifications
Assembly Instructions
Product Dimensions
3.3m L x 2.2m W x 2.2m H
Product Weight
50kg
Recommended Age
3 - 12 years
Max User Weight
50kg
Tools Required
Ratchet Socket Wrench x 1 with 13mm Socket x 1 & 17mm Socket x 1
Cordless Power Drill with 5mm Drill Bit
Mallet x 1
Stepladder x 1
Assembly Time
2 adults, 3 hours
Warranty (Frame)
5 Years against failure due to rot
Warranty (Hardware & Accessori
1 year
Plum Gibbon Wooden Swing Set plus FREE Protektamats (pack of 2) Reviews
Sam Duke, 30 May 2017
Simple to erect but too much lateral movement in the frame mainly due to excessive clearance between metal trunnions and woodwork. I suggest a clamp system not the coach bolt arrangement.
Susan Price, 04 Jun 2017
Absolutely fantastic I am delighted. Strong, well made, very safe and my young grandchildren love it. Thank you.
colin parker, 01 Sep 2017
Can not fault it. Good value for money. Easy to install.
Peter Coulson, 02 May 2018
First class swing set easy to assemble and very strong will gives years of pleasure to my grandchildren
Alistair Mackay, 13 May 2018
Excellent sturdy product
Anonymous , 22 May 2018
Lovely product which was easier than expected to construct and is great quality. Excellent price from this site. Very happy 6yo
Anonymous , 23 May 2018
Very sturdy value for money
Anonymous , 10 Jun 2018
Really pleased with this purchase great bit of kit, easy to assemble and good quality. My kids love it, so glad I went for the one with a ladder and rope just gives it a bit extra for them to play on. Definitely recommend
Garrett O, 11 Jul 2018
Easy to assemble. Great quality. Kids love them.
David J, 25 Sep 2018
Absoultley made up with the wooden swing set , fast and professional service it had arrived within 24 hours , would highly recommend
Ken W, 25 Oct 2018
It went together well and has been tested by my Grandsons today and all is well.
Anonymous , 29 Jan 2019
Excellent quality swing kids absolutely love it
Anonymous , 05 Mar 2019
After a lot of research this swing set stood out for being robust, very well made and it would give me the opportunity to buy extra play equipment to add to it at a later date as the Grandchildren grew. I also purchased the red baby swing. The building instructions were easy to follow.
Helen G, 29 Mar 2019
I ordered this because it had both elements of climbing and swinging. The accessories are easily interchangeable especially with growing children. Enough room for all their friends to play aswell. Seem good quality and very sturdy. delivery was great and have had superb and swift responses to any queries I made to activity toys direct. Would definitely recommend.
Jackie Q, 18 Apr 2019
When it arrived it had several deep splits in it, took photos and emailed customer service and they emailed back very quickly the splits were fine. Hubby put it together in about 2 hours and grandkids couldnt wait to get on it. Even when it rains they want to play on it. Great fun.
Anonymous , 20 Apr 2019
Overpriced for what it is
Anonymous , 24 Apr 2019
Wonderful item - great quality, straightforward to assemble, great delivery and our daughter loves it
Anonymous , 29 Apr 2019
Excellent quality for the price. It's given my daughter hours of pleasure. Excellent quality fixtures and easy to assemble. Must be concreted in to prevent movement at the joints. A good buy. Thanks
Donna T, 08 May 2019
Very happy with the swing set, but not happy with the delivery service and having to wait in for another day for just 1 pole as it had been sent to a different warehouse.
Anonymous , 09 May 2019
We bought this swing set for our grandchildten we and they are very pleased eith it. Good quality, fast service and, great price and value for money.
Rebecca G, 14 May 2019
Excellent item easy to put up and interchangeable swings
Anonymous , 21 May 2019
fantastic my daughter loves it easy to put together great value for money delivery guy was great too
John K, 10 Aug 2019
Great price, quick delivery as promised, easy to build taking approx 90mins. Kids love it. 5 star.
Anonymous , 14 Aug 2019
Unbelievable value for a good quality swing set - very happy with it. Setup took about an hour. Once in place, I fully expect it to last for many years.
Anonymous , 18 Aug 2019
Superb bit of kit
Stewart M, 19 Aug 2019
Great quality swing, really pleased with it, easy to assemble with nice clear instructions. Another fantastic service from Activity Toys, we had a small crossbeam missing when delivered and could see where it had been attached to the packaging, so obvious it had been lost in transit. Activity Toys sent the missing part by courier the next day and were really helpful and apologetic. Have used Activity Toys a few times now and highly recommend them and the swing set.
Colin V, 31 Oct 2019
Just Great. Grandsons were on it before it was concreted in, but they are only young, a swing is just not for SUMMER!!
Anonymous , 20 Nov 2019
Have not erected the swings yet because it is a Christmas present, but it looks solid
David Y, 19 Dec 2019
Excellent quality
Anonymous , 25 Mar 2020
Lovely strong, well made piece of equipment. It's easy to put together and looks great. Unfortunately due to the current situation my lovely GrandChildren cant use due to being isolated. However hopefully they will get lots of pleasure from it. Great set and very good service, thank you
Anonymous , 01 Apr 2020
Great value swing set - and delivered just in time before the lockdown - which the kids love. Certainly saving me a lot of headaches with the schools closed! As others have said. The fit between poles and brackets is a little loose, so I added a couple of bits of timber as corner brackets between legs and crossmember, which seems to have made the whole structure much stiffer.
Anonymous , 06 Apr 2020
Lovely sturdy swing set with two swings and climbing ladder. Very pleased with this set for our grandchildren.
Anonymous , 06 Apr 2020
Nice quality, looks good, works well and was easy to put together.... As an example of it's strength I've hung a 70-KG punchbag on one of the overhangs and it's fine (shhhh, don't tell the retailers)
Matt C, 07 Apr 2020
Easy to put together, very well made, daughter absolutely loves it and will last her years!
Emma D, 30 May 2020
Strong sturdy, brilliant value for money and the kids love it! Would totally recommend!
Beverley H, 01 Jun 2020
Absolutely perfect. my grandchildren (8 in total) love it, plenty of activity and stability, once cemented into the ground. Well worth the money!
leslie n, 31 Jul 2020
I bought the plum product which was £50 more than the rebo one thinking it would be stronger. The set flexes from side to side as the wood is loose in the 3 way brackets. The co say this is normal as the wood swells. Well its not good enough, it could be designed to not do this,I have put wedges into stop it. Wish I bought the rebo and saved £50
Anonymous , 10 Aug 2020
Really lovely swing which doesnt take up too much room. Easy to install and daughter loves it!
Anonymous , 24 Aug 2020
Very sturdy once put together correctly - we initially couldn't understand why it was so wobbly, but it turns out the green brackets are slightly slanted outwards and you need to have them both pointing outwards so that it is sturdy. There is no mention of this in the instructions and the slant is very subtle so it was tricky to see. We realised that there were logo plates attached to the brackets. You have to have one logo facing forwards and one facing backwards. Once we had amended this it was much sturdier. There is only slight movement now when my 10 year old is on it - but having read the description, I realise she is at the top age limit. My 7 year old swings happily and there is no movement. Overall, a great buy, they absolutely love it and I just wish we had bought it earlier.
Karen G, 04 Apr 2021
Was to erect and looks well made
Bronia Z, 21 Jul 2021
Ordered the day before and item arrived on time :-) Very strong , the children love it and the dog enjoys pulling on the rope swing ! Fun for the whole family :-)
Pat H, 27 Aug 2021
Had a bit of a wait but well worth it Grandsons love it Thank you.
Customer Photos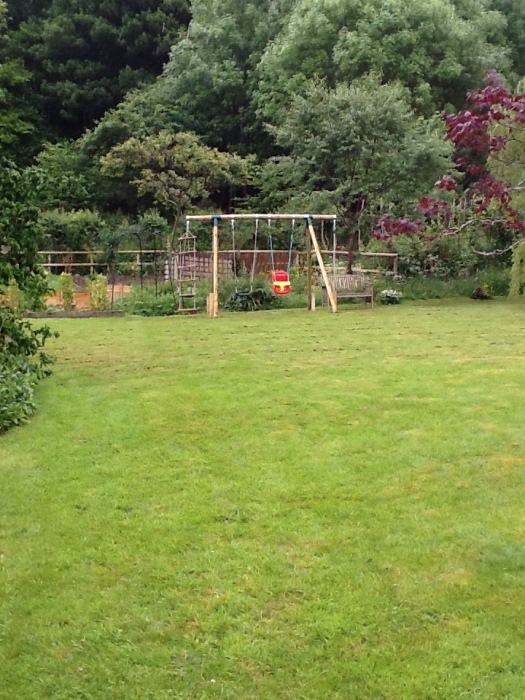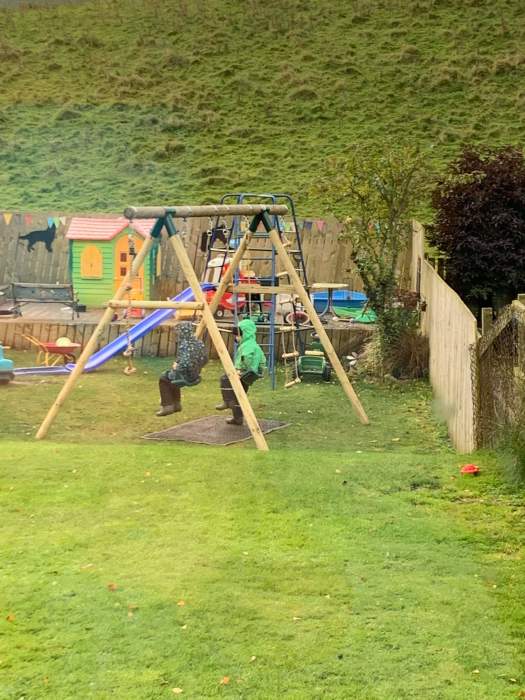 Questions & Answers
Q: Does the framr have to be concreted in for it to be safe?
A: This frame is advised to be concreted into the ground to be secure.
Q: Can to buy baby swing seat attachments to replace the normal seat and how easy are they to swop for different children?
A: The seats are easily changed as they clip on and off with carabina clips.
Q: Can I purchase baby swing and other attachments from you?
A: Please see this link to the swing attachments we offer https://www.activitytoysdirect.com/swings/swing-attachements/
Q: Hiya, I was wondering if you can swap a swing for a trapeze bar on the swing set?
A: Yes you should be able to easily clip new accessories on and off.
Thank you for submitting your question!
You may also like