Weight: 12.5 kg
Dimensions: L1.77 x W1.77 x H0.23m
Recommended Age: 18 months+
Plum Giant Wooden Sandpit
A sandpit but supersized! With this Plum Products sandpit, multiple children at once can have fun in the sand all day. The sandpit comes complete with four large seats, a protective cover and an extra large surface area to fill with sand. Giant in size, massive on fun!
PLEASE NOTE, the Giant Wooden Sandpit, as from March 2017, comes in the natural (lighter) wood, as shown in the bottom middle image.
Plum Giant Wooden Sandpit
12 months manufacturer's warranty against wood rot and insect damage
Outdoor use only.
Only for domestic use.
Adult supervision recommended at all times.
Minimum user age 18 months. Maximum user weight 50kg.
This sandpit is the perfect size for playing and socialising with friends
The internal textile ground cover prevents weeds from growing through, contains the sand, yet allows water to drain out
Made from premium FSC® certified timber
Includes protective cover and ground sheet
1 year manufacturer warranty
| Specifications | |
| --- | --- |
| Product Dimensions | L1.77 x W1.77 x H0.23m |
| Product Weight | 12.5kg |
| Recommended Age | 18 months+ |
Plum Giant Wooden Sandpit Reviews
Nancy Calvert, 24 May 2017
Lovely robust sandpit. The lid which is basically a cover could do with being more robust to keep the rain out.
Joan Harley, 31 Jul 2017
Fabulous big sand pit. Enough space for 3 or 4 children. Easy to assemble takes alot of sand, 200kg - 300kg. Try Homebase for sand, it worked out cheapest. 10kg bag for under £2
Anonymous , 07 Aug 2017
Great item, as stated it would be.
Anonymous , 01 May 2018
Easy to put together and great sized sandpit. I'd advise stapling the internal floor to the wooden sides to prevent any sand escaping if your ground isn't completely flat. As others have said, the cover isn't great, but helped by putting something underneath the middle of the sandpit to prevent too much pooling of water when it rains
Anonymous , 22 May 2018
Already sent review
Sinead W, 14 May 2019
This is a really decent sized sandpit. It took my husband 2 hours to build - it would be better with a stronger base I think. We decided to staple to material to the base to help keep sand in the pit. You need way more sand than you think. I got 4x 25kg and I think we need another 8-10 bags to make it reasonably full! It arrived with 2 of the wooden beams chipped which was a real shame. Overall we are happy with it.
Customer Photos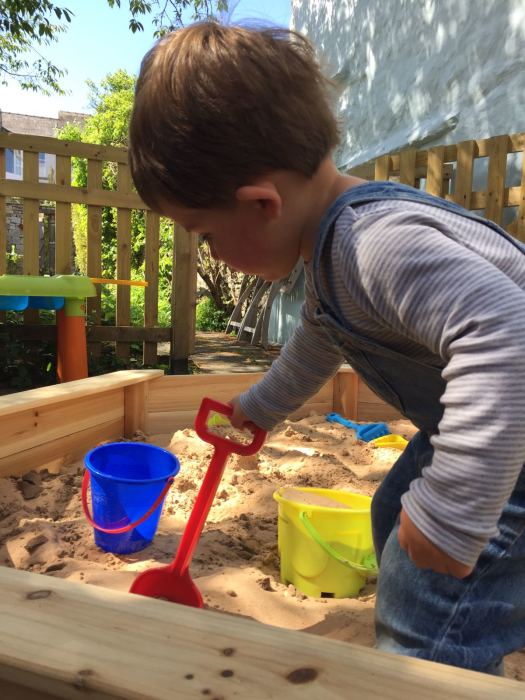 Questions & Answers
Q: How much sand should I buy for the plum giant sand pit
A: Plum recommends 150kg to 200kg of sand.
Q: What is the circumference of this sandpit ?
A: The diameter is 177cm and the circumference is approximately 556cm.
Q: Is there a wooden lid to go with the Plum Giant Sandpit ?
A: There is no wooden lid designed for this item - it does however come with a material weather cover.
Q: What kind of wood is this made from?
A: Giant wooden sand pit with four benches, made from FSC certified Chinese Fir.
Q: Does the wood have a treatment to stop rotting?
A: It's made from Chinese Fir timber, treated to withstand the great outdoors for years to come.
Thank you for submitting your question!
You may also like