Weight: 0 kg
Dimensions: W 2112 x D 1461 x H 1910 mm
Recommended Age: 3+
Plum Discovery Woodland Treehouse
Get outside and go on a woodland adventure with the new Plum Discovery Woodland Treehouse! This climbing frame is great for kids to look out and observe nature, spot wild life, and discover the great outdoors! A built-in potted garden is great for budding gardeners, and the Create and Paint painting screen helps bring out the little ones' creativity!
Wood is a natural material; climatic changes contribute to cracks inside the wood. In hot, sunny weather the timber will shrink. Conversely in wet weather the wood will expand. Cracks in the wood, dependent on these weather conditions, are common, and do not affect the structural integrity of the wood. For more information, please read Plum's wooden product guide.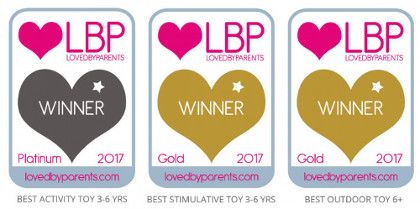 See more in the Plum Discovery range.
Plum Discovery Woodland Treehouse
Interact with nature and discover wildlife in the garden
Built-in potted garden
Gardening tools included
Tend to the sprouting buds and water the flowers with the pail and pulling rope
Includes a Create and Paint easy clean painting screen with paintbrush pens and mixing pots
Bamboo wind chimes for gentle woodland sounds
Made form FSC® certified wood.
Bottles and hose pipe not included
1 year manufacturer warranty on all other parts.
| Specifications | |
| --- | --- |
| Assembly Instructions | |
| Product Dimensions | W 2112 x D 1461 x H 1910 mm |
| Recommended Age | 3+ |
| Assembly Time | 2 adults, 4 hours |
| Warranty (Hardware / Accessories) | 1 year |
| Warranty (Slide) | 1 year |
| Warranty (Fabric) | 1 year |
| Platform Height | 3ft |
Plum Discovery Woodland Treehouse Reviews
Monica Bangau, 24 Jun 2017
The parcel came in separate trucks, different days, i have paid for a Saturday delivery, and half of package arrived, it was a birthday present and qiute unpleasant, the other half came Monday. The treehouse itself .... not too bad, i was expectig a better quality for the price ..... and they did not even send assembly instrctions! We have put some extra stability logs on it to be safer
Anonymous , 20 Dec 2017
Great delivery and great customer service. Would definitely order from you again. Thanks.
Alison Court, 07 May 2018
We have 2 girls age four and two, both loving it, plenty to keep them interested, climbing up, slide, hoisting the bucket, painting. Great buy. Looks Goodwin the garden, not garish or overly plastic. Lots and lots of screw though... be prepared for the assembly (it's not hard just a little time consuming but worth it!)
Anonymous , 07 May 2018
Excellent value for money and plenty to keep our 2 year old busy for hours.
Anonymous , 09 May 2018
Sturdy climbing frame. My 3byear old struggled to get up the ramp so adjusted slightly but she absolutely loves it! Would love a swing attachment to be avaliable.
David O, 25 Jul 2018
Excellent treehouse
Stephen L, 02 Aug 2018
Excellent value for money, can't fault it really
Jacqueline N, 04 Aug 2018
Great product. Great materials. Great Price. Very well made with good instructions. Grandson and parents very happy.
Anonymous , 06 Sep 2018
Good sturdy construction that was relatively easy to construct. My Grandchildren love it and really that is all that matters.
Diane L, 03 Oct 2018
The tower was delivered promptly. We have assembled the tower, slide and steps in order to check it fits the planned space, which is yet to be developed. The grandchildren have already climbed on to it with much excitement. One piece, the panel for the pentagonal pots, needed to be repaired so perhaps needs to be made from a thicker piece of wood? David & Diane
Hannah P, 02 Nov 2018
Brilliant product, our children (aged 6,3 and 1) all love it. Great that you get some many things with it including paints for the drawing board and tools for the planter box. I've had to knock a star off for the poor quality screws - the heads just tore up when screwed so be prepared to use some of your own screws.
Andrew S, 04 Nov 2018
Excellent quality and value for money. My two year old daughter loves it.
Anonymous , 02 Jan 2019
Excellent product at a great price. Fairly simple to build with good, clear instructions. A decent electric screwdriver is essential! My 3 year old Daughter loves it already, i'm sure she will get loads of use out of it when the weather gets a bit better.
Maria K, 25 Mar 2019
Feels a really nice quality and has good instructions and all the bits you need. It did need two people sometimes and it did take a while but otherwise fairly simple to build. The kids love it.
Anonymous , 08 Apr 2019
Fabulous present. My two boys love playing on it and the bucket is a great addition. Was delivered in 7 bundles and looked very daunting to construct but was easier than first thought. Great product, would definitely recommend.
Laura S, 10 Apr 2019
We are so happy with our new piece of play equipment. It looks lovely in the garden and has been keeping the children very well entertained! It's great that it comes with lots of extras such as little gardening tools, wind chimes and special paint/pens for drawing on the Perspex sheet. Very happy with our purchase!
Anonymous , 13 Apr 2019
Lots of the wood was split. Lots of rough edges with splinters. Really disappointed overall. Poor quality.
Laura W, 20 Apr 2019
I've not even had our woodland tree house a year and the wood is splitting all over it and slide has split at the top where it is screwed in. Very disappointed with this purchase as it wasn't cheap!
Thomas L, 28 Apr 2019
The treehouse was easy to assemble and my daughter has great fun playing with it. The treehouse allows for some flexibility of the placement of the slide, ramp etc. You'll need to consider this during the assembly process if you plan to place the slide etc in a different position than shown in the instructions. On the negative side, the treehouse appearently was in stock since 2017. No issue for the wood but the paint (which is part of the delivery) is going to expire next month (May 2019). It's disappointing that the paint will so soon expire after the purchase.
Anonymous , 21 May 2019
Lovely well made item, but the step design is awful. My children couldn't climb it at all, in fact one of them slipped forward onto her face and bit through her lip! We had to modify the steps so that there were gaps and they could be climbed more like a ladder, photo included.
Stephanie M, 12 Jun 2019
Very well made and relatively easy to construct as the fixings are very well labelled and instructions clear
Anonymous , 06 Jul 2019
This is a fantastic climbing frame, with many lovely additions that make it great for imaginary play. My son loves it, and at 3, will get lots of use out of it. Unfortunately, putting it together was not as easy as I hoped. Some screw heads wore down easily and a grip nut for the ramp did not hold luckily. Luckily we have a supply of random screws, nuts and bolts so have made it work. Overall though, we are really happy with it and can't wait for it to be used throughout summer.
Anonymous , 07 Jul 2019
Beautiful well made, grandsons love it, customer service very good, would definitely buy from them again
Sarah L, 12 Jul 2019
Bought for my 4 year old daughter. Very impressed. Great product. She loves it. Easy to assemble. I advise using a drill with screw bit or not electric screwdriver. Makes building alot easier as there are a lot of pieces. Great fun lots to do avery well thought out piece of equipment. Even our cat loves it.
Christopher H, 16 Jul 2019
Would of been 5/5 but I think the cheap screwer let it down, great to start off but then the heads round off... Not good considering u only have one pre drilled hole... Other then the screws it's a great product! Solid and will last a life time!
Anna D, 16 Jul 2019
Brilliant piece of garden equipment for the kids - so much for them to actually 'do' from the usual swing & slide. Looks great in the garden, not bright and garish. We love it.
Michael W, 01 Oct 2019
Asked for delivery to be made during a specific time however this was completely ignored and the items were dumped on my driveway whilst I was away from the house. Bucket was dented, a couple of the small pieces of wood were split in half (thankfully i was able to restore and use these) and a couple of items of the larger pieces of wood had large splits in as well - thankfully able to apply the relevant screws and bolts and put the treehouse up but ws not impressed with the number of items that had been split and dented.
Clare N, 05 Nov 2019
Thank you The product arrived promptly and is of a good quality. As this is a gift we have not yet built it, but have put half of it together. We have found this straight forward and easy enough for 2 people to do. Great value for money and would highly recommend.
Anonymous , 19 Nov 2019
Lovely climbing frame my only little niggles are some parts of the wood are quite rough and needed sanding and the steps are quite close together so my 2 year old struggles. Delivery was quick but the slide was broken so I notified activity toys and they got one out the next day top customer service.
Anonymous , 25 Jan 2020
clear easy instructions on how to put together well made and solid was surprised with extra accessories at no extra cost really good value for money
Tamsin R, 12 Mar 2020
I'd say this is average overall in terms of quality (I think TP do have the edge over them here) we had a fair few pieces with pretty large cracks in which will need gluing together. What lets it down more is the lack of information on set up and some of the steps in the instructions could be done in a different order to make it actually easier to build. By the end when I was faffing around with building a tiny tray for paint pots to go in I was losing the will to live and I'm not a novice DIY-er. It's also a lot bigger than the measurements on here suggest so would be helpful if ATD would upload the page from the instructions with all the measurements on. However 2.5 year old is very happy with it and I know it will get a lot of use. We also removed every 3rd bar in the steps up as it's really steep and there's nothing for her to hold on to.
Sarah R, 26 Mar 2020
Love this. So glad I bought it, especially in time for lockdown during the coronavirus. Only critique is my daughters have been using the metal bucket to batter each other, so we've planted flowers in it and put a plastic sand castle bucket on the end of the rope instead.
Ian L, 01 Apr 2020
Perfect. Fast delivery and good product and price
Debbie B, 04 Apr 2020
This is FAB ......very sturdy and lots of different things to do. Our girl loves it
Anonymous , 06 Apr 2020
Fantastic service, next day delivery, all items in the order present and correct. Received a damaged part (slide was cracked) though occurred during transit/delivery and replacement was sent out the same Day and received the next, causing minimum delay to the kids enjoyment. Great service! Thank you!
Andrew D, 06 Apr 2020
Amazing playhouse for my 2 year old, she absolutely loves it! Super fast delivery and securely wrapped. Screws and bolts all labelled for ease when constructing and instructions really clear, which made assembling it quite simple. Would def recommend. Thanks
Amanda S, 09 May 2020
This is lovely for you g children. Unfortunately the slide was cracked. Having emailed there has been no response. Very disappointing as the safety is now compromised. The children this is for are under 5. It wa attached to show the strain it would be under but obviously it has not been used. Two very disappointed children and sad grandparents who purchased it for children shielding during lockdown. A response from the company at least would be expected. If you are purchasing it there are other company's that are selling it. Customer service is everything when a product is faulty.
Luke P, 29 May 2020
The Treeshouse is better than most climbing frames available, it is perfect for my little boy. There is a lot of opportunity to be able to make it unique by adding additional features.
Anonymous , 01 Jun 2020
Would definitely recommend buying. My son is 4 and absolutely loves it! So many endless plating ideas.
Anonymous , 02 Jun 2020
Easy to follow instructions. Very robust and most importantly the children love it! Only downside is that the ramp is at quite a steep angle for them to climb but otherwise very happy with this treehouse.
Anonymous , 08 Jun 2020
Great outdoor toy that looks fab too! Plenty to occupy a small child. Easy to assemble.
Anonymous , 28 Oct 2020
Very sturdy, kids love it!
Holly M, 16 Nov 2020
The bucket had a big dent and lots of the wood was broken
Customer Photos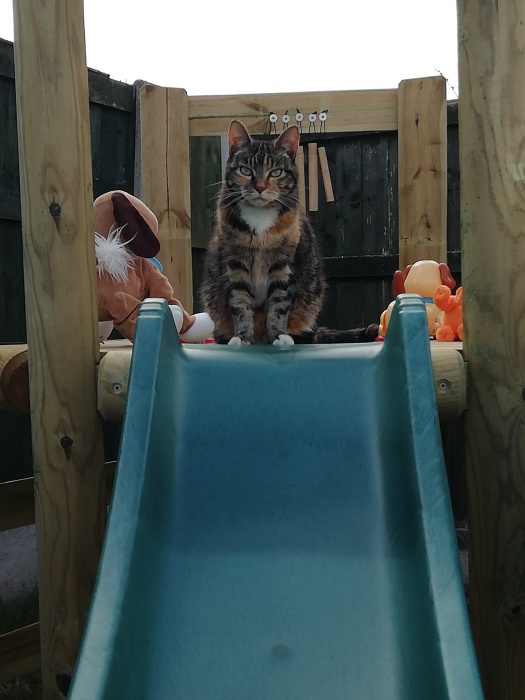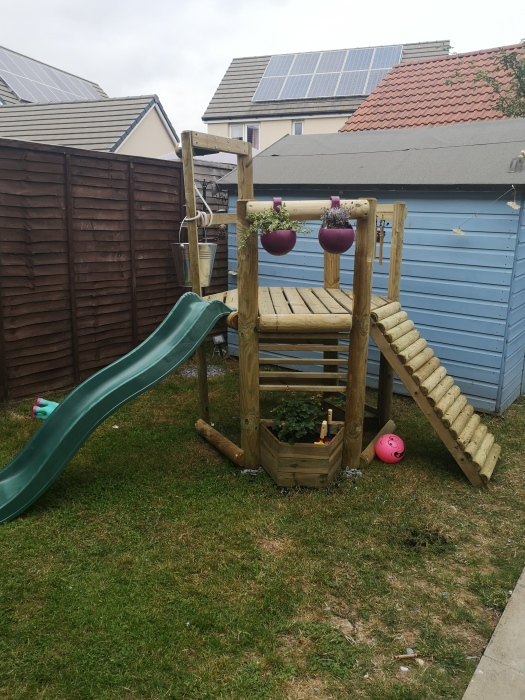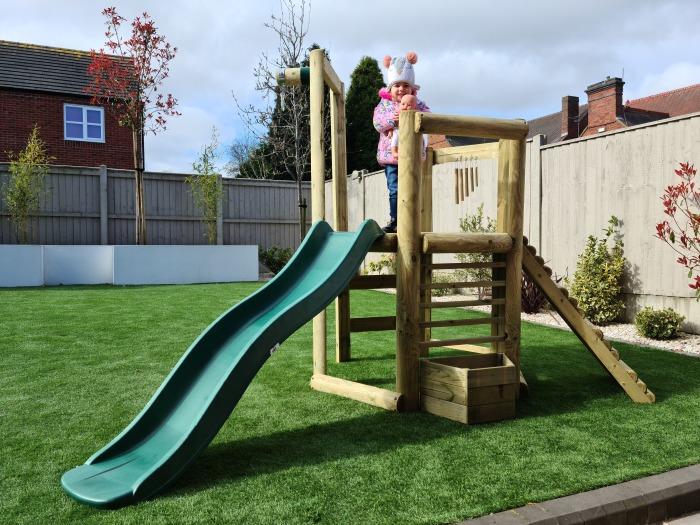 Questions & Answers
Q: How long is the slide please and does the dimension include the length of the slide?
A: The slide is 6ft. The dimensions shown include the slide.
Q: is this item assembled on site or is it flatpack
A: We do not provide an assembly service at this time so you will need to assemble the item yourself. You can check out the assembly instructions here: https://www.plumplay.co.uk/media/assembly-instruction-manuals/Discovery_Woodland_Treehouse_IM_27622.pdf
Q: Does this play frame need to be anchored down to the floor, if so can you recommend a kit
A: This item comes with x 4 ground anchors already prepacked so you wouldn't need to purchase anything further.
Q: How long does it take to assemble and how many people are required to asemble it?
A: Plum estimate that the treehouse will take 4 hours for 2 adults to assemble.
Q: What paint can be used for the painting screen pls?
A: Poster paint is used - which can be found in any craft shop.
Q: What age does this go up to? What is the max weight?
A: This product is suitable from 3+ and has a maximum user weight of 50kg.
Q: What age would this suit up to please?
A: This product is suitable from 3+ and has a maximum user weight of 50kg.
Q: Do you have a footprint diagram please as it's hsrd to know if this will fit in the space we have. Thank you.
A: Unfortunately we do not have a footprint diagram as the manufacturers do not have one available. The assembled size is W2112 x D1461 x H1910 (mm)
Q: Can you add a swing to this frame?
A: At this time there are no swing arms compatible with this frame.
Q: How tall is the side? Would this still be suitable for a 9year old to play on or is it more for a younger child?
A: This climbing frame is more suited to kids who are slightly younger - around the 3-7 range.
Q: Can the slide extension be used with this pointslide?
A: Unfortunately not - the end of this slide is raised further from the floor than the ones that the extension was built for and so it is not compatible.
Q: Do the dimensions on your site include the slide? I see the same product on other websites specified as 270cm wide & 240cm deep.
A: The dimensions of the entire product including slide are W2112 x D1461 x H1910 (mm) specified by the manufacturer.
Q: Do you need cement to anchor this product?
A: It is advised this treehouse is cemented into the ground.
Q: Can the ramp be fixed in different positions to the one shown?
A: No, the ramp is designed to fit the position shown on the images only.
Q: Can you recommend if and what we need to place the treehouse on I.e concrete stabs, matting etc to protect the wood from rooting? The pictures look like it's just directly on the ground? Thanks
A: This item should be placed on a grass as this should be concreted in.
Q: How does this come packaged please? Also does it show on the outside of the package what it is? We will be ordering it as a surprise for our son and don't want the surprise spoilt by him seeing it.
A: This item is large and will come in 7 parcels in total - 4 large wooden bundles 1 Brown carton with fixings 1 Plexi pack 1 6ft slide I hope this helps
Q: Looking to buy this product to place on a play area with wood chippings. Does the structure need to be fixed to the ground? Or is it stable in its own right?
A: This item will need securing to the ground with anchors and concrete.
Q: How deep does the ground fixing need to be? There is hardcore 10 inches below the surface of our garden and I am concerned that this won't be deep enough for a concrete fixture.
A: The cement should be 30cm into the ground. https://www.plumplay.co.uk/media/assembly-instruction-manuals/Discovery_Woodland_Treehouse_IM_27622.pdf please see page 26 of the manual which shows this.
Q: We've just bought this for my daughter. We can't work our how you fit the laser to the platform - where is the hole that the bolt goes into and where is the end of the bolt to pull it together? It isn't explained in the instructions?
A: Please send an email and perhaps a photo. ? laser.
Q: We bought the plum discovery woodland teahouse for our nursery 3 years ago. During a winter Gale in December the wind ripped off the slide. Can we buy a replacement? Thank you Evelyn
A: Please email we can point you in the right direction.
Q: We have concrete slabs on which we are planning on putting rubber matting. Would this item be able to sit upon the matting? Does it need to be anchored and how?
A: This not recommended the goods should concreted into the ground. Putting on a hard surfaces may void your warranty.
Thank you for submitting your question!
You may also like