Weight: 0 kg
Dimensions: W1600 x D703 x H1158 mm
Recommended Age: 3+
Plum Discovery Mud Pie Kitchen
Make a mess in your outdoor kitchen with the new Discovery Mud Pie Kitchen from Plum! Discover the outdoors and let the little ones embrace their curiosities of wildlife and nature. Identify the wildlife and forage for inspiration. Cut and trim the buds and shrubs, add a pinch of sludge or pick a pot of pine cones. This kitchen even comes with a clear board and paintbrush pens to let the kids add art to their kitchen, and a planter for budding gardeners!
Wood is a natural material; climatic changes contribute to cracks inside the wood. In hot, sunny weather the timber will shrink. Conversely in wet weather the wood will expand. Cracks in the wood, dependent on these weather conditions, are common, and do not affect the structural integrity of the wood. For more information, please read Plum's wooden product guide.
See more in the Plum Discovery range.
Plum Discovery Mud Pie Kitchen
Includes handy shelves for all your woodland finds!
Brushed steel kitchen sink - perfect for foraging, creating, and cleaning up!
Get gardening with discovery tools for tiny hands, rake, dig and plant.
Comes with a built in planter for little green fingers, and potted shrubs and buds.
Easy clean paint screen
Includes paintbrush holders and paintbrush pens.
Made from FSC® sustainably sourced wood.
1 year manufacturer warranty on all other parts.
Accessories may vary
| Specifications | |
| --- | --- |
| Assembly Instructions | Download |
| Product Dimensions | W1600 x D703 x H1158 mm |
| Recommended Age | 3+ |
Plum Discovery Mud Pie Kitchen Reviews
Ava Quilter, 10 Apr 2018
A fantastic outdoor toy for young children. The quality is excellent and my husband put it together by himself in less than 2 hours. It is large enough (you can use both sides) for 4 children to use as it can accommodate 2 at the easel and two in the kitchen. My four year old and one year old love it, although the one year old isn't quite tall enough to reach the kitchen yet. The accessories that come with it are very good quality and make it a brilliant gift if you want to keep children occupied outside. I would definitely recommend this and I would shop more Plum products in the future.
Anonymous , 02 May 2018
Lovely item
Aga Wells, 06 Jun 2018
It is a lovely product however it has green - mould like markings all over the frame. The manufacturer ensured us that this is the result of pressure treatment and it will come of with soapy water or it will disappear in time, however the bright green spots are still there after washing and a week of rainfalls. It is a shame as kids love it. Fingers crossed it will finally go.
Anonymous , 18 Jul 2018
Its great. Took my husband a while to put together as he did it alone. (2 people recommended) My daughter loves it.
Wilma K, 13 Aug 2018
Absolute solid piece of kit,a bit of building to do,but well worth it,my 3 year old Granddaughter absolutely loves it for her birthday, so does her 5 year old sister. It was a little more expensive than some others but worth every penny. Would highly recommend.
Anonymous , 17 Feb 2019
Kit is made of very substantial wood and the finished item is sturdy. Only downside is the fittings - screws etc - which are not of a very high quality. But overall an excellent fun gift for our granddaughter.
Anonymous , 03 Mar 2019
Delivered fast. Great price. Well made mud kitchen my son loves it
Hayley M, 14 Apr 2019
Fab! Little boy loves it!
Jodie P, 08 May 2019
Great toy. Promotes creativity, my 4 yr old loves it and I'm sure my 1 yr old will grow to love it as well. Assembly was relatively straightforward, you just have to take into consideration that it isn't Ikea furniture you are putting together but pieces of timber. Would definitely recommend.
Samantha G, 15 May 2019
Took longer than 30 minutes to biuld but great quality, sturdy, and well made. My little ones love it.
Jo C, 16 May 2019
3/5. The product is supposed to be rustic, but it was disappointing that lots of it was very rough finished. For example, the pre-drilled holes for bolts had splinters coming off and hadn't been finished at all - not good for small fingers. There were also quite a few chips off the wood (such as the front leg). It was also a shame that the identification numbers on the parts are painted on and visible when it is constructed, as we will have to sand these off as it looks quite rubbish seeing these. And the plant pot holder doesn't quite fit in the gap that it is supposed to, it is too large. We can fix these things, but we shouldn't have to really. I would have returned it once we discovered the chips, but by then we had no time to replace the item for our daughter's birthday.
Emma R, 17 May 2019
This is such a fab garden toy. My four year old and one year old haven't stopped playing with it since it arrived. I love the little planter and wind chime. There's plenty of space for both to play and I can see it being used for a long while. For those of you, like us, that aren't DIY adept enough to knock something together from pallets this is perfect. Build wise it wasn't too tricky, just time consuming. We did have a faulty piece (nothing that stopped us building it) but Activity Toys Direct dealt with it quickly and Plum got a replacement to us in no time. Really impressed by the speed of delivery and service from Activity Toys Direct.
Anonymous , 06 Jun 2019
Seems fun so far. If I had paid the full RRP I'd have been annoyed at the amount of self assembly required, but at this price, it's reasonable
Anonymous , 06 Jun 2019
Great quality product, children love it. Big enough for 3 to play without any problems. Given a 4 because some of the measurements were out so had to be modified to fit.
Catriona m, 16 Jun 2019
Sturdy structure. Took half an hour to construct so don't be put off by the instructions saying 2and a half hours. My three year old son is really enjoying having it in the garden.
Anonymous , 18 Jun 2019
This is a great mud kitchen and it's nice to have extra elements like the painting wall and planter/garden tools. It's quite big and sturdy so I can see it being used for years to come. Only issue was set-up. Took about 5 hours and one of the pieces had to be sawed down to fit properly. It was worth it but wished it was more straightforward to build at this price.
Katie B, 19 Jun 2019
Excellent quality. My girls love it and have spent hours playing with it. They are age 7, 6 and 4 and all of them love it
Anonymous , 12 Aug 2019
Lovely when put together. Didnt take too long (once the munchkins were out the way) some typos on the instructions regarding quantity but didnt affect assembly. Overall a great product-children love it. Would like a made to measure protective cover for it to protect against the elements.
Sapna B, 02 Apr 2020
One of the parts to the mud kitchen has been made incorrectly so the kitchen cannot be finished. I've contacted activity toys who forwarded on my email to Plum. However I am yet to hear back from either Activity toys or Plum, despite sending follow up emails. Awful after sales, and really disappointing that we cannot finish building the mud kitchen
Anonymous , 06 Apr 2020
It is a beautiful and is very good quality. Lots of pieces but lovely to put together.
Anonymous , 06 Jun 2020
A quality product, perfect for child led, messy play! This does require self assembly but all parts are clearly labelled & it is well worth the effort. A great purchase!
Helen T, 09 Nov 2020
This is fabulous. Its on our community garden the kids love it. Made with strong wood and fixings. loads of accessories Highly recommended
Customer Photos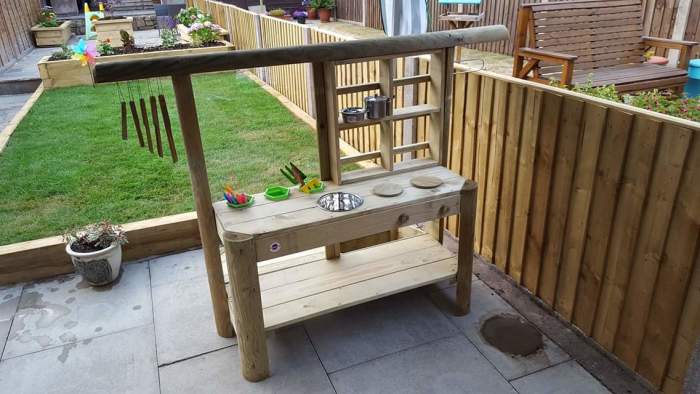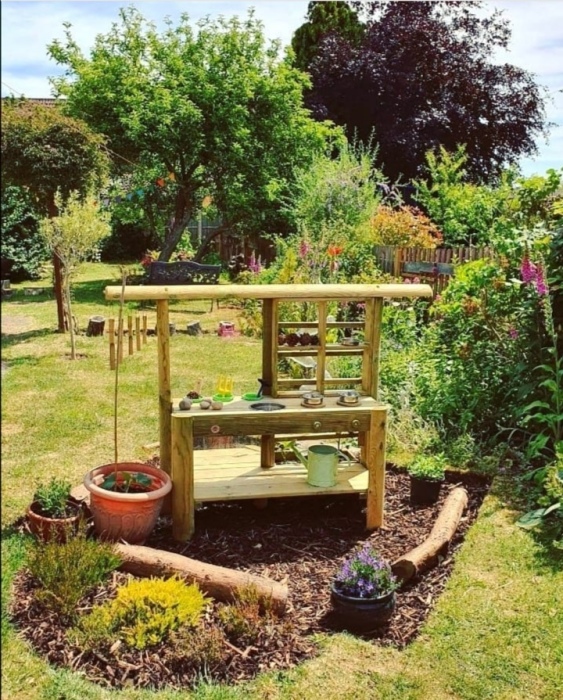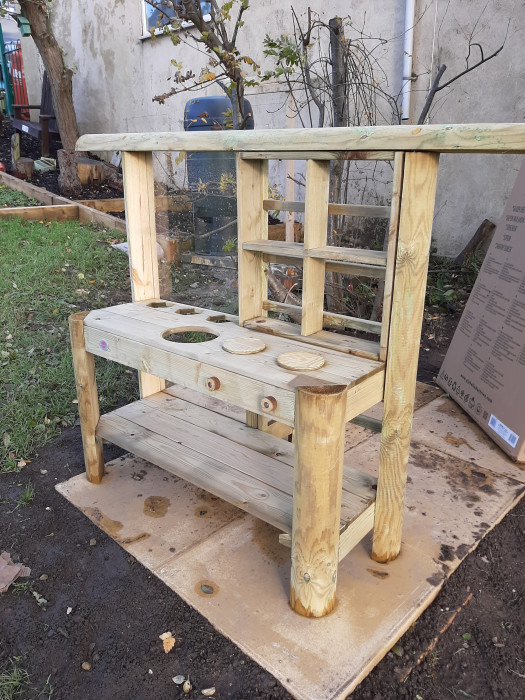 Questions & Answers
Q: is this suitable for a 4 / 5 year old
A: Yes, Plum recommends this kitchen is suitable for children aged 3 and up.
Q: Is the wood already treated and finished for outside use?
A: Yes, this kitchen is already treated and ready for outdoor use.
Q: Hi, please could you confirm dimensions for mud kitchen and is it delivered built or is assembly required?
A: Assembly is required and takes approximately 3 hours with 2 adults. The assembled size is W1600 x D703 x H1158 mm
Q: Is this suitable for a 6 year old, or would it be too small?
A: Plum advise that this is suitable for kids age 3 and up.
Q: Suitable from 3 to what age please?
A: Plum don't specify an age limit - The height of the kitchen is 1.15m however, and we'd advise this is about the maximum height to comfortably use the kitchen while standing.
Q: Do the pots and pans come with it?
A: Yes, that is all included with the product.
Q: What is the hight anf length of the worktop?
A: The height is approximately 60cm and the length approximately is 100cm.
Q: What is the size of the box containing this item please?
A: This is 4 boxes - Box 1 103 x 35 x 14 cm Box 2 39 x 23 x 23 cm Box 3 161 x 25 x 13 cm Box 4 93 x 51 x 1 cm
Q: do you get all the pots, pans, utensils and planters with the kitchen
A: Yes the pots/pans and planter are included.
Q: Is the working height 1158mm? Or is that the height of the whole structure? If so, what is the working height? Many thanks.
A: This is 600mm from the ground.
Thank you for submitting your question!
You may also like