Weight: 0 kg
Dimensions: W1200 x D507 x H1160 (mm)
Recommended Age: 3+
Plum Discovery Create & Paint Easel
Take your art outside this summer with the new Plum Discovery Create & Paint Easel! Draw freely on the two-sided clear paint screen, and easily wash your art away to create something new! Paintbrush pens are included, as well as a set of hexagonal storage holders to hold your art supplies! This stylish woodland art easel also comes with a wind chime to provide gentle sounds in the breeze, and you can even let the little ones plant their own flowers with the planter and gardening tools!
Wood is a natural material; climatic changes contribute to cracks inside the wood. In hot, sunny weather the timber will shrink. Conversely in wet weather the wood will expand. Cracks in the wood, dependent on these weather conditions, are common, and do not affect the structural integrity of the wood. For more information, please read Plum's wooden product guide.
See more in the Plum Discovery range.
Plum Discovery Create & Paint Easel
Easy clean paint screen so children can paint away and wash off for another day.
Paintbrush pens included.
Includes a bamboo wind chime for added sensory play.
Includes 5 hexagon storage holders for brushes, paints and garden trinkets.
Wooden planter is great for beginner gardeners!
Garden tools included for little hands.
Built from FSC sustainably sourced wood.
5 year manufacturer warranty against wood rot.
1 year manufacturer warranty on all other parts.
| Specifications | |
| --- | --- |
| Product Dimensions | W1200 x D507 x H1160 (mm) |
| Recommended Age | 3+ |
| Self Assembly Required | Yes |
| Warranty (Wood) | 5 Years against failure due to rot |
| Warranty (All Other Parts) | 1 Year |
Plum Discovery Create & Paint Easel Reviews
laura popplewell, 19 Jan 2018
This is beautiful once put together and I have had lots of compliments on how lovely it looks. My children; 3,5,8 have really enjoyed playing on this - in fact they enjoy cleaning it as well as the painting on it. The pens that came with it were nice - although the lids were potentially a choking hazard for a younger child. It is very sturdy and so far seems to be lasting against the Winter weather (although we have only had it for a few months.) The only con was that it came in a lot of pieces and was quite a lot of work to put together. I had to borrow an electric screwdriver as a manual screwdriver just wasn't working on the thick wood.
andrina wright, 19 Apr 2018
I absolutely love this product and so do my girls. Everyone asks where it's from. It feels extremely good quality and very solid. I would say it's quite difficult and time consuming to assemble and I would certainly recommend an electric screwdriver to save the skin on your palms!!
Verified Customer, 02 May 2018
The easel is exactly as described, very well packaged and really enjoyed by the children. The buying experience was a pleasure.
Kerrie Kroll, 30 May 2018
My children absolutely love their new Easel it looks so beautiful in the garden so that makes mummy very happy to
Anonymous , 23 Aug 2018
Lovely natural look and very robust
Nicola T, 29 Oct 2018
We love this Easel so much, I am a childminder and it has already been used a lot, it feels really sturdy I'm sure it is going to stand the test of time. Delivery was fantastic, would definitely recommend.
deborah j, 03 Nov 2018
Excellent quality product, made with very chunky wood which looks beautiful. The kids love the pre-filled paintbrushes and the planter makes a lovely addition. Very good value for money too.
Donna B, 04 Feb 2019
A must buy! My daughter love loves this...and looks perfect in our garden.
Caroline P, 27 Feb 2019
Love it!
Anonymous , 03 Apr 2019
The easel is very nice, but covered in a green mold.
Caroline I, 12 Jun 2019
Excellent both granddaughters aged 5 and 6 said it was the best gift ever!!!
Jo P, 13 Jun 2019
Great product once built. The children love it. However I didn't appreciate how many pieces it would arrive in and how long it would take to build. Took 2 people over 2 hours!
Anonymous , 18 Jun 2019
The children are really enjoying their outside easel, even reluctant mark makers are having a go!
Debbie F, 03 Jul 2019
Brilliant the children love it, and was easy to assemble
Anonymous , 08 Jul 2019
A bit tricky to put together as some pieces didn't quite fit as they should. Now it is in daily use!
Holly P, 17 Mar 2020
Fantastic for money my girl loves it , really sturdy fanastic delivery time too couldn't be happier
Jacqueline B, 30 Mar 2020
Present for my granddaughter birthday and she loves it, such a great idea for a garden activities. My grandson can use the other side at the same time so win win
Anonymous , 07 Jun 2020
Easy to build, clear instructions. Beautiful equipment to have in the garden. Kids love it.
Siobhan A, 18 Feb 2021
Bought this for my granddaughter and she loved it.
Anonymous , 10 Mar 2021
Great product, very sturdy and great quality
Alex P, 17 Jun 2021
Incorrect parts sent and no reply to complaint. The planters is rectangle not as shown in the photo and does not attach to the easel. The actual product is of a poor quality for the price and lots of pieces required sanding.
Customer Photos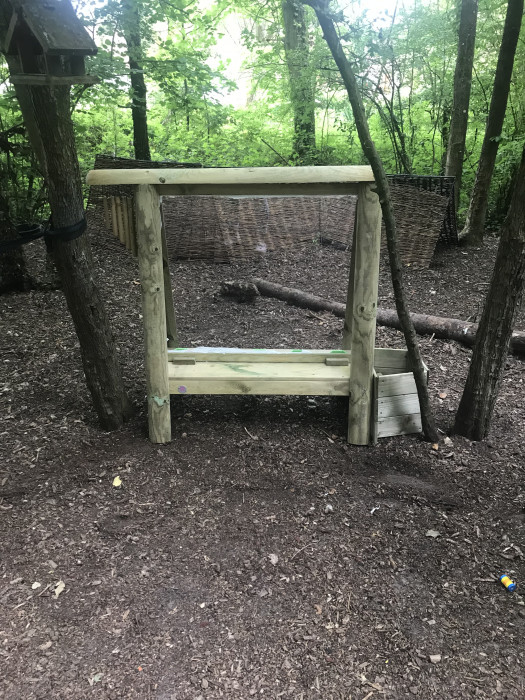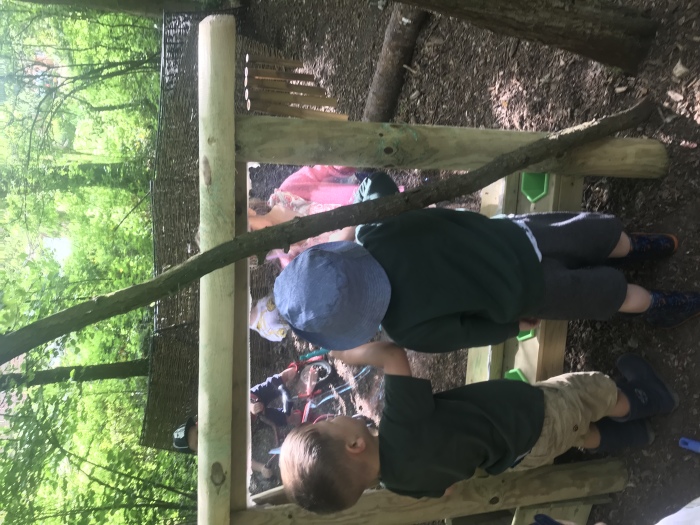 Questions & Answers
Q: What's paints are recommended for use on the easel?
A: Water base children's paints.
Q: It says double sided. Does r
A: yes this double sided.
Q: Do you sell replacement paste brushes?
A: Unfortunately not - Plum should be able to assist call them on 03448805302 option 3
Q: I think we must have used the wrong type of paint as we cannot seem to clean it off and have tried lots of different methods to try to remove it. Do you have any suggestions? Or is it possible to replace the clear plastic section? Any help gratefully received! Thank you, Sarah
A: Please contact us at mail@activitytoysdirect.com
Q: Do you price match? If yes can you price match against Argos?
A: We do price as a like for like basis only. eg the item needs to be in-stock with the competitor and offer the same delivery service. All price match queries need to be emailed to mail@activitytoysdirect.com
Q: Does the wood need to be treated?
A: After a year the wood require treating all information will be in the manual
Thank you for submitting your question!
You may also like