Weight: 53 kg
Dimensions: 3.0m L x 2.2m W x 2.2m H
Recommended Age: 3 - 12 years
Plum Colobus Swing Set
NOTE: This item is constructed of natural wood and it may split or crack, this does not affect the structure or strength of the item, even if there are cracks in the wood on delivery this is completely normal and will not affect the strength and durability of the product. For more information, please see our About Wood Page
The Plum Colobus Swing Set allows up to 4 children to use the frame at once. Ideal for when friends come round, encouraging healthy active play.
The round pole premium FSC® certified timber is pressure treated for extra strength. The swingset top bar is 100mm in diameter and the legs are 80mm in diameter making the frame highly robust. Metal swing attachments encircle the pole so no drilling is required through the top beam, maintaining the strength and integrity of the timber. The sturdy frame also has wooden cross braces giving the swing extra stability. Parents can have peace of mind their children are riding a high quality swing set, with safety standards at the centre of its design.
Plum Colobus Swing Set
Fabulous playset for year round fun
Made from premium FSC® certified, pressure treated round pole timber
Includes double swings and a 2 seat glider
Swing set uses soft feel ropes and heavy duty blow moulded seats for extra strength
Play set frame has cross braces for extra stability
Metal swing attachments encircle the pole so no drilling is required through the top beam, maintaining the strength and integrity of the timber
Supplied flat packed with easy assembly instructions
Easy to assemble in approx 2 hours with 2 adults
All hardware supplied for installation including ground anchors for concreting into the ground
Tools required for assembly:- Power drill with .5mm drill bit-
Ratchet socket with 13mm & 17mm sockets
Mallet and step ladder
Recommended age: 3 to 12 years
Assembled size: L3.00 x W2.20 x H2.20m
Warnings
Please allow a 2m safety perimeter
Adult supervision required at all times
Not suitable for children under 36 months – fall hazard and small parts – choking hazard
Minimum user age 3 years, maximum user age 12 years
Maximum user weight 50kg
Outdoor use only
Only for domestic use
Product may vary slightly from image shown
| Specifications | |
| --- | --- |
| Assembly Instructions | Download |
| Product Dimensions | 3.0m L x 2.2m W x 2.2m H |
| Product Weight | 53kg |
| Recommended Age | 3 - 12 years |
| Baby Seat - Red | £24.99 |
Plum Colobus Wooden Pole Swing Set plus FREE Protekamats (pack of 2) Reviews
Anonymous , 20 Apr 2017
Great - really solid. Quite an effort is required to put it together. There are no pre-drilled holes and no markers to show you where to drill. Be careful with that tape measure and spirit level!
Mel , 01 Oct 2013
Lovely looking swing set, seems really sturdy. Brilliant service from activity toys direct, it arrived the next day, thank you.
Carol Hill, 06 Jun 2017
Very disappointed in the quality of the poles as there are several cracks in each one. We have put it altogether but not put the leg supports on yet but would not be able to use it without these supports as very rickety from side to side.
Anonymous , 25 Jul 2017
Brilliant, the kids love it.
Gwen Mills, 31 Jul 2017
Looks and is great. Not long up but all good so far
barry hill, 06 Aug 2017
Great swing set. Could have done with some guide marks as to where to fix everything.
Anonymous , 12 Aug 2017
Arrived quickly, product is good.
Jean Hadfield, 28 Dec 2017
Great product and price with really fast delivery service
Anonymous , 06 Mar 2018
Great swing set - 3 year old loves it. Put together on my own over a couple of afternoons, although some help needed to move once set up. Haven't yet anchored but seems very sturdy.
Umera Majid, 09 May 2018
excellent purchase
Alexandra Robertson, 29 May 2018
Excellent purchase for the price, we are delighted and so are the granddaughters. The swing squeaked at the lock joints so my husband put rubber washers on either side of the screw. We bought the child seat for our two year old granddaughter.
James B, 13 Aug 2018
Very happy with the Colobus Swing Set. It is very robust with thick timbers and extremely well manufactured metal fittings. More than exceeded my expectations! I think this set is very well priced and I would recommend it to anyone. Two of the black nut covers broke while fitting, and it would be a good idea to always add a couple of extra for when this occurs. I managed to order a replacement set ( a box containing 140 nut covers) for future use for around £8 on the internet to replace any covers in the future. I also needed to ring for advice and found the gentleman extremely helpful. J. blundell
Anonymous , 29 Sep 2018
Clear instructions. Pretty easy to errect. Quite difficult to identify mid points on circular log by eye - some markings identifying a central line would have been useful. Good quality, attractive & my 5 & 3 year old LOVE it!
Anonymous , 02 Jan 2019
Just as it was described very pleased with item plus delivery
Tasleem B, 24 Apr 2019
Very sturdy, good size and great features. My kids love it! I had the pole buried into ground for extra strong base.
Angela C, 06 May 2019
Great product quick delivery
Anonymous , 17 May 2019
Excellent swing set for the money.
Stephanie M, 12 Jun 2019
We love our new swing set - large sturdy and perfect for our little ones
Anonymous , 21 Jun 2019
Excellent, well made and sturdy.
Ashleigh S, 08 Sep 2019
Fantastic swing set, simple to build, my daughters love it.
Graham R, 30 Dec 2019
Vert solid. Instructions good. Took 2 people 2½ hours to put together excluding concreting into ground. Bought as Xmas gift for Grandchildren (5 and 3½ years old). They like it but so far haven't been able to use it much because of the weather
Anonymous , 06 Feb 2020
Great product at this price very sturdy really pleased but most importantly our grandchildren love it.
Thomas M, 02 Apr 2020
This is excellent. it says 3 hours to put up but my wife and I did in 2 hrs. Kids love it here. would recommend this.
Laura B, 08 Apr 2020
Amazing product and arrived exactly as requested. Very easy to build and quickly done. Only issue is the mats are smaller than we thought but that's our fault.
Anonymous , 08 Apr 2020
Really good quality
Anonymous , 10 Apr 2020
Excellent quality and very easy to build. Took about 90 minutes, but it does require 2 people to position in place.
Thomas S, 10 Apr 2020
Delivered on time, good value for money and the kids love it.
Susan C, 05 May 2020
Great quality swing set. Arrived quickly even in the midst of the pandemic. Put together easily after drilling a few holes. Blends into the garden well.
Leah C, 02 Jun 2020
Fabulous service. So polite and helpful on the phone. And they went above and beyond to deliver my grand daughters swing set. The quality of the swing is robust and strong. I will without doubt recommend this swing and also the company that took my order and delivered. Will definitely use this company again.
Leah C, 04 Jun 2020
Fab swing set... good quality. And a brilliant service from start to finish. Would highly recommend
Keith J, 25 Jul 2020
Extremely efficient and quick service.
Anonymous , 18 Aug 2020
Excellent. Really pleased with the quality of this item. Not too tricky to build either. My children love it and have not stopped playing on it.
Customer Photos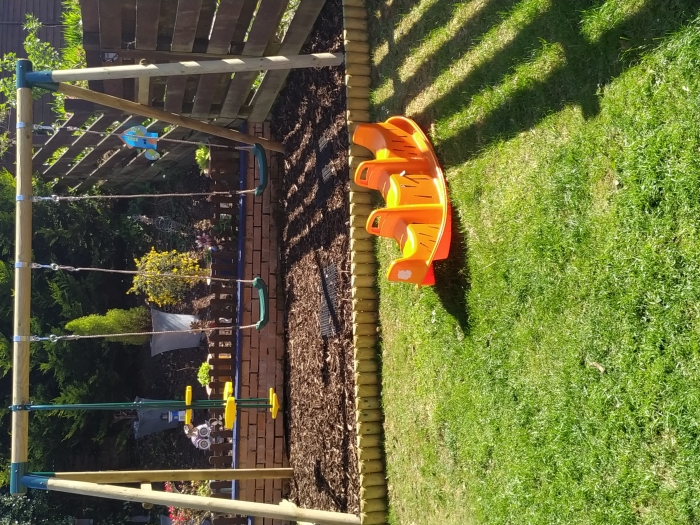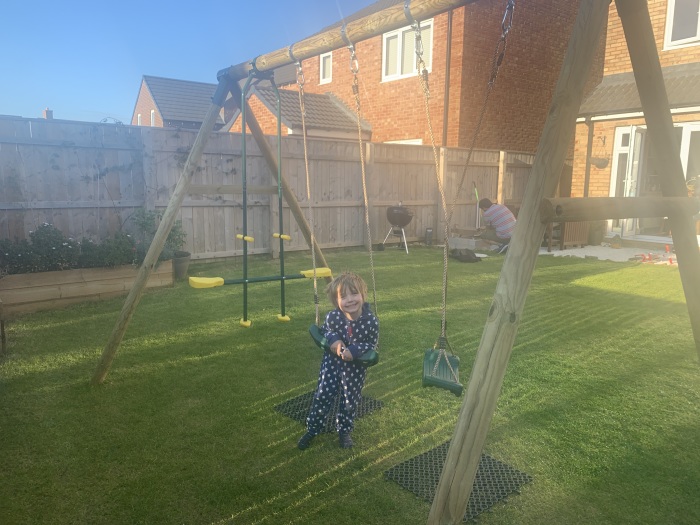 Questions & Answers
Q: Can I buy bucket seat for toddler to fit the wooden pole swing set?
A: This swing set is compatible with any of the swing seats available on our website and can be quickly and easily swapped out.
Q: Could this fit a Plum/TP nest swing + a single Plum/TP baby seat? Thanks
A: You are able to use a nest wing, but as this uses 2 spaces you would not be able to use any other seats at the same time due to the see-saw.
Q: Can the seasaw be removed so that we could use a normal swing and the net swing? Thanks
A: This can be done, please note you will need to move the brackets.
Q: Hi, my husband has just put this swing set together and it's rather wobbly at the top, when my daughter swings it goes from side to side. Should it be like that?
A: Please email us at mail@activitytoysdirect.com and we'll advise further with this.
Q: Do you deliver to France?
A: We only delivery to Mainland UK
Q: Wish to replace seesaw with spare ordinary swing, which we already have. Do you supply the brackets?
A: Unfortunately we do not please contact Plum on 03448805302
Q: Does swing come with anchors to secure to ground
A: Yes metal anchors come with the swing.
Q: Do the anchors need to be cemented into the ground?
A: Yes this is require to be concreted into the ground.
Thank you for submitting your question!
You may also like