Weight: 65 kg
Dimensions: 1.5m L x 3.9m W x 2.1m H
Recommended Age: 3 - 12 years
Plum Climbing Pyramid Wooden Play Centre
The Plum Climbing Pyramid is truly a challenge. This assault course style play frame has a hide-away den, cargo net, climbing wall and slide chute. The fabric has a camouflage design which gives the Climbing Pyramid a realistic military look.
Made from premium FSC® certified sustainably sourced wood, the Climbing Pyramid is naturally resistant against wood rot and insect damage.
Plum Climbing Pyramid Wooden Play Centre
Your little soldiers will have hours of outdoor fun and games with this play centre
Made from premium FSC® certified sustainably sourced wood, the Climbing Pyramid is naturally resistant against wood rot and insect damage.
Climbing frame includes: large double play deck with cargo net, metal rung, ladder, rock wall with coloured hand and foot grips and 8ft wave slide
Camouflage fabric side panels with roll down windows creates a large secret play den area inside the pyramid for imaginative role play
5 year manufacturer warranty against wood rot and insect damage
Supplied flat packed and pre-drilled with easy assembly instructions
Easy to assemble in approx 5 hours with 2 adults
Recommended age: 3 to 12 years
Upper deck dimensions: L0.74 x W0.91 x H1.50m
Lower deck dimensions: L0.60 x W1.26 x H1.20m
Assembled size: L1.50 x W3.90 x H2.10m
Warnings
Please allow a 2m safety perimeter
Adult supervision required at all times
Not suitable for children under 36 months fall hazard and small parts, choking hazard
Minimum user age 3 years, maximum user age 12 years
Maximum user weight 50kg
Outdoor use only
Only for domestic use
Product may vary slightly from image shown
| Specifications | |
| --- | --- |
| Assembly Instructions | |
| Product Dimensions | 1.5m L x 3.9m W x 2.1m H |
| Product Weight | 65kg |
| Recommended Age | 3 - 12 years |
| Slide Length | 8ft |
| Lower Deck Dimensions | L0.60 x W1.26 x H1.20m |
| Upper Deck Dimensionss | L0.74 x W0.91 x H1.50m |
| Max User Weight | 50kg |
| Warranty (Frame) | 5 Years against failure due to rot |
| Warranty (Hardware & Accessories) | 1 year |
| Assembly Time | Approx 5 hours with 2 adults |
Plum Climbing Pyramid with Slide plus FREE Protektamats (pack of 2) Reviews
Anonymous , 16 Apr 2017
Arrived on time although once unpacked we discovered that 2 of the pieces of wood were damaged (careless use of a fork lift at the factory we suspect). By this time, the kids had been dispatched to childcare so we could build the thing in peace- so we had to make do as best we could to avoid the disappointment of it not being done. Plum are currently dealing with this. The den shelter lasted precisely 6 hours before the spring breeze on a hot day ripped the material leaving the screw and eyelet in situ. Goodness knows what will happen in a storm. Not very impressed as den does not seem fit for purpose. Plum also are currently dealing with this. That said, it's a great climbing frame and the children love it.
Jason Sedgman, 22 Jun 2016
Ours boys love it!! Took about 5hrs with 2 people but was quite easy. Would definitely recommend.
Tracie Bushell, 20 Jun 2014
This is FAB, it took 4.5 hrs to put up but it was not difficult to do. The kids love it.
Anonymous , 05 Aug 2017
Came with 1 piece missing and had arranged to be built so had to buy some additional wood. Took 2 guys around 3.5 hrs to build, would have taken me much longer! Kids love it so far though.
Paul Everett, 26 Aug 2017
Great frame,really sturdy and solid and kids love it. Good quality and easy to put together and highly recommended. Great service and speedy delivery
Matthew Bayley, 15 Feb 2018
Great product - very sturdy and well built. Would've been 5 stars but the slide was damaged in delivery. However Active toys customer service was excellent and arranged a replacement slide to be delivered ASAP. Would buy plum products again and would definitely use active toys again.
Anonymous , 08 Apr 2018
My 3 children love this slide and climbing pyramid. They are all 5 and under. It's ideal now but also will entertain them for many years to come. They also love using the den underneath.
Anonymous , 15 Jun 2018
Easy to install we had a bolt missing emailed them sent one within 2 days very happy looks sturdy and not cheap looking
Anonymous , 30 Jul 2018
Great sturdy structure, children love it and will for years to come. Would have given it 5 stars but the canvas ripped in the wind on the first day, however it is easily repairable. Says 4 hours to assemble with 2 people, depends how 'handy' you are as my husband assembled it on his own in 4 hours. Great product, would definitely recommend!
Anonymous , 09 Aug 2018
On the whole we were very impressed with this item. It did take a long time to put together and although each component was stamped with a reference number these did not always match the numbers on the instruction sheet. However, once built it is strong and sturdy and I am sure it will give the grandchildren a lot of fun. The one problem we had was that within a couple of days part of the large camouflage panel had torn away from the fixings in a gust of wind and was flapping around (before the children had even been in it). We felt it might be better if this panel was removable when the pyramid is not being used.
Neil B, 18 Dec 2018
Received yesterday. Not built yet.
Anonymous , 03 Jan 2019
Excellent. Can't get my grandaughter off it. She loves the climbing wall and the den underneath. Great value for money.
June S, 11 May 2019
Easy to order and fast delivery (really good delivery men too). Relatively easy to build (by my daughter and her 2 friends) in a few hours and only a few times where they found instructions were a bit unclear! My grandson loves it though and has used it every day so far (come rain or shine!)
Jennie J, 20 May 2019
Really easy to put together with great instructions
Anonymous , 22 May 2019
Really good product kids love it. Quite easy to build, I did it and I am not very handy. Was missing a bolt but when contacted a replacement was sent out very quickly. Very happy
Karen B, 22 May 2019
Excellent product, kids (nearly 3, and 4) absolutely love it and it has been played on tons since it was put up. Logical instructions which took around 6 hours to put together for one person. Highly recommend.
Hannah M, 27 Jun 2019
Really pleased with the climbing pyramid, great delivery (chose a convenient day) and my son adores his new climbing frame and slide. Construction was straight forward - it did take a little longer than expected but more to do with DIY skills than anything else! There was one T-nut missing which was frustrating, and due to bad weather we'd passed the 10-day cut off to report that, but a quick trip to the DIY store fixed it. You definitely need a cordless screwdriver with some power behind it to get the pieces together, otherwise it'll take days!
Sarah H, 02 Aug 2019
We love this!!. Cheaper then 7 companies I was looking at. Came Monday i only ordered Friday. Could track delivery. Took us 7 hours to assemble but I instructions was easy to follow. Deffo need 2 people. Kids have hours of fun. Cannot get them in the house!. Didnt realise until putting it up that u can attach the hose pipe underneath the slide an it turns to a water slide. Brilliant!!. Thank you !!
Anonymous , 28 Aug 2019
Brilliant climbing frame! Took husband about 6 hours to build by himself with the clear instructions provided. All the pieces were in the box and the climbing frame is very sturdy. Read reviews about the material coming off but we have had horrible weather this past 6 weeks and it remains very firmly fixed to the frame. My near 4 year old loves it and so have his friends up to 11 years old. Definitely a wonderful investment for our garden! Also, Activity Toys Direct's customer services were amazing. The climbing frame did not arrive on the day that was outlined but when I emailed them, they immediately replied after chasing up our order. The climbing frame was then delivered that morning. Would highly recommend ordering from this company and ordering this climbing frame too.
chris L, 01 Apr 2020
Awesome climbing frame let down by very flimsy attachable tent sides which have torn within a few days as a consequence of moderate winds and children playing! Unfortunately these are not made of the right material, should be stronger for an outdoor activity item which is designed for 3 to 11 year olds.
Peter G, 02 Apr 2020
Absolutely love it. Looks fantastic and kids will get so much fun out of it. Lots of people commented how good it looks. I built this by myself (with a little assistance) and it took around 3 sessions of 2 hours each. My little one was straight up the climbing wall. And the den underneath is a great addition. Arrived the day after I bought it too. Highly recommend.
Aaron k, 04 Apr 2020
Really great piece of play equipment. Very sturdy and the kids haven't stopped playing on it. All the pieces were there and it was easy to put together though it took a good while and you def need an electric screwdriver. As others have said the canvas sides do tear easily in wind and ours showed signs of strain but I have used some wooden batons and large washers to secure it and it feels a lot stronger now. Worth every penny during the lockdown.
Mr Tony B, 26 May 2020
Absolutely first class service. Really friendly staff and Joan was very helpful in getting the delivery to me in time for my daughters birthday. Which was amazing in this current climate. Very happy customer. Will use again. Very well packed. And clear instructions.
Mandy C, 01 Jun 2020
Extremely pleased with the service delivery and quality of the company and the climbing pyramid. We had a damaged slide within our package and this was replaced swiftly. Would highly recommend!!!!
Helen G, 06 Jun 2020
Fantastic climbing frame my kids love it it's very sturdy hours of climbing and sliding fun and the den under is huge It's definitely the best climbing frame I 've seen and it will provide years of fun for my kids even my cat loves it
Brenig R, 06 Jun 2020
Wooden parts are very solid and good quality. The canvas sides should be removable as they tear as soon as the wind blows.
Rennay O, 18 Jun 2020
This is really great climbing frame easy to build took me around 3hours in my own really sturdy soon reviews mentioned the tent but blowing away but I find it really excellent quality and has survived the recent storms my 3yr old is never off this and his friends that range from 3-9 all enjoy this so will get plenty of years play from it the reason for the 4star review is the splinters on the wood some wood even cracked not so it was unsafe but where would cause injury especially as my son crawls across top decks some wood could be turnt to avoid this And some sanded down
John S, 04 Nov 2020
The most important thing is that my child loves it. Arrived on the day I asked for ,easy to assemble and it's strong and sturdy. The only problem I've got is some of the Timber has a lot of Tree sap coming from it, this should have been picked up in the machine shop
Anonymous , 13 Apr 2021
Was so impressed with
MISIM H, 11 Jun 2021
Very easily erected with good easy to follow instructions however may we suggest that an extra 1 or 2 bars are fitted for the climbing frame - we have a very slight grandchild who fell through the gap - I'm sure we're not the only ones
Sarah M, 17 Jun 2021
This was perfect for our garden. Not too wide that it takes up loads of space, but big enough that my son and his friends have lots to do. With 3 adults and power tools, you can out it together in about 3 hours. My only complaint was the delivery. The courier company that was used delivered all the parts at 3 separate times over 2 days, and when I tried to chase up the missing part they refused to help and hung up. Other than that, a great addition to our garden.
Anonymous , 28 Dec 2021
Brilliant. Best price I could find this at. Perfect for my 3 and 8 year old after outgrowing a smaller climbing frame.
Customer Photos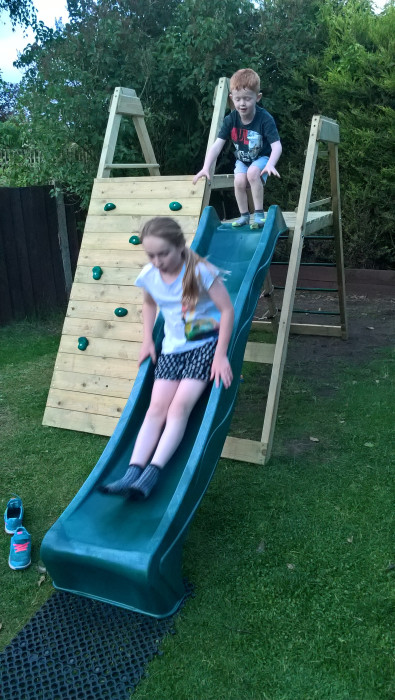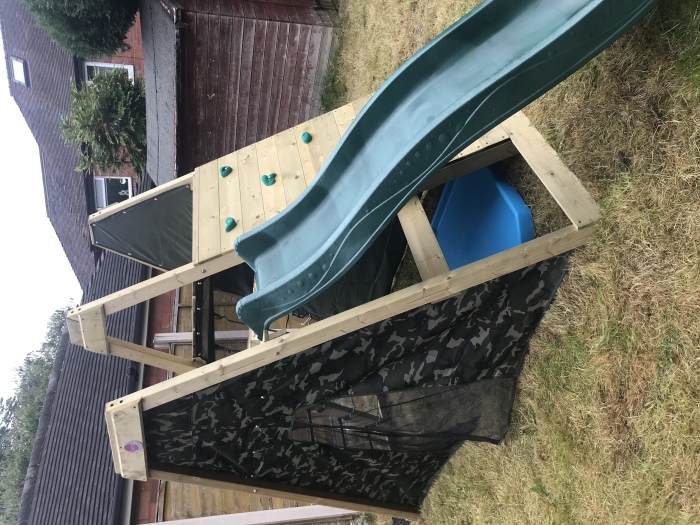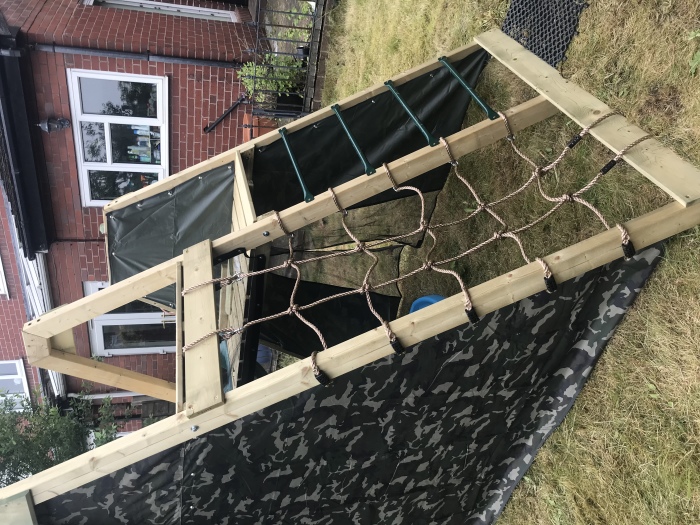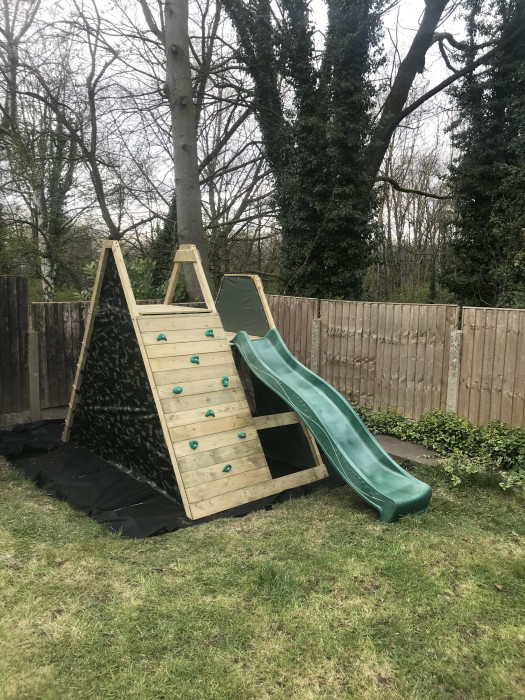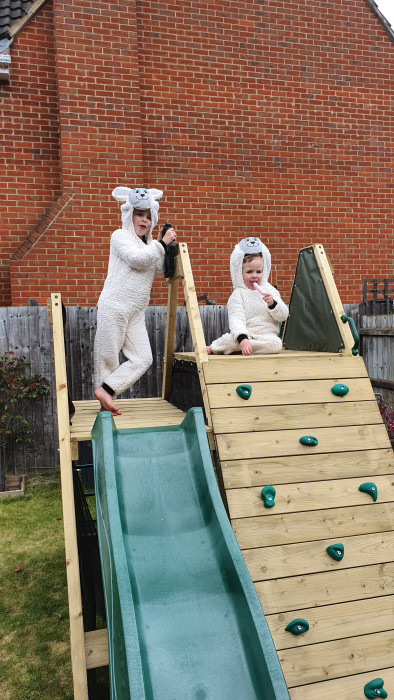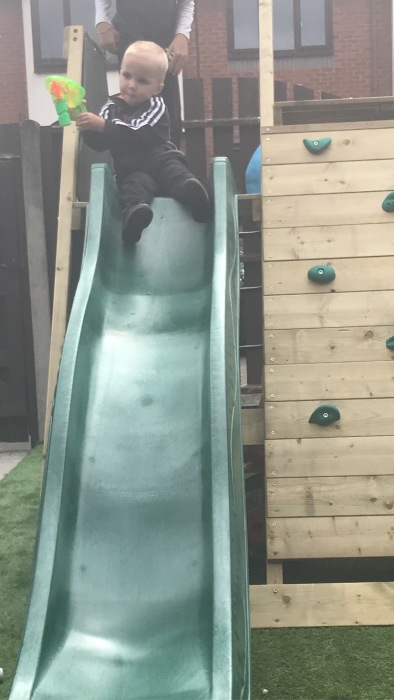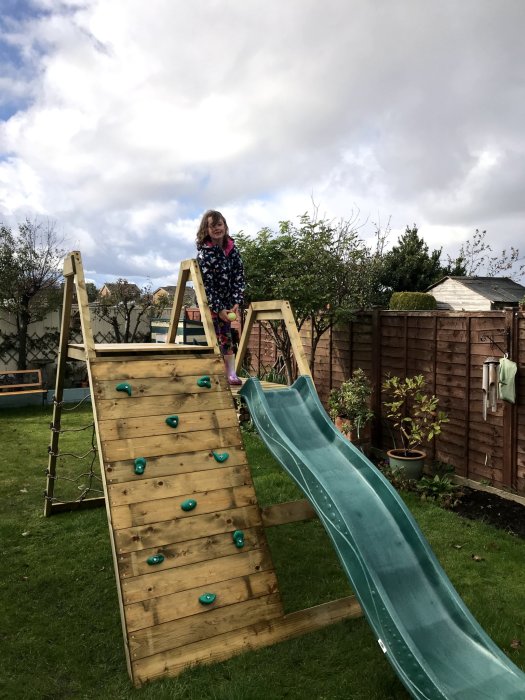 Questions & Answers
Q: Can you tell me the dimensions of the base of the pyramid please. I know the full length including the slide is shown, but I am really looking to know just the pyramid dimensions if possible?
A: We estimate that the length not including the slide is around 2.9m with a width of 1.5m.
Q: Can this be used if I get the concrete slaps wet poured also does this need to be ground anchored
A: Good Afternoon, As we are not familiar with wet pour we are unable to advise. You would need to speak to the manufacturers of wet pour for further advise.
Q: Does this need to be secured to the ground?
A: This item need to be concreted into the ground the anchors for this are supplied with the item.
Q: I love this but not sure it can work on grass that is not completely level... there is a slight incline, any suggetsions or other reccomendations?
A: A slight incline should not be an issue any more than that the grass should be leveled out to support the pyramid.
Q: Hi. Could I buy only the fabric please.
A: Unfortunately we do not sell Plum spares.
Q: Do yall ship to the USA ever or do you have a suggestion on who makes a similar item here?
A: Unfortunately to are UK only, I do not know of a similar retailer in the USA. Many apologies.
Q: Do you offer payment instalments?
A: Unfortunately we currently do not offer payment plans. However as we use PayPal as our payment gateway you can apply for PayPal credit which is a payment plan over 4 months I believe.
Q: Can the tower and tower bridge be added to this?
A: I'm sorry I'm not sure what you mean. You can contact us at mail@activitytoysdirect.com
Q: Can the slide side be built on the left or right side or does the structure require it to be built exactly as it is shown in the online picture?
A: This is not something we would advise as this may void your warranty. For more advise on this please contact Plum directly who can advise.
Q: Is the Plum Climbing Pyramid free standing or does it need to be concreted into the ground?
A: This requires concreting into the ground.
Q: I have artificial grass. Can you explain what you mean when you say it needs to be concreted into the ground?
A: The manufacturer advises the goods are concreted into the ground using the metal anchors provided.
Q: What are the flat pack dimensions pls?
A: Box 1; L; 2.15m W;0.35M h;0.5M Box 2; 2.46m x0.3m x 0.1m Box 3; 0.38m x 0.27m x 0.05m Item 4; 8ft Green Slide
Thank you for submitting your question!
You may also like