Weight: 75 kg
Dimensions: L3.70 x W3.90 x H2.10m
Recommended Age: 3 - 12 years
Plum Climbing Pyramid Play Centre with Swings
The Plum Climbing Pyramid is back and now with a brand new design which includes lots of extra features! The Climbing Pyramid with Swings wooden play centre from Plum is packed full of great activities for children to enjoy including a hide-away camouflaged den, cargo net, climbing wall, slide, large double play deck and a swing arm with two swing seats. Children will love to have lots of active fun on this play centre and their imaginations will run wild too thanks to the Climbing Pyramid's camouflage design.
Made from premium FSC® certified timber, this climbing pyramid play set is extremely strong and sturdy. Parents can therefore have peace of mind that their children are playing on a high quality playcentre with safety standards at the centre of its design.
Plum Climbing Pyramid Play Centre with Swings
Made from premium FSC® certified timber
Climbing frame includes: large double play deck with cargo net, metal rung ladder, rock wall with coloured hand and foot grips, 8ft wave slide and double swings
Camouflage fabric side panels with roll down windows creates a large secret play den area inside the pyramid for imaginative role play
Swings use soft feel ropes and heavy duty blow moulded seats for extra strength
5 year manufacturer's warranty against wood rot and insect damage
Supplied flat packed and pre-drilled with easy assembly instructions
Easy to assemble in approx. 5 hours with 2 adults
Recommended age: 3 to 12 years
Upper deck dimensions: L0.74 x W0.91 x H1.50m
Lower deck dimensions: L0.60 x W1.26 x H1.20m
Assembled size: L3.70 x W3.90 x H2.10m
Warnings:
Please allow a 2m safety perimeter
Adult supervision required at all times
Not suitable for children under 36 months - fall hazard and small parts, choking hazard
Minimum user age 3 years, maximum user age 12 years
Maximum user weight 50kg
Outdoor use only
| Specifications | |
| --- | --- |
| Product Dimensions | L3.70 x W3.90 x H2.10m |
| Product Weight | 75kg |
| Recommended Age | 3 - 12 years |
| Slide Length | 8ft |
| Lower Deck Dimensions | L0.60 x W1.26 x H1.20m |
| Upper Deck Dimensionss | L0.74 x W0.91 x H1.50m |
| Max User Weight | 50kg |
| Warranty (Frame) | 5 Years against failure due to rot |
| Warranty (Hardware & Accessories) | 1 year |
| Assembly Time | Approx 5 hours with 2 adults |
Plum Climbing Pyramid with Slide and Swings + FREE Protektamats (Pack of 2) Reviews
Anonymous , 09 Apr 2017
Kit arrived when promised. All good quality parts, well finished and parts numbered. Took two people to assemble it and time consuming, but worth the wait. Grandchildren love it.
Mrs Davis , 15 Apr 2016
Bought this for grandchildren. Delivery was prompt and everything was well packed. Assembly took 2 of us 5 hours as described but was very straightforward and all the pieces went together very well. Very impressed with the quality and have 3 very happy grandchildren.
Mrs mansfield , 30 Aug 2015
Excellent play equipment, my grandaughters loved it. Delivery was as promised,the next day. Instructions easy to follow to construct pyramid play centre.
Elizabeth Henderson, 19 Oct 2017
Great price and really good quality product. This was the only company who got back to me about delivering to a very remote area, delivery wasn't a problem and customer service was excellent. My husband put the frame up very easily and was really impressed with the quality, he usually finds fault with anything I buy! Many thanks, very pleased with product and service.
Anonymous , 06 Nov 2017
Fantastic in every aspect !
Anonymous , 14 Apr 2018
Excellent piece of kit once erected. We read instructions and laid out pieces of wood before doing anything. Check for replacement screws in package as well due to upgrades or changes. It took a full day to erect the entire thing, but we are pleased with the quality product.
Elena Podkolzina, 23 Apr 2018
yes, very happy. kids love it.
Anonymous , 13 May 2018
Our grandson's loved it. Grandfather was not too impressed with the instructions!
karen humphray, 13 May 2018
Very good quality, delivered amazingly fast and customer query dealt with efficiently by polite knowledgeable staff. Best price seen anywhere for item, I would thoroughly recommend.
Anonymous , 25 May 2018
We are really pleased with our climbing frame and swing. Our children 6 and 3 head straight to it every time they go in the garden.
Anonymous , 19 Jul 2018
The Climbing pyramid is great, the slide is great, I thought the swings hang would be a bit higher but this is perfect for my 2 girls.
Stephen T, 28 Apr 2019
Well designed and engineered, with clear assembly instructions, but allow significantly more hours than suggested to put the components together. If your ground is soft and/or uneven use of concreted anchors is essential for stability, especially with the swing. Do not underestimate the time it takes to do this additional task properly.
Anonymous , 01 Jun 2019
My 6 year old loves playing on this. It takes a long time to assemble but is well worth it!
Kristina S, 26 Jun 2019
Fantastic service! Really easy to put together and super happy kids, really happy with our purchase and the speed of delivery, husband had no issues putting it together on his own at all. :)
Estera G, 04 Jul 2019
Ordered for delivery on Monday but they posted somewhere else. Once received slide was damaged which caused further delay. Than main beam to hang swings on was damaged. Loads of hassle and delays.
Robert C, 23 Aug 2019
Instructions almost impossible to follow with some codes wrong on the pieces. Along with my dad who is an engineer it took the best part of 2 days to put up.
Jacqueline M, 09 Jan 2020
Great set for the garden. My 4 year old loves playing on this. Very good quality. Super fast delivery. Exceptional pricing. 5 stars!!
Customer Photos
Questions & Answers
Q: Can you list tools required for assembly
A: Plum advises that assembly requires:
Ratchet Socket Wrench x 2 with 13mm Socket x 2, 17mm Socket x 1
Cordless Power Drill with PH#1 x 1, PH#2 x 1, PH#3 x 1, PZ#2 x 1, 5mm Drill Bit, 7mm Drill Bit, Mallet, Stepladder
Q: How does this attach to the ground as we are looking to put this on concrete. Thanks
A: https://www.plumplay.co.uk/media/assembly-instruction-manuals/27505_Climbing_Pyramid_Wooden_Climbing_Frame_Swings.pdf Please a link to the manual which will give you an in depth look at the assembly, please note however it does say must not be installed over concrete. Hope that helps.
Q: Do you have to concrete the Plumb climbing pyramid into the ground?
A: yes this will need to be concreted into the ground.
Q: What is the size of the slide
A: The slide is 8ft.
Q: Could you please advise of the height of the slide from the floor?!
A: The platform with the slide is 4ft high.
Q: can this be placed on a slight incline? Our garden is not flat, so is it still possible to install? Similar for the tower models? And do both need to be concreted in to the ground? Thanks
A: A slight incline should not be an issue any more than that the grass should be leveled out to support the pyramid. All play centres require concreting into the ground to be secure.
Q: Can you build this in different set up, so the swings/slide are on different sides? Or can it only be constructed as in the pictures?
A: Unfortunately this would not be possible.
Q: I have astroturf so want be able to use concrete, can I still purchase and assemble on astroturf?
A: All Plum products recommend to be concreted in - if this is not done this will void your warranty.
Q: Hi, do you offer installation service on the plum pyramid? I'm sure I saw this option previously but can't find it now
A: Unfortunately not. We offer a delivery service only.
Thank you for submitting your question!
You may also like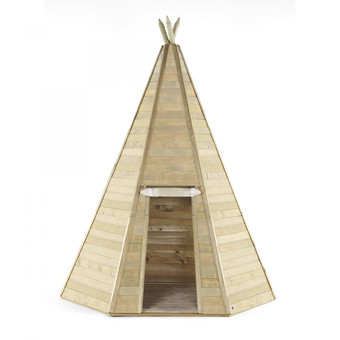 Plum Grand Wooden Teepee Hideaway
£449.99
£599.99
★★★★★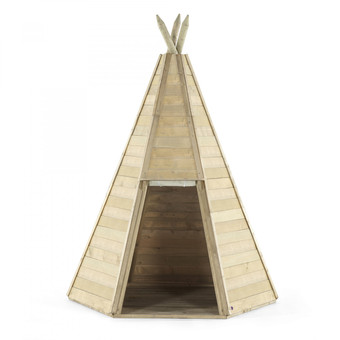 Plum Great Wooden Teepee Hideaway
£329.95
£399.99
★★★★★