Weight: 134.5 kg
Dimensions: 213 x 357 x 200 cm
Recommended Age: 3 - 12 years
Plum Climbing Cube Wooden Play Centre
The Plum Climbing Cube is a great wooden play centre packed with great features! There are multiple ways to reach the main platform, including a rock climbing wall, a wooden ladder, and a climbing net. Once you're up there, you can get back down easily via the wavy slide! Hidden away at the bottom of the cube is a secret den, hidden by a camouflage fabric sheet with a roll-down door to get inside!
Plum Climbing Cube Wooden Play Centre
Structure contains a platform which can be reached via wooden ladder, climbing net, or rock wall.
8ft wavy slide to get back down
Wave slide converts to a water slide for even more fun just attach a hosepipe!
Made from high quality, FSC certified Norwegian Spruce, promising optimum thickness, durability and strength
Monkey and trapeze bars
Play den beneath the structure which is covered by a camouflage fabric sheet, and roll-down door.
Maximum user weight: 50kg
Suitable for ages 3-12 years
Assembled size: L2.13 x W3.57 x H2.00m
| Specifications | |
| --- | --- |
| Assembly Instructions | |
| Product Dimensions | 213 x 357 x 200 cm |
| Product Weight | 134.5kg |
| Recommended Age | 3 - 12 years |
| Slide Length | 8ft |
| Max User Weight | 50kg |
| Assembly Time | Approx 2 adults, 6 hours |
| Warranty (Frame) | 5 Years against failure due to rot |
| Warranty (All other parts) | 1 year |
| Platform Height | 120cm |
Plum Climbing Cube plus FREE Protektamats (pack of 2) Reviews
Guy Young, 25 Apr 2017
Purchased the Plum Climbing Cube Wooden Play Centre. The climbing frame was well packed. The packaging was weather proof and the wood was tied together very well. All the wood was numbered and predrilled which made construction fairly straightforward. There were only a few bits that needed to be drilled. An electric screwdriver is a must for building the climbing frame otherwise construction would have taken significantly longer and been a lot more difficult. The climbing frame feels sturdy without the need for anchors. Our kids are aged 2 and 5. Our twin 5 year olds mastered the rock climbing wall very quickly and even the 2 year old has managed to use the ladder and slid on his own. Very happy with the purchase, the seller and delivery.
kate finberg, 03 Mar 2017
a great climbing frame the kids love it and not too difficult to assemble
Beth Cunliffe, 02 Mar 2017
Like the fact it has a large climbing wall - my husband does this for real and the kids are always keen to join him but too dangerous to be let loose. This keeps them in the garden under our watchful eyes and they keep going back to it. Our two are 7 and 5, and I think they will get a good few more years out of it. 
claire , 27 Feb 2017
This is great army-esque (is that a word) play frame that the kids love. I have two boys and their friends come over – I can leave them in the garden all afternoon whilst I get on with other jobs, and they role-play to their hearts content. Seems quite pricey for what it is – but then the kids don't understand this and they ultimately judge. Thank you to this company – price was on par with the best out there but had that personal touch you rarely find these days.
John Maclennan, 31 May 2016
Overall a great product for the kids. They love it and pretty much had the whole street come in and play on it in the last few days. A couple of points to watch out for though is it does need two people to put it together and it does take around 5-6hrs if not more to put it together. They were a couple of components missing, just a couple of bolts and nuts which you buy get in your local hardware shop but it was quite frustrating to spend so long on it and then find you didnt have everything to complete the job. You also need to pay really close attention to not only using the right piece of wood in each step of the build but also to get the orientation of that piece right. As nearly all the bits are square or rectangle if you get one the wrong way round you wont know to far later in the build which can cost you to back track, which i learnt to my cost, took me about an hour to put right. Once complete though its totally worth the money and it many different challenges for my young ones. The added extra of the den underneath is a winner to.
Sarah Ogilvie, 30 Apr 2017
An excellent climbing frame. Already provided hours of fun and also entertained 12 children at my 6yr olds birthday party. Took the full 6hrs (2people) to put together but well worth it and feels really safe/sturdy. Delivered on time. Thanks
Peter Mason, 23 Jul 2017
It would have been 5 stars if all the pieces where present. One piece was missing as we constructed it yesterday. I have had to improvise to make sure the kids can play. I would like the piece sending to me? D1963.
Anonymous , 12 Sep 2017
Quick delivery. Sturdy frame and looks good in the garden. The kids love it. I had to get somebody to assemble it. It took about 5 hours and needed 2 persons.
Anonymous , 18 Apr 2018
This climbing frame is brilliant - good for kids of all ages and abilities. Excellent customer service and very helpful.
David W, 15 Nov 2018
BOUGHT THIS FOR MY GRANDAUGHTERS 5 BIRTHDAY, NEADS 2 PEOPLE TO PUT UP. ABOUT 5-6 HOURS VERY GOOD AND WELL MADE. GOOD CUS/CARE SERVICE AND DELIVERY AS I LIVE ON THE IOW.
Anonymous , 31 May 2019
Our two year old son loves his climbing cube. He is a little small for the climbing wall yet but still likes to try - we are going to add a few more hand holds. It has been very popular with his cousins too. Only had it a few days but so far very happy. One major problem though is the instructions. We managed to work out what to do, but they are not very good instructions and suggest that two people is enough - we found that at a couple of stages at least we needed extra hands to support the beams otherwise they would have been under a lot of strain.
Mary D, 21 Dec 2019
The cube was bought as a Christmas present for our grandchildren with a view to putting it up in the Spring. It arrived just before Christmas and stated clearly that we had 10 days to check it was all ok. It came in 6 very securely packed mesh bags full of wooden pieces and a separate package that contained all the smaller parts. We had to unpack everything which was a huge task and then repack it - this took a fair few hours. We found one piece of wood with a split in it which has been replaced. The frame itself appears to be well made but we have yet to put it up.
Robert H, 06 Feb 2020
We absolutely love this it really is Very good quality & most important the kids love it
clare l, 17 Feb 2020
I have not received the cube yet.
Joanne W, 03 Aug 2020
We love love love this!! Arrived quickly and went up with no problems. Customer service were amazing we had a damaged slide and they responded to my email very quickly and arranged a replacement to be sent within 48hours. I would happily recommend this company to anyone
Customer Photos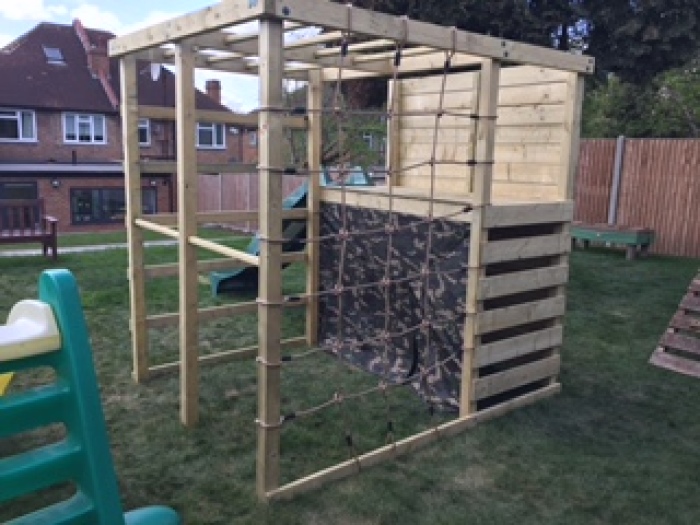 Questions & Answers
Q: Hi - Dies the frame come with all of the fixings needed to build?
A: Everything you need to build the frame comes included in the product.
Q: How long does it take to build?
A: Plum advises that this frame takes around 6 hours for 2 adults.
Q: Please can you confirm the platform height
A: The platform is 120cm from the floor.
Q: Do you need to anchor the frame into the ground with special fixings or use cement?
A: Plum recommends cementing all of their products to ensure stability.
Q: How many protektamats do you recommend using with this climbing frame?
A: The 2 will enough for the slide area. However it depends on where you want to use them.
Q: I want toplace an order for a Christmas present for my kids however want to ensure if I order now (as I want to ensure availability) that I will still be covered if any piece are missing or anything if we are not building it and therefore checking everything until near Xmas Day?
A: We would always advise checking the product well in advance of Christmas, as our office will be closed until the new year. This will allow us to help out in the unlikely event of missing parts, and avoid any disappointed kids on Christmas day.
Q: What is the overall length of the vertical posts? How much is to be set in concrete?
A: https://www.plumplay.co.uk/media/assembly-instruction-manuals/27547_Climbing_Cube_Wooden_Climbing_Frame.pdf Please see a link to the manual. However it is not the leg that will con in concrete it will be part of the anchor which will be attached to the leg.
Q: We're looking for a replacement camouflage den, is it possible to just purchase that item?
A: Please contact Plum directly as we do not sell spares
Q: How do you anchor/cement the frame in to the ground? I am confused by the bars along the bottom. In the pictures these all look to be resting on the ground however there are no parts of the frame that sit lower than these points that could be anchored in. Please advice.
A: https://www.plumplay.co.uk/media/assembly-instruction-manuals/27547_Climbing_Cube_Wooden_Climbing_Frame.pdf Please see the manual which will explain this. However the anchor fix to the wood and it is the anchors that are concreted into the ground.
Q: Do the anchors (to fix into concrete) come with the frame? Thanks
A: Yes the anchors are included.
Q: Can it be moved easily so that the grass can be mowed underneath?
A: We do not recommend moving the frame once assembled.
Q: Do you think it would be possible to mount the slide internally so under one set of monkey bars, to reduce the size? As are garden is small.
A: Unfortunately this will not be possible it will not fit that way due to the way the Cube fits and this will void the manufacturers warranty also.
Q: do you think it would be possible to replace the slide with a fireman's pole to reduce the footprint size? Thanks
A: Unfortunately this is not something we would recommend if you wish to make modifications I would advise contacting the manufacturer
Q: Does the 357 width include the slide? What is the actual width of the wooden cube structure please?
A: Without the slide the dims are 162cm
Thank you for submitting your question!
You may also like