Weight: 50 kg
Dimensions: 1.2m L x 2.29m W x 2.2m H
Recommended Age: 3 - 12 years
Plum BushBaby Wooden Swing Set
NOTE: This item is constructed of natural wood and it may split or crack, this does not affect the structure or strength of the item, even if there are cracks in the wood on delivery this is completely normal and will not affect the strength and durability of the product. For more information, please see our About Wood Page
The Plum Products BushBaby is a great value single garden swing. This swing set is easy to assemble and great fun for children.
The round pole premium FSC® certified timber is pressure treated and is extremely strong. The top bar of the playset is 100mm in diameter and the legs are 80mm in diameter making the frame highly robust. Metal swing attachments encircle the pole so no drilling is required through the top beam, maintaining the strength and integrity of the timber. The sturdy frame also has wooden cross braces giving the swingset extra stability. Parents can have peace of mind their children are riding a high quality swing set, with safety standards at the centre of its design.
This swing comes with Carabinas (Snapshackles) enabling the changing of seats quick and easy. A flat seat can be swapped for a baby seat in seconds unlike others which require spanners.
Plum BushBaby Wooden Swing Set
Classic wooden swing set for year round entertainment
Made from premium FSC® certified, pressure treated round pole timber
Swing set uses soft feel ropes and heavy duty blow moulded seat for extra strength
Swing set frame has cross braces for extra stability
Metal swing attachments encircle the pole so no drilling is required through the top beam, maintaining the strength and integrity of the timber
Supplied flat packed with easy assembly instructions
All hardware supplied for installation including ground anchors for concreting into the ground
Recommended age: 3 to 12 years
Assembled size: L1.20 x W2.29 x H2.20m
Warnings
Please allow a 2m safety perimeter
Adult supervision required at all times
Not suitable for children under 36 months – fall hazard and small parts – choking hazard
Minimum user age 3 years, maximum user age 12 years
Tools required for assembly:-

Power drill with .5mm drill bit-
Mallet and step ladder
Ratchet socket with 13mm & 17mm sockets

Maximum user weight 50kg
Outdoor use only
Only for domestic use
Product may vary slightly from image shown
Specifications
Assembly Instructions
Product Dimensions
1.2m L x 2.29m W x 2.2m H
Product Weight
50kg
Recommended Age
3 - 12 years
Assembly Time
2 adults, 2 hours
Required Tools
Power drill with .5mm drill bit
Mallet and step ladder
Ratchet socket with 13mm & 17mm sockets
Assembled Size
L1.20 x W2.29 x H2.20m
Max User Weight
50kg
Warranty (Hardware & Accessories)
1 year
Plum BushBaby Wooden Swing Set Reviews
Anonymous , 12 Apr 2017
Good product, easy to assemble and very stable even without the concrete anchors
leonard edgley, 27 Apr 2017
All looks very good but have not assembled yet.as for a gift.
Anonymous , 15 Jun 2017
Super quick delivery, sturdy Plum swing, my 6 year old daughter loves her Birthday present.
tricia fowler, 13 Aug 2017
Excellent value. My granddaughter is thrilled.
Anonymous , 31 Aug 2017
My 6 year old daughter loves this swing. It came the next day and was straight forward to put together. Excellent value.
Jennifer-Anne Swan, 11 Sep 2017
Strong solid construction. Easy to assemble. A drill etc was required so a bit of DIY knowledge an advantage. Needs two people as it is heavy. Swing was just as described. We purchased baby seat also and our little granddaughter squeeled with laughter as she played on it. We changed the seat for an older child who also loved it.
Anonymous , 02 Nov 2017
We bought this swing for our Daughter's 8th Birthday. We had no problems putting it together and did it within an hour. It is a nice solid swing and looks good in the garden. Since then it has been used everyday and lots of fun has been had! I would highly recommend this swing.
Sandra Coulter, 06 Nov 2017
Very sturdy , will last for a very long time
Anonymous , 23 Apr 2018
Lovely solid swing set. Constructed easily in a couple of hours by one person, just needed a second person to lift into position. Would suit primary aged child well.
Anonymous , 02 Sep 2018
Excellent quality very solid and sturdy
Dane T, 04 Oct 2018
Good quality will last for many years, very pleased
Linda S, 12 Oct 2018
Service provided by Activity Toys Direct was first class, always responded promptly to emails and even called us with a solution to our problem. Swing set up easily and we now have a very happy grandson with his first 'big boy' swing.
Mavis M, 21 Dec 2018
As this has been purchased as a Christmas present I have not seen it in erected yet. From first appearances. It looks very good quality. I was very impressed with the Customer Services department. I had to change delivery address which they did immediately and then were very helpful on the delivery day. 5 stars for their service.
Anonymous , 31 Mar 2019
Just what we needed and as described on the website. Needed 2 tall people to assemble and having it secured properly next week. The children love it
sally b, 29 Apr 2019
Quick delivery and easy to follow assembly instructions. Good solid swing.
Anonymous , 01 May 2019
Very happy with this Plum product. It took about an hour to put the frame together (some tools required but easy to do). We are going to use a different anchor system to the ones provided, due to ground restrictions but, those provided look fine. It is a very sturdy frame. The kids (5&7) love it and we have got the trapeze add-on to add more interest. We had some issues with delivery but it was the fault of the delivery company and AToys were pretty good at sorting it out.
Alan E, 02 May 2019
Good quality. Should last for years.
Anonymous , 10 May 2019
We bought the swing a few weeks ago for my 5th year olds birthday. It's a lovely solid swing and looks great in the garden. Both 5 and 7 year olds love it and spend hours outside. It does have a slight tinge of green as a protective stain which once assembled amongst the grass looks fine, if you do not like it it does say in the instructions included that this can be sanded of in you prefer. We haven't secured the swing into the ground yet but as it's a solid swing and the children aren't too heavy it doesn't move or rock in anyway, therefore we may leave it as it is. The swing arrived on time on a date of our choice. All in all we are happy with our purchase
Anonymous , 15 May 2019
Really sturdy swing - we haven't needed to anchor it to the ground as it has enough weight to it. 9 year old loves it, very happy.
Anonymous , 27 May 2019
Excellent swing. Sturdy and heavy enough to feel really safe. Very easy change from baby seat to child seat because of the fittings. Very good value for the product.
Trevor P, 26 Jun 2019
Quick convenient delivery and excellent quality. Bought two of these for grand daughters. Son and son in law found them easy to put together and the kids love them.
Richard C, 30 Jul 2019
Frankly note sure how you do it at this price, FAB product...........
Paula C, 07 Aug 2019
Dissapointed with the seat, wish it was flat all over, instead of having built up sides.
Mike H, 09 Sep 2019
I am very pleased with the build quality of this swing. It took a few hours to build. I started building the swing before my wife was home. I thought I would need her help for some lifting towards the end but was surprised to be able to build it on my own in the end.
Anonymous , 02 Oct 2019
Disappointed with quality of product
Sandra D, 31 May 2020
Great quality and very sturdy, fast delivery.
Anonymous , 02 Jun 2020
Good solid swing frame. Came in 4 separate parcels... different days. Wood very split, which the company state is ok. ??? I used my own baby seat .
Caroline H, 18 Jun 2020
Good solid construction and attractive addition to the garden. The fittings are solid and well made. The wood itself is quite badly split but the manufacturer claims this is not a problem and that it will not affect its strength.
Elizabeth C, 28 Jul 2020
Quick delivery. Very easy to put together and impressed with the quality. Has been used every day since it was received. Brilliant.
Yvonne S, 11 Dec 2020
This is the second swing i have brought one for my garden and one for my Grandchilds garden always a great buy
Anonymous , 31 Mar 2021
It came to time and was complete. Easily put together with two. Robust, good looking swing - grandaughter delighted.
Roy S, 16 Apr 2021
We were very pleased with the swing set it was strong and easy to assemble. We bought both seats so hopefully it will last for many years and our great grand daughter will continue to enjoy it. It was delivered on the day selected by us and was in good order. Thank you.
Nicola H, 07 Sep 2021
Lovely quality sturdy swing. So much nicer than the metal types, as the chunky wooden frame is much more attractive in the garden. Very happy children= happy parents!
Customer Photos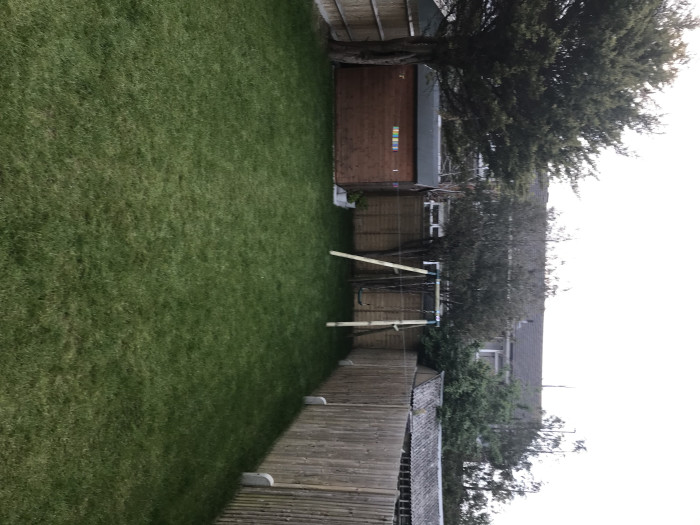 Questions & Answers
Q: Is this swing compatible with the trapeze swing
A: Yes it is compatible, the snap shackles provided with this set make swapping over quick and easy. All Plum swing frames come with snap shackles.
Q: Is this swing compatible with the nest seat accessory thanks
A: Unfortunately not - the nest swing attachment is much wider and requires a double swing set to attach.
Q: Do you sell the baby seats for this swing ?
A: Yes, many of our baby seats will fit this swing. We recommend this Plum Baby Seat: https://www.activitytoysdirect.com/plum-baby-seat-red-p1714/
Q: Are the plastic sections and seat green as shown in picture?
A: The metal brackets and the plastic seat are green.
Q: I bought this swing about 7 years ago for my granddaughter and it included a baby seat. I now have another grandchild i wish to buy one for but can you clarify if a baby seat is included in the price?? It does say Baby Wooden swing set but i only see a standard seat not a baby seat too??
A: I'm afraid this does not include a baby seat - 'bush baby' is the name of the product line and is not technically a baby swing. As an alternative attachment we would recommend the Plum Baby Seat in Red https://www.activitytoysdirect.com/plum-baby-seat-red-p1714/
Q: Does the bush baby swing cone with ground anchors?
A: Yes, this comes with ground anchors.
Q: Where can I buy replacement parts? One of the swing shackles has snapped after 18 months use.
A: unfortunately we do not sell these spare parts, you will need to contact plum directly.
Q: I bought this a few years ago and now wish to know if i can convert it to a double swing, is this possible by buying a new top post?
A: Unfortunately this is not something we can offer I'm afraid.
Q: Are you able to deliver to Belfast?
A: We only deliver to UK Mainland.
Q: Is this swing compatible with the plum glide nest?
A: Yes this is compatiable.
Thank you for submitting your question!
You may also like