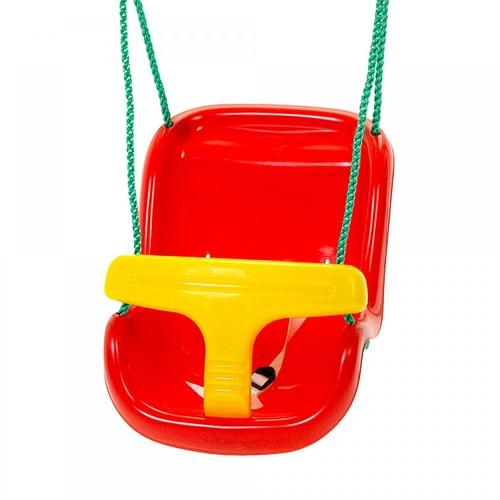 Spec & Assembly
| Specifications | |
| --- | --- |
| Recommended Age | 1+ |
| Product Code | 27466 |
Questions & Answers
Q: Hi, I am looking at using this with the Plum Bush Baby Swing set. Does this swing come with the carabiner's to attach?
A: Yes, the Plum Swing Frames come with these as standard.
Q: Hi, I have twins and want to buy the plum double frame and was wondering if these box swings will fit that frame i.e. is there enough length on the rope for the seat to be at a nice height? As I can see that these seats usually go with the single smaller frame. Thank you in advance. David
A: This seat is designed to fit with any standard-sized swing frame, so this is compatible with the double wooden swing. :)
Q: What age does this seat go up to? Thanks.
A: This seat is suitable from 1+ and there is not really a maximum age however the maximum user weight is 25kg
Q: Hi will this fit Plum Mist single seat swing.
A: yes providing that swing has carabiner clips so you can interchange the seat.
Description
Plum Baby Seat - Red
The Plum Baby Seat is a great way to introduce a little one to your swing set! Simply attach the ropes to the top of your swing set and you're ready to go! This plastic swing seat is safe and secure, with a high back and T-bar to keep your little ones safe while they play.
Product Features
Plum Baby Seat - Red
Maximum user weight: 25kg
Recommended age: 12 months+
200cm ropes included - can be adjusted to any height.
Plum Baby Seat - Red/Yellow Reviews
PRIYA O, 17 Jun 2022
Looks nice however ropes on sides don't seem equal length even after adjustments.
Roy S, 22 Apr 2021
Seat is comfortable and safe.
Roy S, 16 Apr 2021
Seat is comfortable and safe.
Caroline H, 18 Jun 2020
Sturdy seat with safety bar and extra waist strap. It seems like it will last. Our baby loves it.
Lynda L, 03 Jun 2020
Great seat
Lynda L, 03 Jun 2020
Great seat
Anonymous , 01 Jun 2020
Daughter loves this seat that fits on our plum swing set
Anonymous , 19 May 2020
Baby seat us brilliant for 10 month baby. 27 month also likes it. Good buy.
Anonymous , 16 May 2020
Delightful. Fit for purpose. Thank you
Anonymous , 18 Apr 2020
Does the job as it's a bit cheaper than competitor baby seat however the yellow bit near the crotch is so stiff you can't get it out once clipped in which is fine when baby is small but will be a problem when they are bigger. I used to have the competitor seat and didn't have the same issue so you get what you pay for as it doesn't seem as solid
Anonymous , 02 Apr 2020
Good product.
Ashleigh S, 08 Sep 2019
Lovely little seat, easy to attach!
Trevor P, 26 Jun 2019
Great quality and easy to fit.
Anonymous , 21 Jun 2019
Very good, safe and loved by the little ones.
Anonymous , 20 Jun 2019
Brilliant baby swing. We bought the plum wooden swing for 3... Trapeze, swing and baby swing. Absolutely wonderful quality. We are so happy with it. Looks great up and the children love it! Great value. Feels like we have a park in our garden.
Anonymous , 01 Jun 2019
Perfect size and fit for my one year old - she loves being in it!
Anonymous , 27 May 2019
Excellent. High back really supports the baby. She loves it.
Anonymous , 02 Apr 2019
Nice comfortable seat my grandchildren very happy using it.
Anonymous , 05 Mar 2019
I bought this as an extra as the Gibbon Wooden swing set came with two swings for older children. As our Granddaughter is only 10months she needed a bucket swing that kept her safely secured. It was simple to hook up to the swing set, a safety bar and also a safety strap keeps her secure. She loves it and I would recommend the Red baby swing.
Margaret R, 09 Oct 2018
Bought for my grandson 1st birthday. It was fitted to the double swing frame. Perfect my grandson loves it he's safe and secure.
Anonymous , 02 Sep 2018
Good quality baby seat but the strap a bit flimsy
Nicola M, 09 Aug 2018
Seems safe and comfortable for the baby and compatible to the frame we bought.
Jennifer-Anne Swan, 11 Sep 2017
Good solid seat.
Sam Duke, 30 May 2017
The seat is fine but the straps could be more substantial and making the buckle more user friendly would be a benefit.
Victoria Lowe, 14 May 2017
In addition to the Plum lookout tower with swings purchased the baby seat for use by the younger members of our family. Ordering/delivery process faultless. Very sturdy seat that is easy to clip on and off the play centre. Very impressed with purchase.