Weight: 38 kg
Dimensions: 244cm (8ft)
Recommended Age: 6+
The EXIT Silhouette Black Edition Trampoline is a great modern trampoline in a cool new black and green colour scheme! The safety net is very taut, and the curved support structures add to both the look and safety of the trampoline. A 2cm-thick protective mat around the edge of the trampoline covers the entire outer edge of the trampoline, further ensuring the safety of the bouncer. In addition to this, a unique foot protection system prevents feet from getting caught underneath the padding and caught in the springs. This sturdy trampoline is bound to last you years, with 14cm long springs to provide an optimal bounce, and a galvanised powder-coated frame that will completely withstand corrosion.
Also available - Lime Edition and Pink Edition
EXIT Silhouette Black Edition Trampoline + Safety Net
2cm thick padding around the edge prevents falling through the sides of the trampoline.
Unique foot protection system prevents feet getting caught beneath the padding in the springs
14cm springs provide optimal bouncing for years to come
Galvanised, powder-coated frame to withstand corrosion.
Adult assembly required
2 year warranty on trampoline frame.
Max user weights:

8ft - 50kg
10ft - 100kg
12ft and 14ft - 120kg
Specifications
8ft
10ft
12ft
14ft
Product Dimensions
ø244cm x 156cm
ø305cm x 183cm
ø366cm x 183cm
ø427cm x 183cm
Product Weight
38kg
47.6kg
71.7kg
76.9kg
Recommended Age
6+
Max User Weight
50kg
100kg
120kg
120kg
Tested Weight
400kg
500kg
600kg
600kg
Number of Legs
3
3
4
4
Number of Springs
42
54
72
80
Frame Thickness
1.2mm
Frame Diameter
3.8cm
Customer Photos
Questions & Answers
There are currently no questions.
Thank you for submitting your question!
You may also like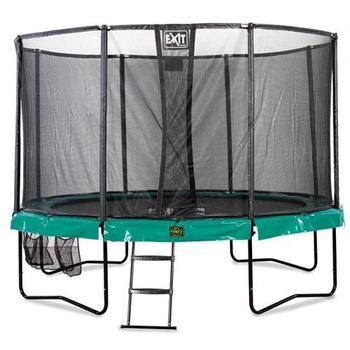 EXIT Toys Supreme All-In-One Trampoline
from £649.99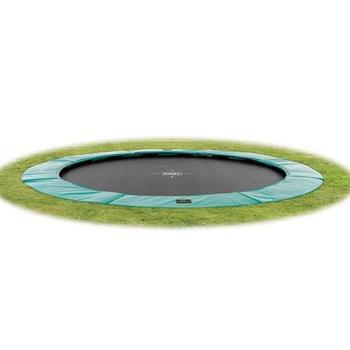 EXIT Toys Supreme Ground Level Trampoline
from £449.99
£549.99