Weight: 0 kg
Dimensions:
Recommended Age: 6+
The EXIT Black Edition Ground Trampoline is a great modern trampoline in a cool new black and green colour scheme! A 2cm-thick protective mat around the edge of the trampoline covers the entire outer edge of the trampoline, ensuring the safety of the bouncer. In addition to this, a unique foot protection system prevents feet from getting caught underneath the padding and caught in the springs. This sturdy trampoline is bound to last you years, with 14cm long springs to provide an optimal bounce, and a galvanised powder-coated frame that will completely withstand corrosion.
See more in the The Best Summer Toys 2018 range.
EXIT Black Edition Ground Trampoline
2cm thick padding around the edge prevents falling through the sides of the trampoline.
Unique foot protection system prevents feet getting caught beneath the padding in the springs
14cm springs provide optimal bouncing for years to come
Galvanised, powder-coated frame to withstand corrosion.
Adult assembly required
2 year warranty on trampoline frame.
Max user weights:

8ft - 50kg
10ft - 100kg
12ft and 14ft - 120kg
Specifications
8ft
10ft
12ft
14ft
Product Dimensions
244cm (8ft)
305cm (10ft)
366cm (12ft)
427cm (14ft)
Product Weight
27kg
33kg
42kg
50kg
Recommended Age
6+
Dimensions
19 x 244 x 244 cm
19 x 305 x 305 cm
19 x 366 x 366 cm
19 x 427 x 427 cm
Number of Legs
3
3
4
4
Number of Springs
42
54
72
80
Max User Weight
80kg
100kg
120kg
120kg
Tested Weight
400kg
500kg
600kg
600kg
Warrant (Frame)
2 Years
Warranty (All other parts)
1 Year
EXIT Toys Black Edition Ground Trampoline Reviews
Toni Nairn, 16 Jun 2017
The instructions aren't very easy to read, as there are just pictures, no words. It says 1 adult to assemble, which I managed to do alone (I am a female, thin build, 5ft 3!) but only just. The frame is a nightmare to put together, as you get the last piece in place, one of the other sides pops out! I had to sit on it, using my weight to hold it in place and slowly wiggle the metal until it finally went in. The padded cover was an absolute nightmare to attach. It shows in the picture to sew it through every 5th hole. But on doing this, when I got to the last section, there were too many holes left over, so I had to undo it and try again, making it up by eye. It also says to pull tight after every 4th, but it isn't clear what they mean by this. But on tightening, the holes ended up ripping. So it was just bodged together in the end, which resulted in it being too tight in places and not tight enough in others, meaning the edge that overlaps the frame to hide it, didn't fit properly in one section. So it keeps lifting after bouncing. Which is quite annoying! Other than that. The actual product is good quality though and my girls love it. The in ground concept it great, but digging the hole was very hard work and you have to make sure the ground is very level (which ours wasn't, so I had to shift a lot of soil to even it out). It is ideal for a smaller garden, where you don't want the trampoline dominating the space. It is very secure and has a lot of safety measures to stop it from moving. Pleased overall.
Customer Photos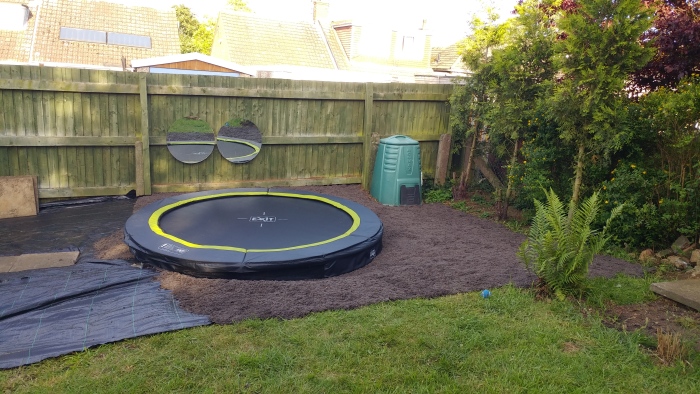 Questions & Answers
Q: Do you sell a safety net that's can be used with this trampoline?
A: Unfortunately this trampoline does not come with a safety net.
Q: How deep a hole do you have to dig out ?
A: This depends on the size of trampoline. Please contact us on mail@activitytoysdirect.com
Q: Does it come with a cover?
A: This product does not come with a cover
Thank you for submitting your question!
You may also like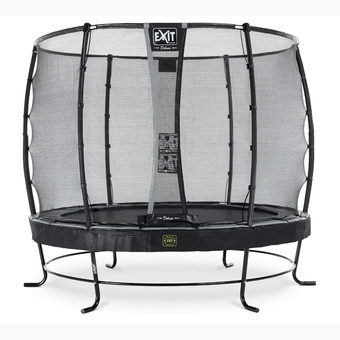 EXIT Toys Elegant Premium Trampoline
from £450.00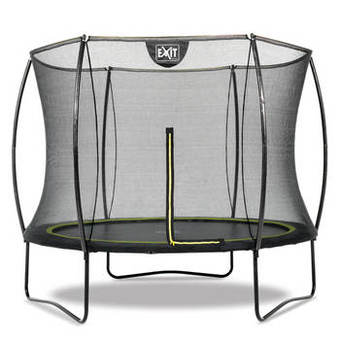 EXIT Toys Silhouette Black Edition Trampoline with Safety Net
from £209.50
£239.99
★★★★★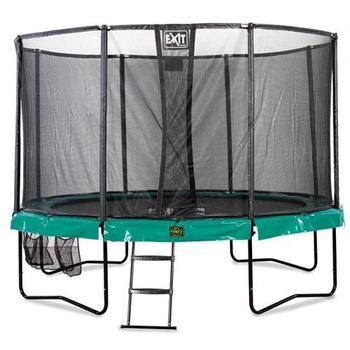 EXIT Toys Supreme All-In-One Trampoline
from £649.99