Weight: 0 kg
Dimensions: Assembled - 188cm W x 165cm D x 170 cm H
Recommended Age: 2 - 10 years
Backyard Discovery Victorian Inn Wooden Playhouse
Get in the garden this summer with the new Backyard Discovery Victorian Inn Playhouse! This beautifully crafted playhouse is built from naturally sourced cedar wood, and is designed to mimic the elegant Victorian architecture. Invite over a friend or two and prepare them a meal, before serving it through the window to the wooden bench outside the playhouse. Large open windows allow the lovely summer breeze to drift through, and also provide a great view of the garden.
Backyard Discovery Victorian Inn Wooden Playhouse
Victorian-style wooden playhouse with front porch, serving station, bench and modern appliances
Kitchen complete with: telephone, plastic knife, cutting board, faucet, mounted sink, burner, fruit and vegetable basket with Velcro food (apple, corn, orange, carrot, watermelon, strawberry)
Half door with spring door hinges and large windows
White plastic flower pot holders and bay window
Panelized walls for quick and easy assembly
Maximum children: 6
ASTM Compliant
Designed and engineered for children only and for residential use only
Constructed of all cedar wood which is naturally decay, rot and insect resistant
A maximum of 150 lbs. per child is recommended for play activities designed for individual use. A maximum of 120 lbs. per child is recommended for play activities designed for multiple child use.
1 yr. manufacturer's defect on parts, 5 yr. pro-rated on wood for rot and decay
Easy to assemble and contains our unique Safe-T-Fuse hardware, powder-coated metal brackets for extra strength, and the wood is pre-cut, pre-drilled, and pre-stained
Assembled Dimensions including picnic table - 188cm W x 165cm D x 170cm H. Inside Dimensions 118cm W x 105cm D
| Specifications | |
| --- | --- |
| Product Dimensions | Assembled - 188cm W x 165cm D x 170 cm H |
| Recommended Age | 2 - 10 years |
Backyard Discovery Victorian Inn Playhouse Reviews
Anonymous , 09 May 2018
2 parts were missing despite being on the inventory list, luckily the parts weren't too important (base legs of bench). all instruction measurements are imperial, with very few pre-drilled holes. set out to 2 8/16 of an inch. following the some guide holes lead to the porch section being mis-aligned. overall though it's a lovely looking house, my kids love it.
Anonymous , 15 May 2018
My 21mo daughter absolutely loves her new house. It took a little longer than I expected to build, but it was well worth it. The quality is excellent. My only slight criticism, is that although having the part numbers printed on the individual pieces is useful during assembly, it slightly spoils the appearance on the visible pieces. Maybe removable stickers would be better. Otherwise absolutely delighted with the product, price and service from Activity Toys Direct.
Sarah S, 05 Aug 2018
Absolutely thrilled with the playhouse and so is my grandson! A few of the instructions were a little hard to follow but I managed to construct the house all by myself -so proud! Speedy delivery & a fabulous price in the sale.
CRISTIANA F, 07 Mar 2019
Extremely reliable, very good communication. Thank you!
Customer Photos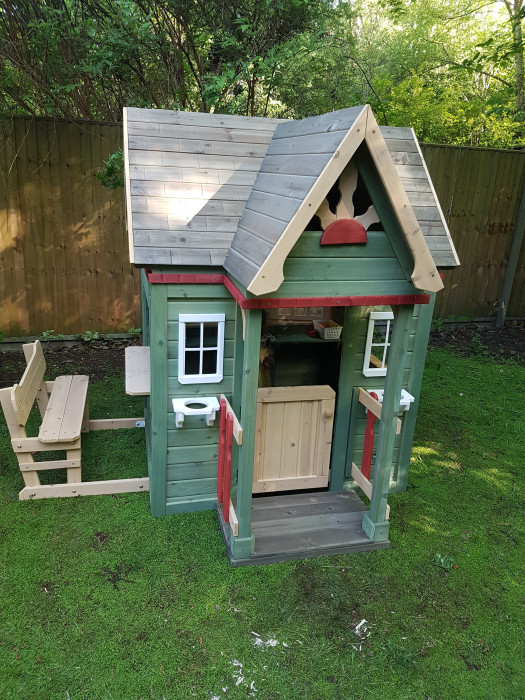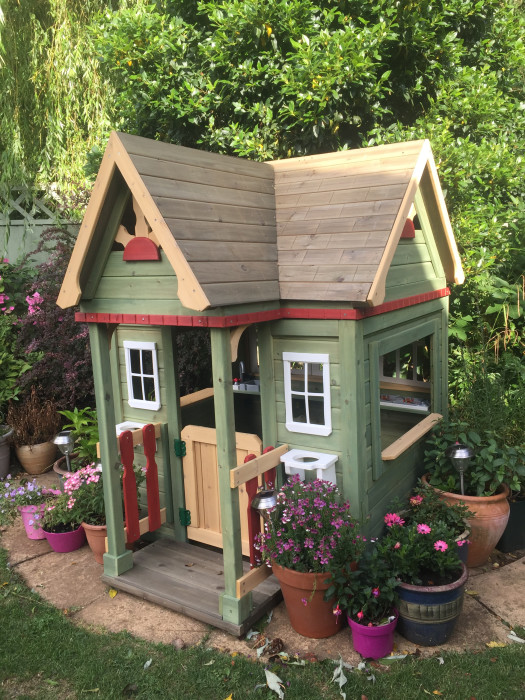 Questions & Answers
Q: Is it painted as shown on the pictures?
A: The product comes fully painted and treated.
Q: What is the weight of this playhouse?
A: The playhouse is 68.9kg.
Q: what are the dimensions of the floor inside the house?
A: This playhouse does not come complete with a floor.
Q: Can you paint the house a different colour (white ) ?
A: The house is already painted and finished. However it should be fine to re-paint it in a colour of your choosing.
Q: Does this come assembled?
A: This item is self assembly.
Q: Could you tell the size and weight of the package when it is shipped?
A: The box dimensions are 57.5" x 44.25" x 9.13", 152 lbs.
Q: Does the playhouse need footings?
A: This does not need footings.
Q: Hi, what's the size of the base required including the porch and chair
A: The full base size of the playhouse including these parts is 165 x 188cm.
Q: When you say there is no floor does that mean this is a shell/frame and inside will be the floor or grass of whatever it is sitting on?
A: Yes, this means the bottom is completely open and so will rest on the grass.
Thank you for submitting your question!
You may also like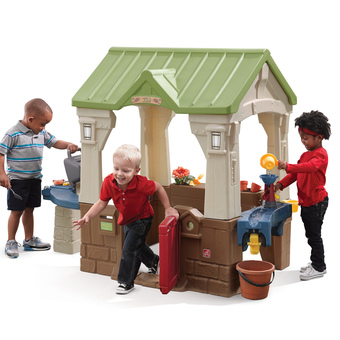 Step2 Great Outdoors Playhouse
£229.99
★★★★★