Weight: 59 kg
Dimensions: 107cm W x 117cm D x 140cm H
Recommended Age: 2 - 10 years
Backyard Discovery Timberlake Wooden Playhouse
Get in the garden this summer with the new Backyard Discovery Timberlake Playhouse! Invite a few friends and have fun preparing play meals on the plastic stove, and passing them through the snack window to guests. The wide open windows of the playhouse will let the summer breeze drift through, and also give a great view of the garden!
Backyard Discovery Timberlake Wooden Playhouse
Constructed from natural cedar wood
Made from panels for quick, easy assembly
Wide windows for a great view of the garden
Half-front door
Flower pot holders (flower pots and flowers not included)
Snack window
Manufacturer warranty: 5 years for wood against rot / decay, 1 year for all other parts.
| Specifications | |
| --- | --- |
| Product Dimensions | 107cm W x 117cm D x 140cm H |
| Product Weight | 59kg |
| Recommended Age | 2 - 10 years |
Backyard Discovery Timberlake Playhouse Reviews
Anonymous , 02 Aug 2017
Our little boy loves the playhouse. Its a great addition to the garden.
David Bale, 30 Apr 2018
Wonderful - and it smells of wood, too! Our granddaughter spend all her time in it.
Tracey Middleton, 16 May 2018
Excellent product, easy assembly, great price. Bought for my granddaughter's birthday and she loves it x
Allan Lochhead, 19 May 2018
lovely,attractive &functional be aware it takes time to build.
Nicola S, 20 Aug 2018
Excellent quality and value for money. Easy to put together and my children aged 7 & 3 love it though I think my 3 year old will enjoy it for longest. Would recommend. Customer service was also brilliant. Thank you.
Jake D, 05 Mar 2019
Delivered well and on time, good instructions and hardware. The issue was with the roof panels, there are 4 panels 2 on each side one for the top one for the bottom. So you should end up with 2 pairs of identical roof parts. I however had 1 top and 3 bottoms. I had to cut a part out of one of the bottom sections to make it replace the missing part.
Mary P, 24 Apr 2019
Arrived as promised, excellent service.House brilliant, would recommend, didn't get free playmats though, you can send them on if you like, much appreciated.
Customer Photos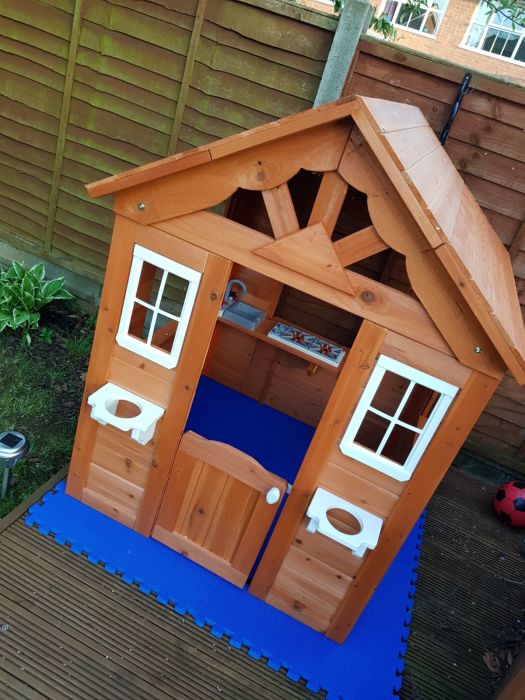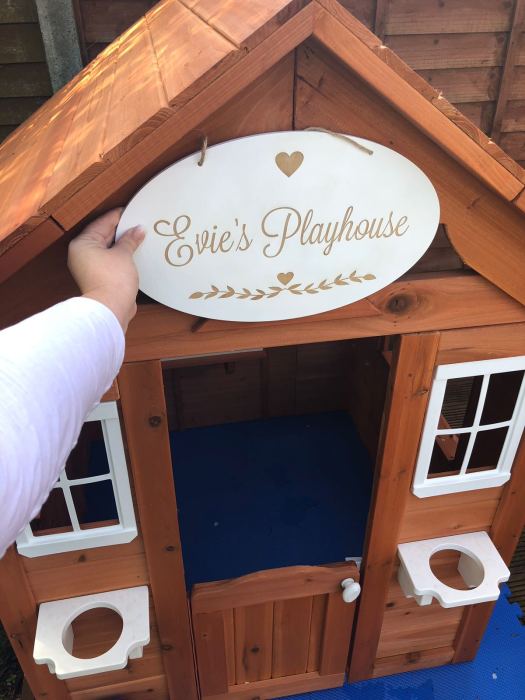 Questions & Answers
Q: Hi there, is it possible to get windows for this house separately?
A: Unfortunately at this time we're unable to offer windows separately.
Q: What age group is this for max please
A: The manufacturer simply states that it is suitable for age 2+. The height of the playhouse is 140cm and the height of the doorway is just under 100cm.
Q: Hi, Does this come treated ready for outside use? And does it include the stove? Thanks
A: The wood comes painted and treated with a natural water-based top coat. The plastic stove top is included.
Q: Is this playhouse easy to construct with good instruments? Also do I nee to provide own nails or does it come with these?
A: The playhouse comes with all nails and screws etc. to build the playhouse. The manufacturer advises that the playhouse can be constructed in under an hour.
Q: Why does the image show that you need 6 feet clearance around the perimeter?
A: This is to comply with the manufacturer's assembly instructions on positioning your playhouse - Backyard Discovery advises placing the house at least 6 feet away from any structure or obstruction.
Q: Is the roof waterproof without ashfelt?
A: The roof is waterproof. However due to the playhouse design water will get into the house through the windows.
Q: Does it come with a structural base?
A: This playhouse does not include a floor
Q: Does this playhouse need to be on a base or can it go straight on to grass if the wood comes treated?
A: This playhouse has been treated and can be assembled on grass.
Q: Does the wood need painting or a top coat to keep/make it waterproof.
A: This item is pre-treated.
Q: Can you recommend a cover to protect the the playhouse?
A: A cover does not come with this product. although some people use patio furniture covers. however the playhouse has been treated for outdoor use.
Thank you for submitting your question!
You may also like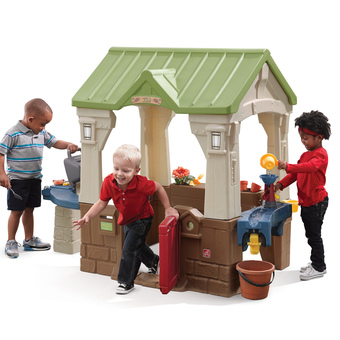 Step2 Great Outdoors Playhouse
£229.99
★★★★★